Indigenous Sistars Sound Healing Concert
with Lili Mejía Flaming Feather & Irma StarSpirit Turtle Woman
Fri. Aug. 16th * 7:00 pm - 9:30 pm
Travel into you harmonic nature, breathe into the rhythm of the one cosmic heart. Embrace the songs, chants and indigenous sacred music that will transport you into the ole memory of your loving ancestors and your inner soul.
Allow yourself to let go and surge into the cosmic vibrations as you journey into a place of healing and resounding with your medicine to set your spirit free. as you become one with the sound of joy.
Towards the end of the circle we invite you to join us as we create a community frequency sound circle celebrating in jubilation.
Please bring your favorite instrument.
To Register email shamanicfirereiki@gmail.com
Cost: $35 or Special Two for One Offer $55
Location:
SFR Soul Haven, 56 West 45th Street, Suite 1703
New York, NY 10036
Btw. 5th and 6th Avenue, Midtown, Manhattan
About Lili Mejía Flaming Feather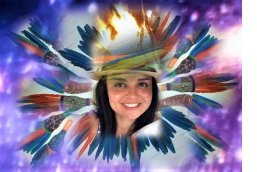 Lili is a Medicine woman from Colombia, passionate about arts from a very young age she became mayor in Visual Arts, realizing that the best work of art is life itself, she continued her path within, to find the medicine of her ancestors to guide her steps.
For the last five years she's been working and learning with the Ancestral Medicine of Yagé, she's a gifted sound healer and energy worker that continues learning and teaching every day.