May 27 - All Summer
Open EVERY DAY of the week!
9am-7pm

Did you know that we have set start times and making a reservation will ensure you arrive on time and have a reservation on days that we sell out?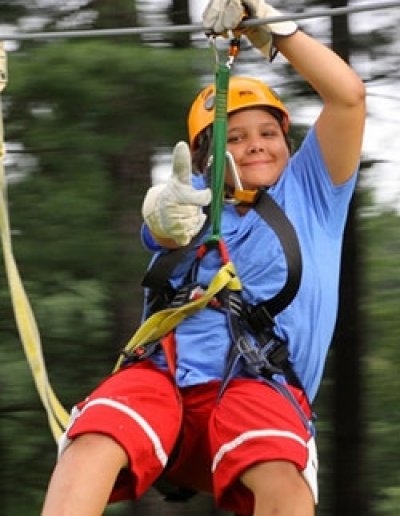 Did you know we have the best Birthday Parties in Asheville?
There is still room to book your child for Summer Adventure Day Camp and Kolo Bike Camp!

Why Adventure Center of Asheville is a

MUST DO when visiting Asheville.

The Adventure Center of Asheville is on a 125 acre property only a mile from downtown Asheville. A more convenient location for your adventures can't be found!!


The Adventure Center of Asheville has more adventure choices (and serves more ages!) than any other option in the Asheville area. The Adventure Center includes two zipline canopy tour experiences for ages 8 and up, KidZip adventure for ages 4 and up, Asheville's premier Treetops Adventure Park for all ages and challenge interests from 4 years old (junior & beginner challenge trails) to young adults (moderate to "Ninja Warrior type trails) to parents and mature adults (your choice is endless from easy to demanding!), miles of bike trails for beginner to advanced riders, Tree Quest rope based tree climbing, leisure walking paths, adventure camps, bike camps, and group team building. UNBELIEVABLE! All of this in one place.


The Greiner family, local owners of The Adventure Center (& Wildwater Rafting), have been leaders in the outdoor adventure tourism business for almost 50 years and are 3 generations deep with love and passion for providing the absolute best experiences for your family or group of friends. Over those years the Greiners have helped set the standards that adventure outfitters live by and are catalysts for forming the national adventure industry organization that leads and trains outfitters and guides across the country. Over 1.5 million Guests have experienced the outdoors with Wildwater Rafting & Ziplines, and Adventure Center of Asheville.


Whitewater rafting is also our specialty! Besides offering more zipline options & locations in the SE than any other aerial adventure company (5 locations, 11 aerial adventure options), Wildwater offers all levels of whitewater rafting across the SE at 4 river locations.


Our exclusive Quality Service Guarantee empowers our managers to do whatever it takes to assure each Guest has a remarkable and memorable time with us. Your time is limited and valuable to us as well as you. We are honored when you have chosen to spend that limited resource with us and we intend to make sure you are completely happy with that choice. We can certainly make mistakes but, with our Guests help, we will listen and try to correct those to everyone's satisfaction.


Quality runs thru us. We do our best to invest in the newest equipment and personal safety gear to provide the highest quality experience possible. Your gear is constantly inspected and assessed to assure it is ready for your use.


The Adventure Center of Asheville and Wildwater are a part of the community. We believe that being a responsible business means giving back to the community. Including our Zipping for Autism event which has donated over $250,000 since 2013, The Adventure Center of Asheville and Wildwater contribute over $75,000/year to schools, community organizations, at risk populations, healthy living, and green/environmental programs throughout the region and beyond.