SEPTEMBER 2019 Pet Holidays

Pets in Politics True or False: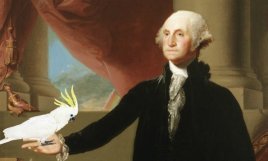 Trump is the only US president not to have a pet in the White House.

George Washington had a parrot named Piggy & 36 hounds.

Bill Clinton had a cat named Socks and a Chocolate lab named Buddy.

George W. Bush's cat Ernie was "too wild" for the White House.

The Obamas favor the dog breed known as Portuguese Water Dog.
1. False but he is the first president in many decades to not have a furry companion.
2. False, his parrot's name was Polly.
3. True allow according to Hillary Socks despised Buddy at first sight.
4. True and Ernie lives with a family in California.
5. True, their daughter Malia has allergies and this breed is considered hypoallergenic.

September 2019
Pet of the Month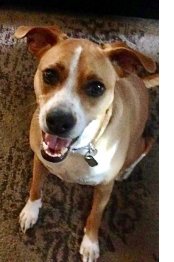 Hi my name is Luna and I am a beautiful two year old mix breed. My mom and dad adopted me when I was a pup. I absolutely love my rubber gorilla and shoes! I can find shoes wherever they are hidden. I do not have a most embarrassing moment because I love and am proud of all my messes. Shhh...don't tell Dr. Daniels but my favorite treat is a piece of bagel. I am so spoiled that I insist on sleeping in bed with mom and dad.
Join the fun!

Follow us on Social Media:


Does your pet have
healthy skin?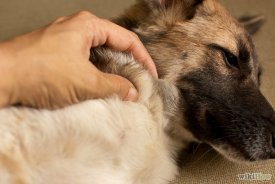 While you're snuggling w
ith your furry friend, you may feel a bump or rash on their skin. What should you do? Sometimes out pet's may have bumps, lumps, missing fur, a black spot or a funny-looking toenail. Should you be concerned? It's difficult to know what skin issues are ok and what needs further evaluation. Missing fur may be from a lost battle with a housemate. A black spot may be a tick. A rash may indicate a food allergy. A little bump may be cancer. Skin is the largest organ of the body and there's a lot to cover! That's why a yearly checkup is vital to your pet's health. When you bring your pet in for their wellness exam, we'll assess every part of them, from nose to tail. It's our job to make sure your pet is healthy! September can be a less busy month with kids at school and before the holidays start up. It's a great time to schedule your pet's yearly exam. Make an appointment today with Dr. Daniels. 727-244-8825
When it comes to hurricanes it is tough to know when we should really evacuate and when to stay. But it is not tough to have a plan for you and your loved ones. Here is the Pinellas County link for Hurricane Preparedness.
PET HURRICANE PREPAREDNESS
| | |
| --- | --- |
| MAKE A PLAN: | EMERGENCY KIT: |
| - Find pet-friendly housing: hotels, family, friends, boarding | - food & water bowls |
| - If you stay, make sure your pets are with you and unable to escape. | - vet records/contacts |
| - Identify local pet-friendly emergency shelters. | -leashes/ carriers |
| - Designate pet caretaker in your absence | - at least 5 days of food, water, medications |
| | - litter box/ wastebags |
| | - recent photos, tags & ID |
| | - comfort items |
Local Pet Friendly Shelters:
Palm Harbor University High School

1900 Omaha St., Palm Harbor

Largo High School

410 Missouri Ave. N., Largo

Gibbs High School

850 34th St. S., St. Pete
Consider watching our local news and not the national news. No one knows Florida like our local meteorologists and they will often have a less panicked approach to storms headed our way.
Is Your Pet's
Rabies Vaccination Current?

World Rabies Day is the perfect time to vaccinate your pet.
The vaccine offers a simple, effective way to protect your pet from the deadly disease. Although the number of rabies cases in the U.S. has declined, thanks to the introduction of the vaccine, the disease hasn't been completely eradicated and still remains a threat to people and animals. According to the AVMA, rabies rates are higher in cats than other domestic pets, although dogs are at risk too. This could be due to a lower vaccination rate among cats.
Which Pets Are at Risk of Developing Rabies? Rabies can occur in any mammal, including dogs, cats, ferrets, skunks, raccoons, pigs, horses, cows, bats, coyotes, goats, foxes and sheep. Small mammals, like squirrels, rabbits, hamsters, and gerbils, can technically be infected with the rabies virus. But, these animals rarely develop the disease.

How Do Pets Get Rabies?

The rabies virus is transmitted in an infected animal's saliva. Pets are usually infected when they're bitten or scratched by infected bats, raccoons or other wildlife. Once your pet becomes ill, it can infect you too. You don't have to be bitten by a rabid animal to develop rabies. The rabies virus can enter your body if your pet licks your hand, and you have a small scratch or a patch of dry skin on your hand.
What Are the Symptoms of Rabies in Pets?

A Change in Behavior: Normally calm pets may become aggressive or irritable, or your dog or cat may seem much more affectionate than usual.

Drooling and Swallowing Issues: Pets that have rabies may drool continuously and have trouble swallowing food and water.

Difficulty Walking: Pets can become uncoordinated and might even develop paralysis as a result of the infection.

Disinterest in Food and Water: Dogs and cats with rabies lose interest in drinking or eating.

Seizures: Seizures can occur as the virus worsens. Eventually, death may occur.
Rabies symptoms don't appear immediately after your pet comes in contact with a rabid animal. In fact, he or she may appear perfectly healthy for two weeks to two months after being exposed to the virus. The best preventative is vaccinating your pet!