Well here we are...the end of summer Labor Day holiday weekend. Unlike Florida, other than a few scattered showers tomorrow, the weekend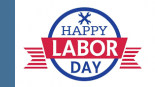 looks to be a great time here in Northwest Arkansas to get out and enjoy your favorite activity.
Be sure and check out the calendar in this newsletter to get you started!
Once again this week we are highlighting the offer from Voodoo Music that will allows readers of this newsletter to receive a discount when they purchase advance tickets for the performance of the Terry Quiett Band at the Meteor Guitar Gallery on September 14th. Read on below to find out how to claim your discount!


Also of note, registration for the Ozark Blues Society Blues Challenge is
now open! Check out the info in
the article below or visit our website
Feel I am missing an event? Just click
the link below to email Sandy.
And always remember, this is YOUR newsletter! Please send
feedback or suggestions our way. You can reach me by email at the address below. We LOVE our readers and want to see
Ticket Discount!

at the
Meteor Guitar Gallery
Ryan Baker of Voodoo Music Entertainment has an offer for our readers! Voodoo Music is offering a discount to readers of this newsletter when they purchase advance tickets for the September 14th Terry Quiett Band show at the Meteor Guitar Gallery. Click the following link
to tickets and enter the discount
You will be able to purchase your advance tickets for $8.00!

For 15 years the Terry Quiett Band had become a mainstay across America's Heartland. From 6th street in Austin...to the windy city of Chicago...through t
he mountains of Colorado...across the deserts of Arizona...jamming down on Beale Street
in Memphis...wherever they went the band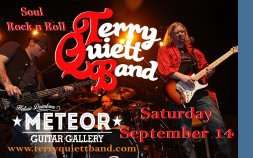 has won over young and old with their
energetic and soulful sound.
Along the way they forged a relationship with
a 13-time Grammy-winning producer by the name of Jim Gaines. Jim is a veteran of the blues industry revered for his work with
Stevie Ray Vaughn, Carlos Santana,
Steve Miller Band, George Thorogood,
Luther Allison, Albert Collins and many more.
Terry and Jim worked on 3 albums together and in those sessions really crafted the bands sound. It is a blues rockin style of music but, it's not like any other and it has a distinct sound that you will never forget. On the road they were growing fans and sharing the stage with rock and blues legends including

Buddy Guy, Robert Cray, B.B King, Jonny Lang, Kenny Wayne Shepherd, Johnny Winter, Robin Trower, Robert Randolph, Bernard Allison, Big Head Todd & the Monsters, .38 Special and Los Lonely Boys.
Ozark Blues Society

It's time to enter! Registration is open until October 11, 2019 for bands and solo/duo artists who want to compete for a spot in the 2020 International Blues Challenge in Memphis in January. As an affiliate of the Blues Foundation, the
Ozark Blues Society Blues Challenge will be held Friday, October 25th at The Meteor Guitar Gallery in Bentonville. One band and one solo/duo act will be selected to represent Northwest Arkansas.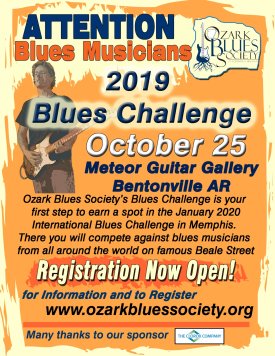 Please spread the word to musicians you may know who might consider entering. Information and registration are available on our website at www.ozarkbluessociety.org
Blues Foundation's

Blues Music Awards

Submissions Now Open

Shared from the Blues Foundation
You may now formally submit your album for consideration via our online service.
Your complete album music must be uploaded as a WAV file with album artwork uploaded
as a JPEG or PDF file. If you need assistance with uploading your music, album artwork, and/or liner notes, please contact
August 1 – August 31, 2019 - $155 per submission
September 1 – September 30, 2019 - $180 per submission
October 1 – October 15, 2019 - $225 per submission
The submission process officially closes
on October 15, 2019. You must upload your music and artwork and complete payment for your submission transaction no later than OCTOBER 15TH to be considered for a Blues Music Award nomination.

Click on the link below for submission categories and additional information.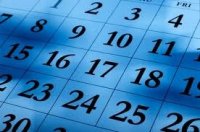 8/30 - 9/07

Please enjoy the following listings comprised of bands, venues, and/or organizations that support Ozark Blues Society. Always check with individual venues for event details and schedule changes.
8
.
30
8.31
Jenna and the Soul Shakers at West and Watson in Fayetteville

Max Lemaster/A. M. Bell/Jimmy Wayne Garrett and the Dreamwalkers for Last Saturday at the American Legion in Fayetteville

Rascal Flatts with Morgan Evans at the AMP in Rogers

Hunkr Down at The Meteor Guitar Gallery in Bentonville

Magnolia Road at Ramo d' Olivo in

Bentonville

Sugar Creek at JJ's Grill and Chill in Bella Vista

Brad James Band at Warren's Rec Room in Alma
9.01
The Time Burners at Ozark Mountain Bagel in Bentonville
9.02
Jim Mills at JJ's Grill and Chill in Bella Vista
9.03

Jim Mills at JJ's Grill and Chill on Steamboat in Fayetteville

NWA Jazz Showcase: Block Street Hot Club at West and Watson in Fayetteville

Matthew Clark for house Concert at the Meteor Guitar Gallery in Bentonville
9.04
Blues Therapy with Brick Fields at Moranos in Fayetteville

Vince Turner at JJ's Grill and Chill in Rogers

Angela Edge at The Nines in Bentonville

Live at the Five and Dime in Downtown Bentonville

Gary Hutchison at JJ's Grill and Chill in Fort Smith
9.06
9.07
Lost Bridge Trio at Blu Fish Market in Bentonville

Randy Soller at Fred's Hickory Inn in Ben

tonville

House of Songs Songwriter Summit Showcase at Bike Rack Brewing in Bentonville
9/14 Terry Quiett Band at The Meteor Guitar Gallery in Bentonville

10/12 Evening of Jazz with Michael Fields at Sunrise Stage in Fayetteville

10/12 Shaw Davis and the Black Ties at The Meteor Guitar Gallery in Bentonville

10/18 Chuck Rhodes at The Meteor Guitar Gallery in Bentonville

10/25 Ozark Blues Society Blues Challenge at Meteor Guitar Gallery in Bentonville

10/26 Hi-Lux at The Meteor Guitar Gallery in Bentonville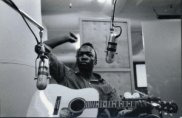 Today's show features music performed by New Orleans Rhythm Kings and John Lee Hooker

"When I die, they'll bury the blues with me. But the blues will never die.
"
John Lee Hooker

Blues Education Supporters
Thanks to the following for their support of blues education.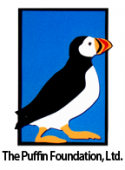 Check Out these regular local radio programs

"The Generic Blues Show" hosted by Paul Kelso airs every Friday night at 9pm on KUAF 91.3FM
Rockin' Hog Radio presents "Sunday Morning Blues" from 8am to 10am every Sunday
LINK
Get Involved with the Ozark Blues Society

Annual membership levels begin at $15 and give you so much in return, including meeting new friends while enjoying the best blues artists in the area.
By being a member of The Ozark Blues Society of Northwest Arkansas, you are helping to support the Arts and to preserve the Original American Art Form known as The Blues.
Membership Benefits Include:

Weekly E-newsletter
Opportunities to win tickets to events
VIP seating at events (when available)
Discounts on OBS merchandise
Social networking – meeting other people who also love the blues
Opportunities to volunteer on OBS committees and at events
Ability to attend board meetings and vote on upcoming organizational issues and elections
Visit our Website to renew or join! Ozarkbluessociety.org