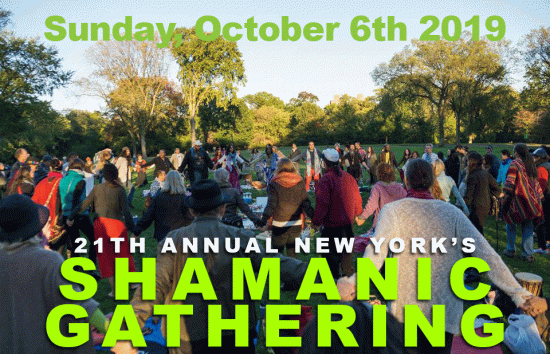 "The event was just so full of love and healing energy. I don't think I have ever seen that many genuine smiles in one day." –K.F

The 21th Annual New York's Shamanic Gathering

In Central Park – Great Hill – Oval

(Entrance Central Park Westside @ 103 – 106 street)





The event is FREE – donations are appreciated!





Sunday, October 6, 2019

From 12.30pm -to- 6pm

Rain or shine!





This anniversary year Gathering theme is:

Come and join New York's Tri-State area Shamanic community in uplifting sacred ceremonies, rituals, and teaching performed by shamans from diverse shamanic traditions.
Join us in community drumming, singing, dancing and sharing of potluck food.
Join us on a profound journey to the spirit world and to the spirits of nature. Help us shapeshift our society's vision and actions to create a more sustainable and just world for all on this marvelous Earth.



ALL ARE WELCOME! KIDS, PETS ADULTS. SHARE WITH YOUR COMMUNITY.


A forming list of presenters:


Humo Maya

– Cosmic Shamanic Tribal Sound Healing Music Journey

More to be announced

Joined our celebration! New York's largest and longest-running shamanic gathering welcomes all ages and backgrounds.





What to bring: For our potluck picnic, please bring wholesome food & non-alcoholic drinks. Bring warm clothing, a blanket, a rattle or drum, a notepad & pen, and good spirit.


Feel free to bring flyers & business card to share with the community.





Volunteers are needed, let us know if you can help out.