Seems like "half" is the word for the week. With football season, "halftime" is an important and fun word. Also this weekend we hit the halfway mark for the month of September. That means we are less than two weeks away from Bikes, Blues and BBQ! This week we are also about halfway through the registration for Ozark Blues Society's 2019 Blues Challenge. Registrations have starting coming in, so it's a great time for local artists who might want to take a crack at the challenge to jump in and sign up. Anyone have anything else hitting the halfway mark
in your neck of the woods? Seems like kind of an interesting way to look at things, lol!
Don't forget to check out the
performance of the Terry Quiett Band at the Meteor Guitar Gallery on Saturday. Read on below for more information about the band and how
to
claim discount tickets!

Feel I am missing an event? Just click
the link below to email Sandy.
And always remember, this is YOUR newsletter! Please send
feedback or suggestions our way. You can reach me by email at the address below. We LOVE our readers and want to see
Ozark Blues Society

It's time to enter! Registration is open until October 11, 2019 for bands and solo/duo artists who want to compete for a spot in the 2020 International Blues Challenge in Memphis in January. As an affiliate of the Blues Foundation, the
Ozark Blues Society Blues Challenge will be held Friday, October 25th at The Meteor Guitar Gallery in Bentonville. One band and one solo/duo act will be selected to represent Northwest Arkansas.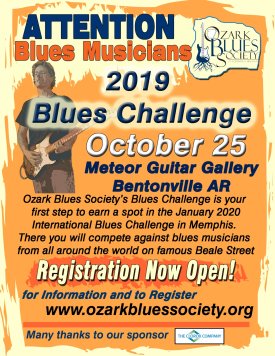 Please spread the word to musicians you may know who might consider entering. Information and registration are available on our website at www.ozarkbluessociety.org
This Saturday!

at the
Meteor Guitar Gallery
Are you still debating jumping in on the discount offer below? Well check out
to let the Terry Quiett Band help you get your mojo working so you can decide!
Ryan Baker of Voodoo Music Entertainment has an offer for our readers! Voodoo Music is offering a discount to readers of this newsletter when they purchase advance tickets for the September 14th Terry Quiett Band show at the Meteor Guitar Gallery. Click the following link
to tickets and enter the discount
You will be able to purchase your advance tickets for $8.00!

For 15 years the Terry Quiett Band had become a mainstay across America's Heartland. From 6th street in Austin...to the windy city of Chicago...through t
he mountains of Colorado...across the deserts of Arizona...jamming down on Beale Street
in Memphis...wherever they went the band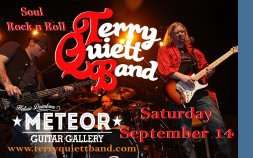 has won over young and old with their
energetic and soulful sound.
Along the way they forged a relationship with
a 13-time Grammy-winning producer by the name of Jim Gaines. Jim is a veteran of the blues industry revered for his work with
Stevie Ray Vaughn, Carlos Santana,
Steve Miller Band, George Thorogood,
Luther Allison, Albert Collins and many more.
Terry and Jim worked on 3 albums together and in those sessions really crafted the bands sound. It is a blues rockin style of music but, it's not like any other and it has a distinct sound that you will never forget. On the road they were growing fans and sharing the stage with rock and blues legends including

Buddy Guy, Robert Cray, B.B King, Jonny Lang, Kenny Wayne Shepherd, Johnny Winter, Robin Trower, Robert Randolph, Bernard Allison, Big Head Todd & the Monsters, .38 Special and Los Lonely Boys.
3rd Annual Branson Blues Brews

and Barbecue

Branson Landing is holding its 3rd Annual Blues, Brews & Barbecue event this Saturday, September 14, 2019.
This popular event has fun things to do for all ages from face painting to a Budweiser beer garden. All proceeds will benefit the Boys & Girls Club of the Ozarks, which is celebrating 25 years of service to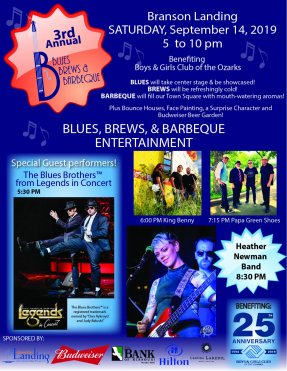 If you find yourself in the Branson area on
Saturday, join us for a
bluesy good time – you'll definitely get
your fill of delicious barbecue and exceptional music! The fun kicks off at 5pm and keeps going until 10 o'clock.
Deadline Approaching!

2019 International
Songwriting Competition
Shared from ISC:
ISC REGULAR DEADLINE

APPROACHING SOON ON

SEPTEMBER 18
Judges include:

Coldplay, Dua Lipa, Tom Waits, Kevin Gates, Cam, Bastille, The Script,
Kristian Bush (Sugarland), Fleet Foxes, Gloria Trevi, Tanya Tucker, Lukas Nelson,
Irma Thomas, Danilo Perez, and Many More


September 9, 2019 – ISC's main objective is to provide an outlet and platform for artists and songwriters to achieve their goals and further their careers. ISC is open to amateur and professional songwriters and offers them the unique opportunity to have their music heard by the decision-makers in the music industry, including iconic celebrity artists and high-profile industry executives.
Winning ISC can help established artists to acquire better gigs, get more press and exposure, license music for film or tv, gain more fans, or even get a publishing or record deal. For artists just starting out, it can help to jump start a career.
How does ISC do this? By creating the best songwriting competition there is...one that has the best judges, the most prizes, and the global prestige and benefits that winning ISC produces. ISC gives away more than $150,000 (US) in cash and prizes, shared by 71 winners in 23 music genres.
Recording artists such as Vance Joy, Bastille, The Band Perry, Passenger, Illenium, Gotye, Kimbra, Gin Wigmore, Gregory Porter, For King and Country, Lindsey Stirling, and many more have seen the value of entering ISC. As entrants and winners in ISC, they have all gone on to hugely successful careers.
In addition to the celebrity judges, the panel also includes a Who's Who of high-profile, influential record label executives. Included are Sylvia Rhone (Chairwoman/CEO, Epic Records), Avery Lipman (Founder/President, Republic Records), Mike Easterlin (Co-President, Elektra Music Group), and many A&R reps whose job it is to find great artists and songs. The record labels represented on ISC's panel include: Republic, Epic, Parlophone, Elektra, Capitol, Glassnote, Concord, Alligator, Atlantic, Wind-Up, Black River, New West, Warner, Word, Third Man, and more. Go to www.songwritingcompetition.com/judges for a complete list of ISC judges.
This is an unprecedented opportunity for an artist's music to be heard by the elite of the music industry. For more information and to enter your original songs, go to www.songwritingcompetition.com.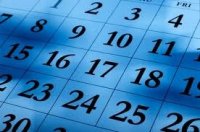 9/13 - 9/21

Please enjoy the following listings comprised of bands, venues, and/or organizations that support Ozark Blues Society. Always check with individual venues for event details and schedule changes.
9
.
13
Nace Brothers for Happy Hour at George's Majestic Lounge in Fayetteville

Richard Burnett at After 5 Bar in Rogers

Jay Yates at Fred's Hickory Inn in Bentonville

Tater, Mater, and Squarsh at Ramo d' Olivo in Bentonville

Shaw Revolver at The Nines in Bentonville

The Pressure Kids with Suite 25 for Backyard House Sessions at Bike Rack Brewing in Bentonville

Keith Nicholson Trio at JJ's Grill and Chill in Bella Vista

Dirrty Blu with Drawing Blanks at The Majestic in Fort Smith
9.14
Motivator Trio at Jamin' Java in Fayetteville (am)

Buddy Shute and the Motivators at Morano's in Fayetteville

Conga Keyz Jazz Duo at Sassafras Vineyard in Springdale

Terry Quiett Band at The Meteor Guitar Gallery in Bentonville

Keith Nicholson at Fred's Hickory Inn in Ben

tonville

Take Cover at Pedaler's Pub in Bentonville

Fett's Folly at Ramo d' Olivo in Bentonville

Blew Reed and the Flatheads at the Rowdy Beaver in Eureka Springs

Blues, Brews and Barbecue at Branson Landing in Branson
9.16
Lara Downes Piano Workshop at Crystal Bridges in Bentonville
9.17

Jay Shepherd Group for NWA Jazz Showcase at West and Watson in Fayetteville

Wild Harbors at The Meteor Guitar Gallery in Bentonville
9.18
Blues Therapy with Brick Fields at Moranos in Fayetteville

Richard Burnett at JJ's Grill and Chill on Steamboat

Vince Turner at JJ's Grill and Chill in Springdale

Lyrique Quintette for Live at the Five and Dime in Downtown Bentonville
9.19
Roby Pantall Jazz Quartet for NWA Jazz Night at US Pizza in Fayetteville

Brother and The Hayes with Jesse Dean at The Meteor Guitar Gallery in Bentonville

Jenna and Friends at Pedaler's Pub in Bentonville

Olivia Ballard with Colton Cappetta for Notes at Night at Undercroft Bar in Bentonville
9.20
Earl and Them for Happy Hour at George's Majestic Lounge in Fayetteville

Keith Nicholson Trio at Kingfish Bar in Fayetteville

Area 51 Rock and Roll Show at the Meteor Guitar Gallery in Bentonville

Benjamin Del Shreeve at Fred's Hickory Inn in Bentonville

Buddy Shute Trio at Ramo d' Olivo in Bentonville

Roger Thomas at Blu Fresh Fish Market in Bentonville
9.21
Blues City Limits at JJ's Grill and Chill in Springdale

Jonn Dooly at Fred's Hickory Inn in Ben

tonville

The Downtown Livewires for World Championship Squirrel Cook Off in Bentonville
9/25 - 9/28 Bikes Blues and BBQ in Fayetteville

10/12 Evening of Jazz with Michael Fields at Sunrise Stage in Fayetteville

10/12 Shaw Davis and the Black Ties at The Meteor Guitar Gallery in Bentonville

10/18 Chuck Rhodes at The Meteor Guitar Gallery in Bentonville

10/25 Ozark Blues Society Blues Challenge at Meteor Guitar Gallery in Bentonville

10/26 Hi-Lux at The Meteor Guitar Gallery in Bentonville

Today's show features music performed by Billie Holiday and T-Bone Walker

"No two people on earth are alike,
and
it's got to be that way in music or it
Billie Holliday

Blues Education Supporters
Thanks to the following for their support of blues education.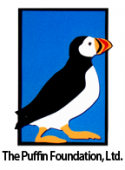 Check Out these regular local radio programs

"The Generic Blues Show" hosted by Paul Kelso airs every Friday night at 9pm on KUAF 91.3FM
Rockin' Hog Radio presents "Sunday Morning Blues" from 8am to 10am every Sunday
LINK
Get Involved with the Ozark Blues Society

Annual membership levels begin at $15 and give you so much in return, including meeting new friends while enjoying the best blues artists in the area.
By being a member of The Ozark Blues Society of Northwest Arkansas, you are helping to support the Arts and to preserve the Original American Art Form known as The Blues.
Membership Benefits Include:

Weekly E-newsletter
Opportunities to win tickets to events
VIP seating at events (when available)
Discounts on OBS merchandise
Social networking – meeting other people who also love the blues
Opportunities to volunteer on OBS committees and at events
Ability to attend board meetings and vote on upcoming organizational issues and elections
Visit our Website to renew or join! Ozarkbluessociety.org