Seasons, Sunrise, Sunsets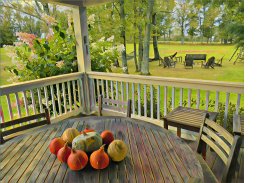 Late September. We enter the Jewish New Year, the time of new and fresh beginnings. The golden leaves crackle under my bike tires. I love the oranges and vermilions of the sunset sky as I glide over the 59th Street Bridge on Friday nights to my Cosmic Fridays.

My birthday falls this year on the Fall Equinox, a perfect balance of day and night. I too am entering a new horizon, a time of new and fresh beginnings. My sixth decade! And it kind of amazes me. That I get to do that. Not everyone does. My dad didn't, my mom barely did. Also that I get to feel so new, so fresh, so happy and youthful doing so. That I get to impart light, and receive light from so many, in so many evolving ways.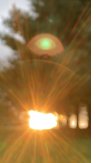 I remember how I started doing yoga.

The birth of my son 24 Thanksgivings ago "grounded" me, and that gift was how I began yoga. I've learned through life's twists and turns to keep an eye open for the gem, the gift, at every corner. Both my parents passing too young inspired my work path and life path toward discovering more wholeness.

September. New beginnings. The school year. Rosh Hashanah + Yom Kippur. Harvests and new growth seasons. What new beginnings are birthing in you?

ReSOULutions Retreat 2020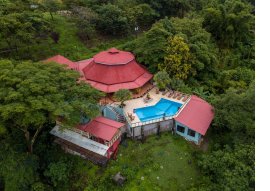 January 4-11, 2020 ~ save the date if you'd like to take a leap of adventurous faith with me, and with my retreat teaching partners:

Juan, Esco, Loren, Catt, Michelle, Donna, and so many more superstars in our intrepid, globe-trotting, world-exploring ReSOULutions Retreat Tribe!

This is RR's sixth New Year's retreat, and my third as a senior teaching partner. It's been a thrilling discovery each year: Cartagena, Colombia my first year, where I nearly set a centuries'-old castle hotel and its town on fire, with New Year paper lanterns; Xinalani, in Puerto Vallarta, Mexico, my second year, where the jungles nestled into the hills and we slept overlooking the ocean surf.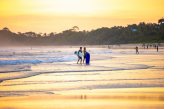 And this year, we are at Rayos del Sol, a beautiful gem on Costa Rica's Pacific coast near the town of Nosara. Flights are easy including non-stop, into Liberia, and the drive is merely 30-40 minutes to our beach/jungle hideaway resort.

Per our mission to make it all-inclusive ~ people, that is ~ we are a yogaversity, with our staple of twice-daily vigorous vinyasa supported by equally impressive lineups of: mellow flow, yin, restorative, yoga nidra, seated meditation, yoga therapy, sound healing, kundalini, AcroYoga, pilates, plus both an onsite obstacle course and a high intensity interval training workshop. Oh. Wow. Right.


So. Spaces are limited! A $500 deposit holds your spot. These spots are first come, first served. Yes, you will also earn a $100 referral bonus for every friend you refer, who registers. All classes are optional; excursions and massages and free time are entirely yours to decide to book! Make it a Friends and Family vacation + retreat!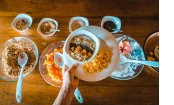 See here for my description on my website. Here for Juan's official ReSOULutions Retreats website.

Email for questions and to register! See retreat Videos: 2019 Video; 2018 Video


Workshops, Trainings, Retreats, Immersions

Oct 23 ~ Pure Partner Yoga ~ 6:30-8pm, Pure Yoga East
Nov 6 ~ Pure Partner Yoga ~ 6:30-8pm, Pure Yoga West
Dec 4 ~ Pure Partner Yoga ~ 6:30-8pm, Pure Yoga East
Nov 23 ~ Thanksgiving Restorative ~ 3-5pm, Pure East
Jan 4-11, 2020 ~ ReSOULutions Retreat #6: Rise
Rayos Del Sol,
Costa Rica, w/Juan Gamboa & Tribe Teachers
Feb 15, 2020 ~ Valentine Restorative 3-5pm, Pure East
100-Hour Mother Mary Restorative Teacher Training
~ Pure Yoga NY
4 Weekends:
March 7-April 19, 2020
Level 1: Basics ~ March 7-8, 2020
Level 2: Intermediate ~ March 21-22, 2020
Level 3: Thai & Nidra in Restorative ~ April 4-5, 2020
Level 4: Thai, Nidra & Integration ~ April 18-19, 2020
May 2-3 ~ Mother Mary Yoga Nidra Teacher Training

May 9 Mother's Day Restorative ~ Pure Yoga East
May 22-25 ~ Therapeutic Lunar Immersion ~ Pure West
w/Katie Capano: 30 YACEP hrs; Restorative Yoga, Thai, Fly
June 12-14 ~ Wagging Tail Yoga Retreat ~ Bethel, NY
with Ora Ramat, owner, co-host & co-teacher
Weekly Classes in New York City

Pure Yoga New York Weekly Yoga:
Pure Yoga Eastside - 203 E.86th St. (3rd Ave)
Monday: 10:30-12:00 Slow Flow Meditation
Monday: 12:30-1:30 Yoga Nidra Meditation
Tuesday: 12:30-1:30 Restorative
Thursday: 12:30-1:30 Restorative
Pure Yoga Westside - 204 W.77th St. (Amsterdam Ave)
Friday: 12:15-1:30 Flow & Restore L1
Cosmic Fit Club - Court Square, L.I.C.
Friday: 6PM-7PM AcroYoga Basics *no partner needed
Friday: 7PM-8PM Thai Massage Intro *no partner needed
Photo thanks this issue:

* ReSOULutions Retreats 2019 & 2018 retreat photos/videos, Grant Henry Media.
* ReSOULutions 2020 photos: John Suhar, & Rayos del Sol.
* Cosmic Thai: Ramon Frias.
*Wagging Tail Yoga Retreats: Mary, Ora Ramat, students.
*Pure Partner Yoga photos: Mary & Sandy Ames, Lisa Coico.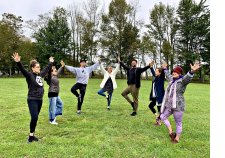 It is my pleasure since 2006, about 4 years into full-time yoga teaching, that I began writing monthly eNewsletters to my students.

I enjoy regular communication, and welcome you to Reply or Forward anytime. If you received this from someone, please feel free to Subscribe.

Also, free to Unsubscribe at any time! I wish only to reach those who will enjoy and/or benefit from my communications and updates.



May you reach joyously toward the sun ~ Enjoy the Autumn gloriousness ~
& the gloriousness of your life!
OMMMMMMMary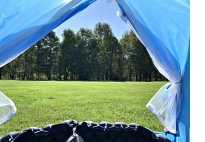 September was my 14th yoga retreat weekend with my co-teacher Ora Ramat, on her 100-acre land and retreat center in Bethel, called Wagging Tail Yoga.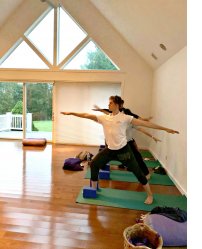 Bethel, NY is the little town where Woodstock happened in 1969. Yes, there is a glorious exhibit at the state-of-the-art Bethel Performing Arts Center, a true time capsule worth several hours' visit.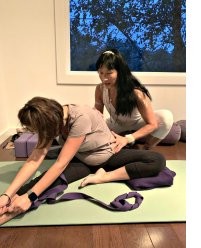 And, the delicious studio, the woods, the house.... The peace and beauty, and the high vibrations... You'd have to experience it!



"Thank you to Ora and Mary for turning a regular weekend in September into a nourishing, connected, high vibration escape. I did not anticipate the amount of joy and fulfillment I would gain from the retreat...."
~ Eli, 20 year-old dancer




"Trying to organize thoughts and feelings to share with you all, in an attempt to express gratitude to everyone for a meaningful, joyous and refreshing retreat." ~ Nellie, wife, mom, & new grandmother; &

"Thank you for a truly enlightening, blissful, perfect weekend."
~ Robin, mom of 13-year-old

Next one #15: June 12-14, 2020



#14 Retreat
Video Link
Past Weekend Retreats Photo Albums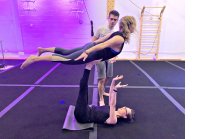 Every Friday just over the bridge in Long Island City at Court Square, Cosmic, this fun and friendly yoga and wellness center is my home, where I teach 6PM AcroYoga Basics, followed by 7PM Introduction to Thai Massage.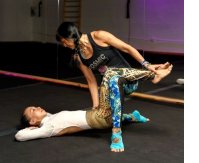 Both are very beginner friendly and welcoming! Start your weekend off right! No partner needed! First Cosmic Fit Club class is free!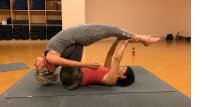 Wednesday, October 23rd, 6:30-8pm is the next date for the 2019 monthly AcroYoga workshops we are calling Pure Partner Yoga, that introduces you to the pure gem and heart of the AcroYoga practice:



Communication, connection, yoga, fun, play, acrobatics and therapeutics, in equal balances!

If you've seen AcroYoga on social media, you've likely seen an emphasis on performance acrobatics.

Come and feel all of that other sweet, juicy, joyful, playful, fun stuff! THAT is why it's caught on!

Everybody deserves to find their inner happy child. Just as everybody is entitled to the joys of Yoga. So, too, AcroYoga. Come & try it! No partner needed! Partners R Us!