This year Indigenous Peoples' Day is October 14. We wanted to use this issue of Talking Story to highlight some of the stories being written by and about people from Native Nations. We're featuring indigenous authors as well. As always we have some terrific giveaways and suggested classroom activities.
Traci Sorell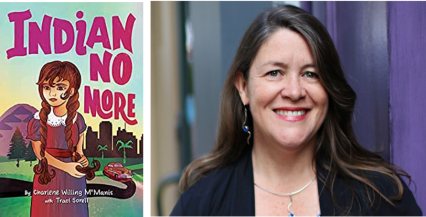 My late friend and co-author Charlene Willing McManis crafted Indian No More in order to shine a light on a period of US history that is not taught in schools. Until now, there hasn't been a story for young people that shared what many Native Nations experienced in the 1950s at the same time as the Civil Rights Movement and the Cold War. It is history that Charlene experienced as a young girl and citizen of the Confederated Tribes of Grand Ronde, located in northwest Oregon.
After the US government terminated its government-to-government relationship with her tribe (a fate experienced by another 108 tribes as well) in 1954, Grand Ronde citizens found themselves forced to leave their homes unless they could purchase outright the parcel of tribal land they lived on from the federal government. Charlene's family like many others was forced to relocate. During this same time, the US Congress enacted the Indian Relocation Act in 1956 to move Native people out of their tribal homelands to urban areas.
While Indian No More is a historical fiction middle grade novel, it is informed by Charlene's family's move to Los Angeles as well as the stories of other Grand Ronde citizens she interviewed. The story is told through Regina Petit, a ten-year-old girl who must now grapple with her changing identity after moving from the only home she's ever known and trying to make sense of life in California.
Before Charlene died of cancer in spring 2018, she asked me (with her publisher's consent) to finish the revisions on the book and prepare it for publication. This book is now part of her legacy. I am grateful for all who will read it and learn another aspect of this important chapter in Native American and US history.
A former federal Indian law attorney and policy advocate, Traci is an enrolled citizen of the Cherokee Nation and lives in northeastern Oklahoma where her tribe is located. Traci
writes fiction and nonfiction books as well as poems for children. We Are Grateful: Otsaliheliga, won multiple honors and starred reviews. At the Mountain's Base, and Indian No More (giveaway #3) were just released.
Julie Flett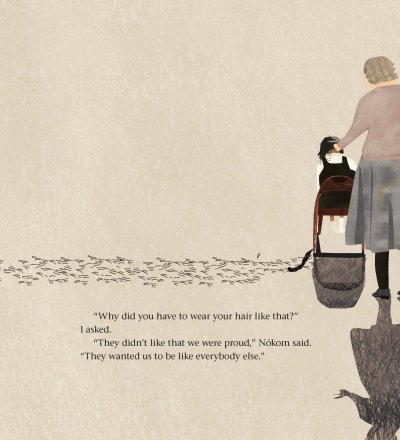 The collage illustration is by Cree-Metis author, illustrator, and artist

This is one of many beautiful illustrations in When We Were Alone by David A. Robertson. The book depicts a conversation between a young girl and her grandmother. Through her grandmother's answers, the young girl discovers her history and the legacy of Native American boarding schools.
See Giveaway #1 for a chance to win this poignant, picture book.

by Joyce Moyer Hostetter

Do some research on The Indian Relocation Act as well as the Trail of Tears.
Compare and contrast the two events.

Write a story from the viewpoint of a character who is being relocated in one of these two events.
In some cities and states in the US, Indigenous People's Day celebrations have replaced Columbus Day.
Learn what you can about this as a class or individually.

Then discuss, write about, or create a presentation exploring why this change of emphasis would be important to people who are part of the original native tribes living in North America.
TWO TEENS' TAKE ON THREE BOOKS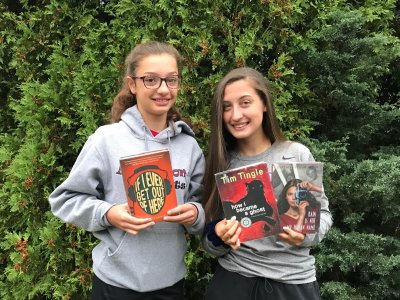 Sonia and Cynthia Staroscik

If I Ever Get Out of Here
by Eric Gansworth (Onodaga)
Lewis Blake switches schools because he is too advanced for Tuscarora Indian Reservation's school, but this means he must leave his friends. At his new school, Lewis faces many troubles; none of his classmates want to speak to him, a bully chooses to target him, and the school's faculty has no interest in his well-being. He eventually becomes close friends with the new kid in town, brought together by their mutual taste in music. Lewis is ashamed of how poor he is, and does everything to ensure that his new friend does not visit his house on the "rez". This book emphasizes the struggles of a teenage Native American boy who has to face poverty, racism, and harsh realities. (Grades 8-12)
Rain is Not My Indian Name
by Cynthia Leitich Smith (Muscogee (Creek)
Cassidy Rain Berghoff snaps out of her daze to attend "Indian camp", leaving her home to socialize for the first time in six months. Having suffered the death of a close friend, she turns to photography to bring her out of her gloomy haze. Viewing life through her camera lens, Rain takes pictures for the local newspaper. She realizes it's hard to be one of the only Native Americans in her town, and becomes ashamed by how little she had embraced her heritage growing up. This book gives readers insight about Native American life from the perspective of a teenage girl. (Grades 6-9)
How I Became a Ghost:
A Choctaw Trail of Tears Story
by Tim Tingle (Choctaw)
When a member of the Choctaw tribe is in danger, ten-year-old Isaac isn't afraid to die to save her. Multiple tribe members band together in an elaborate plan; everyone is willing to sacrifice all they have. Isaac accepts that he must die, and after becoming a ghost, he guides his friends through their dangerous plot. This book beautifully displays how even through the tragedy brought by the Trail of Tears, the Choctaws say "Chi pisa lachike" (I will see you later) instead of goodbye, because even once they've become ghosts, Choctaws always stick together. (Grades 4-7)
Cynthia is a high school sophomore active in soccer, lacrosse and marching band, where she plays the tenor sax. Sonia is a 7th grader who splits her after school energies between jazz band, soccer, cross-country, rock climbing, and squash. Both enjoy spending time with friends, family, and their dog, Stella.
We love to hear from our readers!

You can contact us through the newsletter or individually at the following websites.

We're also both available for school visits.

Joyce

Please Share Talking Story!
Have you noticed the "Share" button on the top of this newsletter? If you share TALKING STORY either on social media or email it to a friend, we will enter your name in our giveaway. Please
email
by October 12 tell us what you have done, and your book preference and we will add your name to the hat!
If you're having trouble emailing us, try using CHROME browser.
Send us an

and we'll enter your name to win one of the three books below.

Each will intrigue a young reader in your life.
If you have a book preference, please mention it. We try to honor requests.
US

address

only!
Enter by
(Or better yet, enter right now!)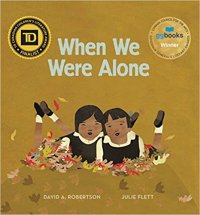 by

David Robertson

Illustrated by

Julie Frett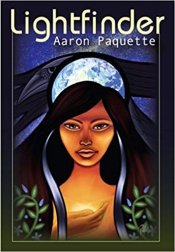 by

Aaron Paquette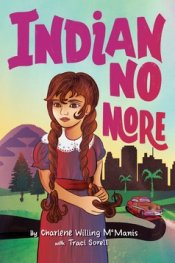 by

Charlene Willing Mcmanis

with

Traci Sorell

Congratulations to winners from our

spring issue.

Brenda Covert won Don't Blame the Reckless.

Linda Gutheil won When Worlds Collide.
Jana Leah won The Perfect Candidate.

Sandra Warren won The next to the Last Mistake.

written and illustrated by Julie Flett

by Sherman Alexie

illustrated by Yuyi Morales

by Art Coulson

by Beatrice Culleton

by Tim Tingle

by Sherman Alexie

by Nancy Bonvillain

by Carol Baldwin

I appreciate authors and illustrators who write or draw, representing their own nationality and ethnic heritage. Sometimes people tell me I should write my own story (I am a descendant of German Jews who escaped the Holocaust) and maybe I will. Meanwhile, authors like those featured in this issue who share their culture with me, enlarge my world. Readers (and authors!) will grow in empathy and understanding through #ownvoices stories.
To

Sonia and Cynthia

Staroscik

for their reviews.

To Julie Flett for her illustration.

To Traci Sorell for being our expert.

Joanne Hunsberger for proofreading.

To Portage & Main Press for donating a copy of

When

We Were Alone.

To Kegeonce Press for a copy of Lightfinder.
Kegedonce Press from their website: "Crafting beautiful books that involve Indigenous Peoples at all levels of production. Based at Neyaashiinigmiing, on the traditional territory of the Chippewas of Nawash First Nation."
Portage & Main Press from their website: "We publish quality educational resources in addition to Indigenous literature and regional history...An independently owned Canadian company."
Native Voices Books from their website: "The PathFinders collection of hi/lo novels for struggling young-adult readers features books with relevant plots and contemporary characters that readers can relate to. All 7th Generation books are written by Native authors to ensure accuracy."
Contemporary Native American books.
Ten Best YA Native American books.
Twenty #ownvoices Native Nations books.
by Sarah Carter at YA INTERROBANG

Cynthia Leitich Smith