Shamanic Fire Reiki welcomes back


Shamanic Deathwalker;
Death and Dying Workshop


with Tony Allicino



COVID 19 has taught and reminded us that death is an inevitable, sacred, and a mysterious part of the Circle of Life. Shamans have provided spiritual service and support for thousands of years to those in the process of dying, those who have died, and for the living who are coping with the dying or the death of a loved one.
Is shamanic service with dying and death part of your practice?
If not, are you ready to step into your role as a Shaman Deathwalker?
This one-day intensive class will introduce you to the traditional role of a shaman as Deathwalker.
You will learn skills how to be present with dying and death in a powerful and loving way; how to work with your ancestors and Spirit Allies to explore your connections with death; learn how to be present and of service to people who are terminally ill; and learn how to do classic shamanic psychopomp to assist people who have died and are stuck in their transition to complete their soul's destiny.
Limited Space to the first paid 6 people who register
Due to the Covid19, everyone attending will be asked to sign a waiver of health & Temperature check will be taken upon entering and face coverings must be worn.
Cost: $250
Last Day to Register: Wed. October 20
Location:
SFR Soul Haven, 56 West 45th Street, Suite 1702
New York, NY 10036
Bwt. 5th and 6th Avenue, Midtown, Manhattan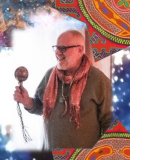 A student and practitioner of shamanism since 1997, he has taught workshops at LaGuardia Community College/CUNY, The Open Center, Shantigar, Journeys to the Soul, Spirit Hollow, Kirkridge, Easton Mountain, Menla House, Dawn Manor, and SFR Soul Haven.
He studied shamanic traditions with Michael Harner, Sandra Ingerman, Tom Cowan, Christina Pratt, Nan Moss and David Corbin, Uncle Angaangao, Ailo Gaup, and indigenous shamans of Nepal, and North and South America; ecstatic dances and movement with Gabrielle Roth, Emilie Conrad and Alessandra Belloni; tai chi and qigong with Sharon Smith, Juan Li and Mantak Chia; and Vipassana Meditation with Insight Meditation Society.
A participant of indigenous Sacred Dances throughout the United States, a Grail Reiki Master, graduate of Sandra Ingerman's Teacher Training Program, a member of the Foundation for Shamanic Studies, Society of Shamanic Practices (SSP), ShamanicTeachers.com, and a SSP Shamanism Without Borders Community Leader, in 2014, he walked the Camino de Santiago de Compostela across northern Spain, and since 2007 he has hosted a monthly Shamanic Drum Circle in Greenwich Village where he lives, conducts classes, and sees clients.