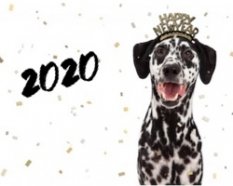 January 2:
Pet Travel Safety Day
January 14: Dress Up Your Pet Day
January 22: Answer Your Cat's Questions Day
January 23: World Spay Day
January 24: Change a Pet's Life Day
January 29: Seeing-Eye Guide Dog Anniversary
How can you change a dog's life when your house is already full?
Spread the word about adoptable dogs.
Thanks to social media, getting the word out about adoptable dogs has never been easier. If you didn't adopt your dog you can become an advocate for your breed.
Maybe it will help a dog of the same breed get adopt or re-homed. "Share" a quick pic of a dog that needs a home on your social media. It only takes a second and chances are you know a lot of dog lovers or people who are considering a dog of their own.
You can awareness for shelters.
Check local shelters near you and see if they are hosting any events. Chances are good that you can get involved and help raise awareness for what the shelter needs to make dogs' lives better.
A simple way to help encourage others to adopt and make a difference in a dog's life is to share your own dog's story. Where did you meet your dog? Was it love at first sight? What were the challenges, and how has your pup changed your life for the better? Showing the positive impact your dog has had on your life is a great way to show others that a dog might be right for them, too. You'll be helping to encourage adoption, and it's a great opportunity to talk all about your dog, which is something we dog owners are always happy to do.

Resolve in 2020 to give your dog more mental enrichment no matter their age.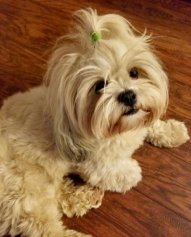 I am an almost 3-year-old Lhasa Apso that my mom found online. You might say that I am mischievous because I often find myself in messes. I get into toilet paper, paper towels and garbage. Sometimes I dig through the laundry. My favorite things to play with are any toys that squeak and my favorite treat is chicken. I am so adored that I get to sleep in bed with mom!
Your Pet Could Be Our Next
To enter your pet into our monthly drawing to become Pet of the Month: Stop by our office and fill out a quick form telling us why your pet deserves to win. Or email us at info@largovet.com and we'll email you the form.
Winners receive a gift for you and your pet, a gift certificate to Largo Veterinary Hospital, a photo and feature in our newsletter, and your pet's name on our sign in front of the hospital.
Travel Safely With Your Pet in 2020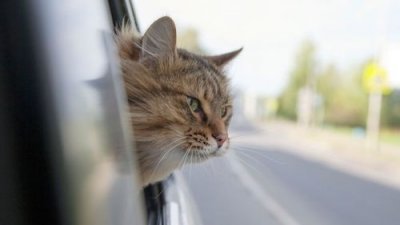 For some of us, a trip is no fun if our fur babies can't come along. But traveling can be highly stressful for everyone involved. If you're planning to take a trip with pets, here are some tips to help ensure a safe and comfortable journey for everyone.
Book a direct flight whenever possible. This will decrease the chances that your pet is left on the tarmac during extreme weather conditions or mishandled by baggage personnel during a layover.

Consider making an appointment with Dr. Daniels for a checkup prior to your trip. Make sure your pet's vaccinations are up-to-date and obtain a health certificate from Dr. Daniels dated within 10 days of your departure.

Tranquilizing your pet is NOT recommended as it could hamper his or her breathing.

Purchase a USDA-approved shipping crate. The crate should be large enough for your pet to stand, sit and turn around in comfortably, and lined with some type of bedding—shredded paper or towels—to absorb accidents.

Prior to your trip, tape a small pouch of dried food outside the crate so airline personnel will be able to feed your pet in case he or she gets hungry during a layover. The night before you leave, freeze a small dish or tray of water for your pet.

Make sure the crate door is securely closed, but not locked, so that airline personnel can open it in case of an emergency.

Mark the crate with the words "Live Animal," as well as with your name, cell phone and destination phone number, and a photo of your pet. Should your pet escape from the carrier, this could be a lifesaver.

Tell every airline employee you encounter—on the ground and in the air—that you are traveling with a pet in the cargo hold. This way, they'll be ready if any additional considerations or attention is needed. If the plane is delayed, or if you have any concerns about the welfare of your pet, insist that airline personnel check the animal whenever feasible.
Prep your pet for a long trip by taking him on a series of short drives first, gradually lengthening time spent in the car.

If you're traveling across state lines, bring along your pet's rabies vaccination record.

Find a harness that attaches to a buckle that allows your pet to sit comfortably in the car.

Prep a pet-friendly travel kit. Bring food, a bowl, leash, a waste scoop, plastic bags, grooming supplies, medication and first-aid, and any travel documents. Pack a favorite toy or pillow to give your pet a sense of familiarity. Be sure to pack plenty of water, and avoid feeding your pet in a moving vehicle.

Never leave your animal alone in a parked vehicle!

3 Lifesaving Commands
Every Dog Should Know
Finding
the time to train our dog(s) is not always easy to do. But if you can spend 10-15 minutes several days a week to train your dog no matter their age you will both benefit. Training strengthens your bond, burns a bit of your dog's
energy, and can save their life in certain situations.
To Train your need to figure out what motivates your dog. Food or praise? For most it's food first. High value gross smelly treats. Find your pet's favorite and break them into tiny pieces. Use these as rewards and motivators until your pet has learned the command. Once you pet learns the command you should still reward with treats occasionally.
A dog who immediately stays, regardless of distance from his owner, will be better able to avoid danger. For example, you're on one side of the street and your dog is on the other and there's a car coming. Directing him into a stay can keep him out of the way and safe until you can get to him.
Everyday household items can be dangerous for dogs — ladies' underwear, chicken bones, apple cores, prescription medications — for some, even a single pill or odd item can have devastating effects on a dog. This is why the "leave it" command is so important. A dog that understands "leave it" will let go of a dangerous item or not even pick it up!
Dogs are often happily oblivious to potential threats around them, like traffic, poisonous plants, aggressive animals. They can easily wander into dangerous situations. Teaching your dog to always come when he is called can help minimize the dangers for a dog prone to dashing out of doors or pulling out of his collar. Even the best-behaved dogs may find themselves in dangerous situations and it is truly risking life or death to not instill a reliable recall.

Have You Joined us on Social Media?
January 22 is Answer Your Cat's Questions Day
Why do you love taking photos of me with that thing you hold all day? Why can't you tell when I'm tired of your petting and cuddling? Why do you stop petting me before I'm done with you? Why can't I sleep on your pillow? Are you awake? Where are you going now?
Why do you keep bringing different people into the home? Why are you home late? Are you going to feed me now? Why don't you let me outside, even just for a little bit?