Spring Despacho
Planting the Seeds of Your Becoming
with LinDel, Tai Chi Shaman
March 18th * 7:00 pm - 9:00 pm
Spring is the time for preparing the soil and planting seeds. Our focus for the community Spring Despacho will be planting positive seeds for who we want to become in 2020 and beyond. What would you like to plant for yourself on the road to becoming your best you? Besides calling in a new job or healthier love/family life, you may want to plant seeds of qualities such as Courage, Wholeness, or Inner Peace. As it is an election year, we will plant seeds for a healthy, balanced political discourse, secure election procedures and mutual understanding for all our countrymen.
A Despacho is a South American medicine bundle that holds natural elements such as beans, corn and sugar (which represents the sweetness of Life). For this Despacho, we will especially include many types of seeds. As the elements are placed into the bundle, the vibration in the room rises. In this way, the Despacho becomes a living prayer on the mythic level that brings energy shifts, healing and balance to the emotional, mental and physical levels. (The Despacho will be offered to a sacred fire separately a few days later; this fully combusts the prayers and intentions of the participants.)
Please bring your prayers and intentions for the seeds you'd like to plant for yourself, our "fellow Americans" - indeed our whole human family - and for Mother Earth. All materials will be supplied.
Location: SFR Soul Haven, 56 West 45th St. Suite 1702, NY, NY 10036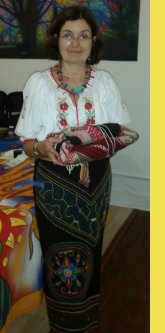 L

inDel Sandlin will be facilitating the Despacho this evening. She traveled to South America and participated in numerous Despacho rites with modern-day Inka Q'ero medicine men and women (through her training with The Four Winds' Light Body School) and has continued to bring this medicine forward in her own practice. LinDel is especially grateful to all the Andean medicine people over the millenia who kept their sacred healing practices alive - often at putting their own lives at risk.





LinDel can be reached at LinDel.SmilingChi@gmail.com
or visit: www.facebook.com/TaiChiShaman/



For More Info on Despacho's