If you did not catch the news shared last week in Brick Fields update below, we now know the schedule for some awesome Arkansas summer blues and soul music that you can enjoy virtually. Please check out the article below about the Pine Bluff Summer Set series. Rachel's segment will be on Friday, July 10th at 7pm. Beyond Rachel's segment, don't miss all the other awesome Pine Bluff artists as they demonstrate the heart of Delta Blues and Soul.
Additionally in this issue we are sharing a statement about blues music and the realities of systemic racism over the years in America. Blues adds a beautiful way to come together through our love of the shared art form known as the blues. We encourage each of you to listen and share the message the blues offers.


Finally, as the number of cases of Covid 19 in NWA continue to surge, p
lease continue to take CDC advice and stay safe so we can all meet up again and enjoy our favorite artists as soon as it is safe to do so. Check out the updates in the local artist support column below. In it you will find
information on how to connect with and support some of our local musicians.
Also remember our beloved musicians are strengthened at this time by your love. Let them know you care, let them know how their music brightens your world, and if you are in a position to do so, support them through online means.
Finally, please continue to
communicate with us any and all information you might have on how we can all best stay connected to YOUR favorite artists!
Feel
free to share the best of regional, national, and even international musicians you might be following. Please consider sharing your connections with our readers. If we can come away from this
shutdown with new blues connections, how great is that!
Have something to share? Just
click
the link below to email Sandy.
And always remember, this is YOUR newsletter! Please send
feedback or suggestions our way. You can reach me by email at the address below. We appreciate our readers and want
to see
your ideas included!
Pine Bluff

Blues and Soul Series

featuring

Rachel (Brick) Fields

The schedule is out! For all of you lovers of Arkansas Blues and Soul, this is a not to be missed event. Check out the lineup! Pine Bluff Summersets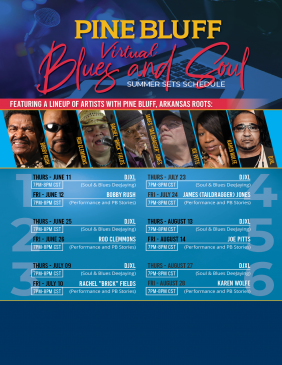 Message From

The Blues Foundation

The following message went out this past week to affiliate societies and members of the Blues Foundation. We feel it is important to share the message.

*******

"This moment of grief can also be a moment of purpose."

- Brittany Packnett Cunningham
The Blues is an African American art form, originally created as an artistic expression and response to the oppression, dehumanization, and hatred this population had to endure. The Blues Foundation stands with the musicians and members of our community past and present who speak truth through music. In sadness and outrage, The Blues Foundation pays homage to the memories of George Floyd, Breonna Taylor, Ahmaud Arbery, and all others whose lives were abruptly, unjustly, and hatefully ended. Each of these human beings was taken because of the individual and systemic racism that has pervaded the psyche of America for 400 years. We grieve with the families, and we will join the greater conversation for the eradication of racism in deference to the legacy of the Blues.
"The moral arc of the universe is long, but it bends towards justice."
- Martin Luther King Jr.

~

The Board of Directors of The Blues Foundation
Support Options

For Local Artists

Please check this section of the newsletter weekly for ideas of how to support local musicians and venues. Information may be submitted by all readers, though if reporting for your favorite musician or venue, please confirm the accuracy of the information you are providing.
All submissions will remain posted with new entries being added to the top of the list each week and will run until the music calendar relaunches.
Brick Fields
Blues Therapy Live Streams are paused for now. Rachel notes to stay tuned for a series
by author and blues historian, Jimmy Cunningham, on Blues musicians who come from Pine Bluff AR. The series will begin later this month and will include five artists involved including Karen Wolf, Rod Clemmens, James Tail Dragger Jones, Joe Pitts, Bobby Rush and Rachel. The series will include weekly live streams from home. Keep an eye out here and on Brick Fields website for all of the details.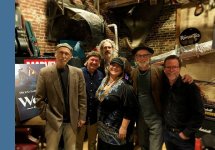 We also have two stores on our website one for music merchandise and another for Blues Therapy handmade items such as essential oil blends, Jewelry, tie dyes, bath salts, body butters and more.
Thank you for your support.
I pray that each of you and your families are all doing okay through this.
Brick Fields
Booking Call: The Brick House 479-846-4668
******
Buddy Shute and the Motivators
Buddy Shute and the Motivators have
released a new video. Check out the link below to enjoy their music!
Additionally, Buddy reports they
have completed the recording process
for their new C D. Next, Chris Moore at East Hall Studio will do the mastering, then
its off
to the presses. The band promises
to come
up with a creative idea for the
release party. The working title for the new CD
is " Bar-B-Que ". Sounds like FUN!
links to the band's website and Facebook
page. Brenda shared, "All of our gigs are cancelled
for now, and we had some great ones
in the works, as well as a CD release
party in the planning stages" and she says
the band is looking at ways to reach their beloved audience and faithful fans. She promises to, "keep you posted."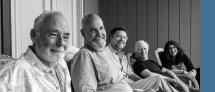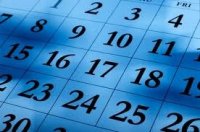 SUSPENDED

Please enjoy the following listings comprised of bands, venues, and/or organizations that support Ozark Blues Society. Always check with individual venues for event details and schedule changes.
Please Check Back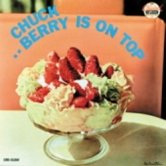 Today's show features music performed by
The Nite Owls and Chuck Berry

"Don't let the same dog bite you twice."
Chuck Berry

Blues Education Supporters
Thanks to the following for their support of blues education.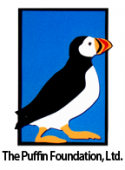 Check Out these regular local radio programs

"The Generic Blues Show" hosted by Paul Kelso airs every Friday night at 9pm on KUAF 91.3FM
Rockin' Hog Radio presents "Sunday Morning Blues" from 8am to 10am every Sunday
LINK
Get Involved with the Ozark Blues Society

Annual membership levels begin at $15 and give you so much in return, including meeting new friends while enjoying the best blues artists in the area.
By being a member of The Ozark Blues Society of Northwest Arkansas, you are helping to support the Arts and to preserve the Original American Art Form known as The Blues.
Membership Benefits Include:

Weekly E-newsletter
Opportunities to win tickets to events
VIP seating at events (when available)
Discounts on OBS merchandise
Social networking – meeting other people who also love the blues
Opportunities to volunteer on OBS committees and at events
Ability to attend board meetings and vote on upcoming organizational issues and elections
Visit our Website to renew or join! Ozarkbluessociety.org