An Online Event:
A Special Women's Circle;
Woman in Action with Barbara Mainguy

Fri. Aug. 14th * 7:00 pm - 9:00 pm

Women in Action. At this time of challenge, women everywhere are activating their strongheart medicine. This beautiful powerful energy must be honored and nurtured.

Join us for a circle to bring healing to the healers, to refresh and revitalize and to celebrate women's hearts for their strength and power to ignite change.
Please have a rattle or drum for the circle.
Cost: $25
To register email shamanicfirereiki@gmail.com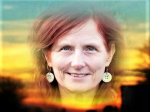 Barbara, MFA, MA, is involved in creative arts psychotherapy and group medical care, especially in relation to geriatrics and people with psychosis. She is a filmmaker and a visual artist and is currently editing a film on how society decides whom to call "mad". Her M.A. is in Creative Arts Therapies from Concordia University (Montreal) with an emphasis on Drama Therapy. She is the author of scholarly papers on embodied narratives and drama therapy with autism and schizophrenia. Together, she and Lewis have written Remapping the Mind, published in 2015.