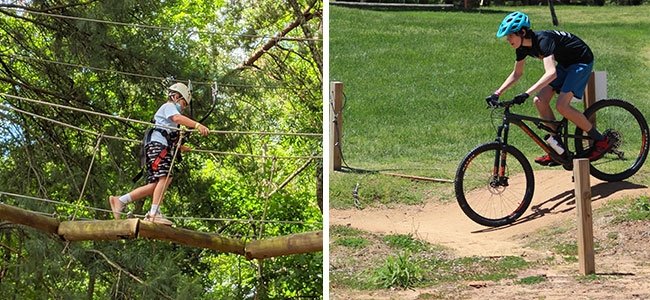 Especially this year, we intend to fully use our on-site 100 acres for camp fun! Being outdoors in the fresh air has many positive effects on general health including boosting creativity, energy, and your immune system while lowering stress.
Research
also shows that outdoor air is a natural disinfectant. Fresh air can kill the flu virus and other harmful germs. Equally, sunlight is germicidal and there is now evidence it can kill the flu virus.
Therefore, we have proactively created new protocols and procedures to create a sustainable outdoor camp environment full of adventure. Nothing can change our commitment to adventure, growth, challenge, and FUN!! That is what we do. That is what we love. That is what we share. We have planned new challenges, games, exploring, and discoveries. Every day is a new adventure with counselors and staff full of energy and excitement. Our goal is to have your camper feel accomplished every night and excited every morning. Campers will run, ride, swim, climb, zip, paddle and hoist themselves throughout the trees, trails, and rivers we explore.
Adventure Campers will enjoy a full week of Adventure Center and Wildwater adventure activities including zipping, climbing the Treetops Park and Tree Quest, biking, and rafting with our current
ACA
and
Wildwater
COVID-19 response plan operating procedures in place.
Or call the Adventure Center Welcome Center at 828.225.2921 to book today!