Voting as an Expression of Faith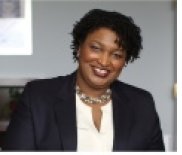 In Pastor Kelly's absence last Sunday, sermon-time was replaced by the first part of the UCC webinar, "Organize the Church: Voter Registration, Education and Mobilization," an engaging conversation about electoral politics and the church's role in ensuring that every voice is heard.
Stacey Abrams, renowned activist and former Georgia Governor candidate (pictured above), was joined by Leah Daughtry, Traci Blackmon and Sandy Sorenson, Director of the UCC's DC Office.
We listened to these brilliant women speak on "faith and works," how their faith is brought alive by practicing the "works" of social justice — serving those who are "left behind and left out."
Their mission this election season is to face down and dismantle voter suppression at every turn and help ensure that our election is fair, open and accessible to all.

Due to time constraints, we only viewed the first 20 minutes of this excellent discussion during worship. Continue watching "Organize the Church" here via YouTube.
In addition to the vital illumination of voter suppression, you will hear how the 2020 Census is being purposefully curtailed, potentially creating devastating consequences for communities of color. Voting accessibility will also be severely impacted by the imminent impact of COVID19 on evictions ... all these issues affect our democracy in this fragile and challenging time.
An E-Z Way to Help Get Out the Vote (GOTV)!
Our focus on Vote Forward is a perfect extension of this social justice

work. Vote Forward is a non-partisan, 501(c)(4) nonprofit organization, dedicated to empowering grassroots volunteers to help register voters from under-represented demographics and encourage them to vote. Everyday Americans use simple online tools to encourage their fellow citizens to participate in our democracy.
The goal is to mobilize volunteers nationwide to send 10 million letters for the fall national election.

You can be a part of it all simply by hosting a virtual letter-writing party ... via Zoom or your online meeting app of choice (Skype, Google Hangout, MicroSoft Team, etc). It will be fun and easy ... we promise ... AND, we'll be tracking how many letters are ultimately sent by Alki UCC.
Look for details next week! We've heard from many of you about how serious this election is for our country and our democracy. This is an ALL HANDS ON DECK moment, if there ever was one.
Please consider the hosting time/day that works best for you and how many "parties" you would be willing to host. All parties should take place by October 10 so letters can be sent no later than October 15.
Contact me or the church office if you have any questions or, better yet, are ready to sign up to host your GOTV letter writing parties. Be sure to note the time of day/day of the week that works best for you.
— Cinda Stenger
United Church of Christ & Alki UCC Statements on Black Lives Matter
We've updated our home page at alkiucc.org to feature a statement from National UCC Racial Justice Minister, Rev Dr Velda Love. It begins:
The United Church of Christ stands in solidarity with the creation narrative in Genesis 1:26-27, which clearly outlines what matters to God — all of humankind and a just world for all. God created humankind in God's image and likeness, women and men are image bearers, sharing equal status as human beings. God did not create race, racism, superior groups of humans, and hierarchical and hegemonic social structures.

Here is Alki UCC's statement of solidarity:
Alki UCC stands in solidarity with those protesting police brutality and all forms of racism that have harmed and murdered BIPOC (Black, Indigenous and People of Color). Alki UCC calls for the dismantling of systemic racism in our country, and for all of us to personally work on our implicit bias and prejudices. We stand with those who seek systemic change in our country, who boldly envision an equitable world in which justice and peace rain down on all its peoples. We pray for The Kingdom of Heaven to be realized on earth, that all its abundance is indeed available to all; we pray for a society in which we honor, respect and support each other as Children of God, no matter one's race, sexual orientation, gender, politics, ethnicity or tribe.
Take a minute to read it all! — Cinda Stenger
For Our times ...
UCC Offers Diverse Webinar Series
Tuesdays for Nurture
Previous recordings are linked here. If
you sign up, you will get notice of when recordings are available so you can either watch "live" or at your convenience.
Thursdays for the Soul
3:30 pm (EST)
A webinar series to care for the whole church. Topics are wide ranging and are focused on the spirituality and care of people. Prayer, worship, music, psalm readings, or compassionate teaching are included in the one-hour session.
Information here.

Our Faith Our Vote 2020
Your vote is your voice – don't give it up!
The problems in our world often seem too big to confront. We see injustice every day and feel that change can't or won't happen. But our faith is infused with hope and built on a foundation of action. By serving the vulnerable, feeding the hungry, and standing in solidarity with the oppressed, we serve as God's hands.
Voting is a natural extension of faithful action.
Information here.
9:00 am Monday Morning Cleanups of Alki Beach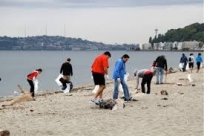 Per the West Seattle Blog, there's a call for folks to grab their favorite cleanup tools and head over to the Alki Beach Bathhouse to meet some of your like-minded neighbors for weekly Monday morning cleanups at 9:00 am.
The Bathhouse is at 60th & Alki SW.
Mandi is the cleanup organizer. You can just show up or email her if you have any questions. Bring your own supplies (bag, grabber) if you can!
Special Prayers
For police shooting victim Jacob Blake, as he struggles to recover from being shot in the back seven times. Prayers for his family, friends and community as we grieve this latest horrific tragedy. Mr. Blake's mother, Julia Jackson, has "asked for prayers not only for her son but for healing across the country."
For the victims, first responders and all those affected by the devastating California wildfires.
# # #

Special prayers for the family and friends of Rayshard Brooks, Manuel Elllis, George Floyd, Elijah McClain, Dreasjon (Sean) Reed, Breonna Taylor, Ahmaud Arbery and the heart-breaking list of African-Americans and other people of color murdered by police or self-declared vigilantes in our nation over many decades. We mourn with you and we stand for justice and healing.
Special prayers for all those on the front lines of working to protect us, keep us healthy, sane, grounded, informed, fed and comfortable during the current COVID 19 outbreak: our faith leaders, front-line health care workers, EMTs, police, firefighters, educators, transit bus and rail drivers, farmers, therapists, social workers, shelter operators, engineers, grocery/drug store personnel, caregivers, childcare specialists, pharmacists, custodians, organizations caring for the most vulnerable, sanitation workers, dispatchers and others keeping our supply chains operational, truth-telling journalists and all the many public servants who are so vital to our community.
For those grieving the recent death of a loved one:
Todd Saunders and family; Patty Magnuson, family and friends of Bob Jackson, family and friends of Jim Connor, family and friends of Barbara T. Shadel Madden Andersen, Kirstin Duckett and family, the family of Nancy Van Wyk, Julia Peeler's sister; Larry Gill; the family and friends of Ruth Okada; family and friends of Shelley Webster; Amy Young and family
Recent hospitalization, illness and other concerns:
Sue Backs' husband Dick, Bonita Corliss, Claire Foster, Dayle Banks, Gina Erickson and Ashleigh Johnson, Imy Peterson, Sandy Johnson, Kirstin Duckett's father, Don Peterson, Jeff Jolly, Bev Connor, John Kinsman, Jan Cochran

For homebound members/friends of Alki UCC: Doris Colbert
Wider World: Prayers for all those affected by the corona virus outbreak; all those suffering from PTSD in the military and around the world; for all those affected by the increasingly cruel and inhumane US immigration policies imposed by the current administration; prayers for fewer guns, for all victims and those affected by gun violence; victims and survivors of extremist violence around the world; migrants seeking refuge around the world, and for those who are trying to help them. The rest of the missing schoolgirls kidnapped by Boko Haram, who remain in our hearts as long as they remain missing. The hungry and homeless, the ill and the addicted, the lost and the lonely; the unemployed.
Worship
This Sunday
August 30, 10:00 am

Pastor Kelly is taking some time off and will be back in the office on September 3.

Please contact the Office Manager or Music Coordinator with any questions.

In Pastor Kelly's absence, Sunday's sermon-time is a special video presentation of a sermon by Rev. Mike Denton, PNCUCC Conference Minister.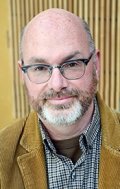 Liturgist:


Jeff Duckett


Tech Deacon:


Bob Conder


Accompanist:


Betsy Stelzer




Third Hymn:




This Little Light of Mine




Selected by Nancy Hallberg



Click here for Sunday's Order of Worship.



The Music Corner




Check out these YouTube links to enjoy and sing along with Sunday's musical selections ahead of time!



One Thing Remains
Brian Johnson, Jeremy Riddle and Krista Black Gifford YouTube Link


Whenever God Shines His Light Van Morrison
YouTube Link


This Little Light Of Mine
Traditional Spiritual
Additional lyrics by Sam Cooke YouTube Link

Zoom Login Same as Previous Sundays:


Meeting ID: 536 604 506 #





From your smartphone, tablet or computer: https://zoom.us/j/536604506.





To manually call in from a land line, dial +1 253 215 8782 followed by 536 604 506# when prompted.



Food Donations Drive this Sunday
August 30
10:00 am to 3:00 pm
Outside the church at 6115 SW Hinds; social distancing observed!



Feeding hungry kids is our focus this summer. In addition to regular contributions of non-perishable food and other items, special requests include fruit cups and rollups, gogurt, peanut butter and jelly, protein bars, mac and cheese, cereal, noodles and pasta/sauce.

Toilet paper, diapers (all sizes), Similac formula, cleaning supplies, hand sanitizer and baby wipes are always welcome.

Donations are distributed through the White Center Food Bank. Next months Sunday Food Drives are September 13 and 27.

Worship & Music
Sun, Sept 6, 11:15 am
Personnel
Tues, Sept 8, 9:00 am
Alki UCC Council Retreat
Wed, Sept 9, Time TBD


Fall Kick-Off & Congregational Meeting
Sunday, September 13
10:00 am
Details to come.

Sunday Zoom Services Posted on YouTube

Here's the link to our official page: Alki UCC - Alki United Church of Christ. Or just do a search for "Alki UCC' on the YouTube site.

While you're in Social Media mode, visit the Alki UCC FaceBook page
Thanks to all the fine folks working on our social media presence.

Check for church news and calendar updates at www.alkiucc.org.

Click on the blue donate button to learn how to donate by check or a secure online credit card donation.