An Online Event:
A Support Group,
The Voice as a Healing Instrument; Vibration is a Fundament of Life
with Susana Tapia León &


Irma StarSpirit Turtle Woman



Tues. Oct. 20, 27 & Nov. 3rd

7:00 pm - 9:00 pm EST

(Last day to register is Oct. 20th afterwards it will be a closed group of attendees)

The VOICE is able to heal you and others around you, Yes!
It's is a great instrument for women and men seeking a healing path.
Wondering about your voice is a gift we all deserve. The approach is both ludic and therapeutic.

It's a vital manifestation to tune into singing chanting, humming whistling crying, laughing and more. All you need is the willingness to explore the deep connection between emotions and memories stored in your inner heart.

It's fun! and at the same time it brings joy. Embracing your voice over a galloping drum will bring us the strength for this time of life to understand a state of well being on personal and planetary levels.

We will find together our voice as a magnificent instrument to accept and transform what we think about ourselves. Opening wide the right to communicate our soul's inner essence that could never be confined.
The vibration of the voice can build up the immune system, and the endocrine system. We know now more than ever we need to be strong.

All are invited!

Blessing to all of us
Mama Susana

Participation by Donation, (click on Donation) and please be generous.
For Information and to Register for attendance email us at shamanicfirereiki@gmail.com
You may also give donations via EventBrite https://www.eventbrite.com/e/123259990951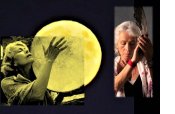 Susana is a medicine woman has been researching the powers of voice and sound as instruments of healing for more than 30 years. She grew up in Riobamba - Punin. Susana has received the songs and medicine from my people who live in the Andes.
She has ventured into different disciplines and holistic knowledge, such as the Philosophy of Traditional Chinese Medicine, ancestral and contemporary Midwifery, Perinatology and Biodynamic

Craniosacral

Therapy.

She merges these knowledge sharing its magic in circles of sound and healing, both in North and South America. Susana is a holistic facilitator in voice expression, I open a path in the recovery of the sacred memory of the feminine on the planet.

To Reach Mama Susana email her at
susonido8@hotmail.com
and visit her website https://susanatapialeon.com/
About Irma StarSpirit Turtle Woman:


Irma is a Medicine Woman, born in Brooklyn, her father from Yucatan, Mexico & mother from Moca, Puerto Rico, honoring the ways of the curanderas and Maya & Taino medicine elders, she is a curandera (healer) and teacher, a Karuna Reiki Master Teacher, Certified Crystal Healer & Toltec Dreamweaver.
She has co-created with Judith, Grasshopper, a healing center in NYC, Shamanic Fire Reiki at Soul Haven which introduces healing through alternative methods by teaching educational programs such as MedicineWay, Shamanism, Reiki, Crystal workshops, Sound Meditation and a vast variety of community circles. Featured monthly are specialized workshops taught by holistic educators within their established fields. A place where individuals can find a place of Spirituality, Meditation and Inner Peace.
Visit us at shamanicfirereiki.com