November 2020 Vol. II: Issue 5

Some thoughts for Election Day 2020 and Beyond
As I write this column, there are only 13 days until election day 2020. It is an extreme understatement to remind you that much is riding on the outcome of this election; I believe our democratic experiment is in peril. Having said that, I do believe in my heart of hearts that "the contradictions of life are not final" and that our political leadership can and will change course. We shall soon see.
Yet whatever the outcome, we must keep moving forward as best we can. I want to share my thoughts with you, take them as you wish--or not.
When you have an intact and healthy sense of worth (inherent worth), you value other people. One begins to realize on a deeper level that people are different. You understand that people see and interpret things in different ways. You do not compare yourself to them, nor do you feel the need to compete with them. You know who you are which means you can at least try to accept others as they are.
When you do not have a healthy sense of worth, you feel the need to win every argument. Perhaps you know folks like this or you notice this a bit more, especially in these challenging times. Perhaps even you feel this need, at least some of the time. You may feel compelled to always prove your point. You may feel threatened by differences. You may need agreement with your views, values, and opinions in order to feel supported and acknowledged. Again, this may not be you but you may notice this in others at this time more intensely. When one is not sure that who they are is good enough, one will do their absolute darndest to prove that they are better than someone else or another group of people. This is not new information but it is easy to forget. It is easy to be triggered by others. Since one may not have enough of their own self worth to draw upon, they will set out to destroy the worth of those who they believe are attacking them. You see, as Gandhi once reminded us, "We think the enemy is hate. It is not hate but fear."
Should you ever find yourself on the attack, realize you are experiencing at that moment a sense of "less than" or "not as good as." When you find yourself tearing someone else down in order to prove your point, realize that you have lost your grounding. You are not centered in yourself. Disagreement is not the same as an attack! When you call someone out, when you criticize their physical being, their talents, gifts or efforts, believing that their inability to agree with you somehow makes you wrong, realize you have lost it! You have lost touch with your sense of inherent worth and dignity. By the way, I have been guilty of everything I wrote about above... just sayin'!
You may have not realized this at the time. You may not have realized that you attack, criticize, or tear people down when they do not agree with you. Take a deep breath and draw on the strength of who you are. Stand in the strength of what you know. Should you be faced with a different point of view, allow yourself and others to be different. It will be a gift in these challenging times. It will be the gift of inner peace. There are difficult days ahead. Be smart. Keep your heart open.
Be joyful, even after considering all the facts!
SHOW ME WHAT YOU LOVE!
The November 1st service at UUCSV features the music and poetry of Annelinde Metzner, sung by Alison Tynes Adams with Annelinde at the piano. As a composer, Annelinde has been motivated by the idea that whatever you notice increases. Teachers learn this in the classroom. Physicists agree. Let us hear about what you love, not what you hate, and we will create a field that will amplify. Annelinde's beloved vision is that of the return of the Divine Feminine.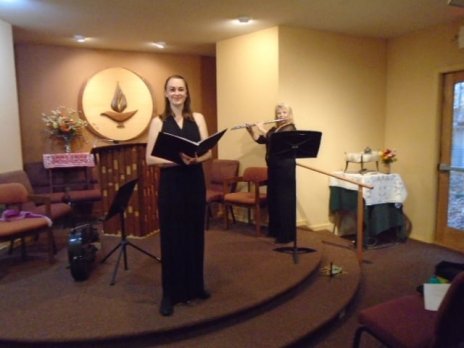 Here, Alison Tynes Adams

(soprano) and Rita Hayes (flute) are performing "Fragments of Fire," one of Annelinde's new settings of indigenous wisdom texts.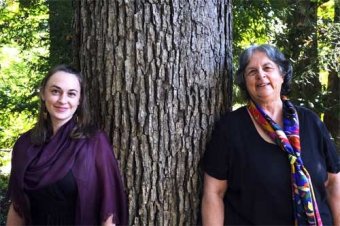 Annelinde Metzner is choir director, pianist and music coordinator at the UUCSV. She has been creating multimedia productions with her music and poetry, with musicians, readers, dancers and puppets, since 1998. She is the founder of Asheville's Womansong and Sahara Peace Choir.
Soprano Alison Tynes Adams, (BM, Guilford College; MM, Voice Performance, Peabody Conservatory) has been honored to sing Annelinde's music since early 2009. Alison is the daughter of Bette Bates and Robert Tynes and grew up in the UU Congregation of Asheville and later the UUCSV. After singing and teaching in New York City and Santa Cruz, CA, Alison is happy to be back in Black Mountain where she lives with her husband, Drew, and one-year-old son, Cy.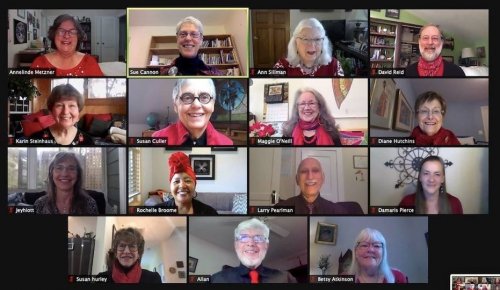 The UUCSV Choir will perform on the fifth Sunday in November, the 29th, with Sue Stone providing piano for the service.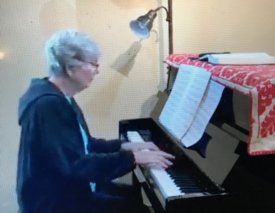 Ruth Pittard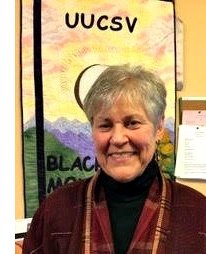 by Shelly Frome
On a typical Wednesday afternoon, you may have noticed a woman in the forefront at the Black Mountain intersection holding a "Love" placard. Her name is Ruth Pittard and the springboard for her positive activism can be traced back to her childhood in nearby Newton-Connover, NC.
"My first realization," she said, "was the fact that I cared about my little baby brother much more than I cared about myself. All he was doing was being sweet, nice and good but I just wanted him to be okay."
Later on, in the third grade, she was concerned for another little boy named Nelson Crib who lived in a home for unwanted children. But her teacher found Nelson so unruly she would paddle him in front of the whole class. Feeling helpless by the imbalance of power, young Ruth Pittard devotedly wished she could have been in a position to come to Nelson's aid. Two years afterwards in the fifth grade, she finally had the opportunity to in some way step in.
This time it was another poor child who was even more wretched than Nelson. In fact, the teacher found the girl so filthy she asked for a volunteer to accompany her while she rectified the situation. Ruth immediately raised her hand. Minutes later, in the bathroom, while the teacher was working on the girl's hair, yanking her around and making her weep, Ruth found her answer.
"At that moment," she said, "I couldn't do anything else, but I knew I could at least do this. So I went right up and held the girl's hand to try and comfort her while all this was going on."
By the time she reached high school she was well known as a bleeding heart and was chosen to attend a conference in nearby Little Switzerland centering on community activism and comporting one's self as a citizen of the world.
"I came back from that a changed person," she said, "because I was introduced to other high school students and issues far beyond my little town. I became active in 'Ban the Bomb' protests and all kinds of peace issues in Charlotte in order to be with people who had a more expansive view. I even won the title of Carousel Queen because not only was I on the side of kindness and peace, I actually had a plan I would continue to work on all of my life."
After college, she was employed at Davidson College. In due course she attained the position of Assistant Dean for Service which included shepherding international students in need of financial aid and facilitating the Bonner Scholars program. In effect, working for positive change, she led a dedicated team in liaison with the local community, focusing on such endeavors as poverty reduction and establishing a health clinic. In other words, she found herself exactly where she was meant to be.
"You could say," she said, "my mission in life has always been to be a bridge."
Needless to say, her dedicated 'bridgework' has continued after she retired. She worked at an institute at Whidbey Island engaged in community service, then came back to this area to care for her ailing mother. Afterwards, she chose to live in Black Mountain because "it just feels right."
"I love the mountains," she said. "I grew up coming here every summer where my grandfather had a house. Moreover, Black Mountain is the most compassionate community I've ever lived in. Churches cooperate with one another. It's all about how we can work together to reach out to this community. Where else can you find a food bank like Bounty and Soul where they teach children to cook and service folks who are food insecure? Let's all do this together is the rallying cry."
All told, Ruth Pittard is a champion for peace, bridging and understanding with love as the operative word.
"When you look at all that's going on," she said, "wouldn't you rather get together and forget all that divides us? It's creating those kind of gatherings in a conducive meeting place sharing our stories that's definitely going to be my next project."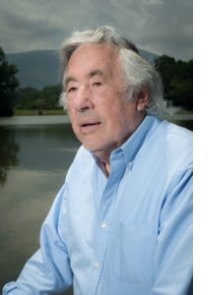 Phil Fryberger, Part One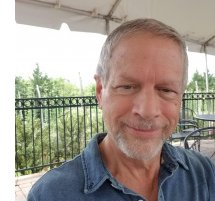 by Carolyn Shorkey
"It all started back in nursery school sitting in the Summit NJ Unitarian Church Sunday School, listening to stories.... also sitting on my mother's lap at the back of the church with Rev. Jacob Trapp in the pulpit!! "
A few of our church members actually grew up in a UU congregation. Included in that select group is UUCSV Charter Member, Phil Fryberger.
Phil writes, "When I went to university in Boulder Colorado, I found that I needed organized religion "like a fish needs a bicycle"..... but then wound up raising a family with Dawn Wilson in Mecklenburg County, NC.
Phil and Dawn, in the Charlotte area, encountered the very same question Milt and I did, upon meeting someone new. When Milt and I moved to Buncombe County in 1986, EVERYONE we met asked us, "Where do you go to church?" Never having lived in a community whose first question asked was this, got me doubting our decision to move up here from Atlanta. (I often wonder if newbies to our region are still being asked that question by the locals.) In order to be able to answer THE QUESTION, Phil and Dawn wound up attending the Unitarian Church in Charlotte (where Phil first met Diane Graham) for about 8 years, before moving to Black Mountain in 1992.
Phil and his family were members of the Unitarian Church of Asheville in the late 90s. There was a sense among some of the Asheville U's that a more Universalist version of Unitarianism might improve the ecumenical mix in the area, and a few of them, Phil included, tried to form a congregation solo...which didn't work out. But then, the Asheville church created a growth plan — which included the possibility of seeding a new congregation in the area. Ally Gooding and Mary Alm were sent to Boston to learn how to be new congregation organizers. When they came back, these two enterprising women planned and implemented "test" Sunday Services in four different regions in the county. Enter Phil Fryberger. He volunteered to organize the "test" Sunday Service for the eastern quadrant of the county.The other Services generated little interest. The one at the Lakeview Center on Lake Tomahawk on April 4, 2000 was attended by 50 or so individuals. This may be partly due to the appearance of multiple colored flyers around town which Phil may have put up, as well as the keynote speaker he invited, in the person of the Reverend Meg Barnhouse. She was then the minister at the Spartanburg UU, and a well-known local radio personality. Clark Olsen of the Asheville church also spoke eloquently. There was sufficient energy amongst those gathered to spark the initial effort to form our congregation.
This article will be continued next month because Phil is giving us an opportunity to learn (in two parts) about the history of the UUCSV through his eyes as a volunteer who guided the development of our church since its inception. Meanwhile, be thinking about what effort goes into starting a new congregation! We'll fill you in next month.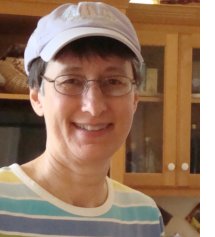 Happy Birthday to the following members and friends who have given us their information. Of course we don't include which year they were born! To add your birthday to this list, please contact Carol Sheeler.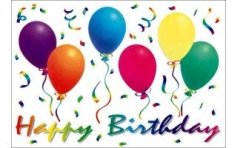 November 9 - Roberta Madden
November 13 - Brenda Chunn
November 21 - Beata Ball
November 29 - Spence Foscue






by Susan Enwright Hicks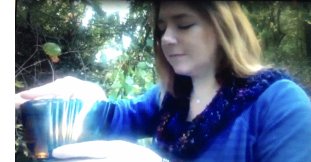 I have been really struggling in 2020. When the Covid-19 shutdowns started I (like many I suspect) hoped this period of frantic home-as-our-office/school/recreation space/sanctuary/etc. would be fairly brief. It was hard, but with the hope of an end in sight it felt manageable - an opportunity to roll up our sleeves and overcome this difficult time as a family, and a society.





But now… as we work our way through a third season of anxiety, too much time in the same spaces, and Zoom meetings, with no access to many of the activities, evenings out, and recreations we enjoyed in the past I am getting burned out. I find myself feeling busy all the time, but like I never accomplish all that I need and want to. I'm always moving, but getting nowhere.





As long as I can remember I've been the kind of person whose to-do list is ever-expanding, who wasn't really happy unless I had a little too much going on, but now the list seems so long it's hard to even know where to start. There was this sense that with having to stay home all the time, and no more commuting etc we'd have so much more time to tackle projects, and improve ourselves. I haven't found this to be true, and I have been wondering recently if the constant mental buzz of "shoulds" is precisely what is killing my productivity.



In last month's Tidings I recommended self-care (specifically in the forms of a comfy chair, warm drink, and poetry). I didn't take my own advice, did you? Perhaps, I need a little less Action, and a little more Stillness, and most importantly I need to give myself permission to intentionally slow down, and stop adding things to the list. Should you need it - I give you permission too.



Some notes on finding a work/life balance while working from home.




Self Care when you work from home.





Just for laughs from Mirth and Dignity….




"When Live Church (eventually, later) resumes…"



What a great day we had last Sunday! Thanks to those who donned masks & came out to help do the first round of planting in our playground garden! If you'd like to help in the future please contact Susan. Thanks also to the families who attended our masked, distanced & virtual pumpkin carving! Look for more ways to safely share in the holiday spirit on the UUCSV Facebook page!

Susan at REdirector.uusv@gmail.com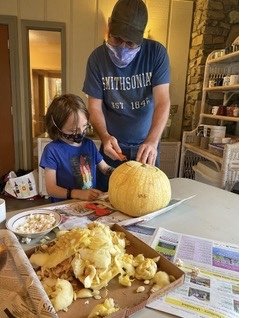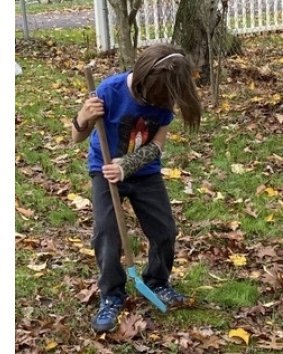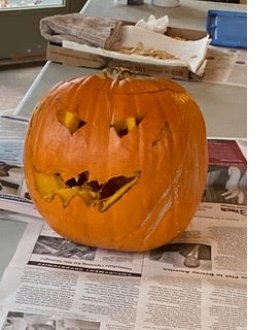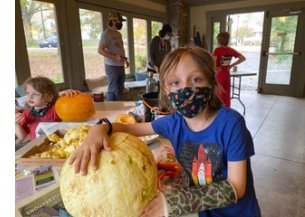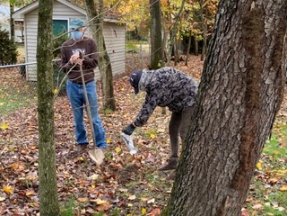 Mulch and More Mulch
By Carolyn Shorkey
How much mulch do we need on our church property? As much as is produced by our mighty trees. Our shady areas are too shady for grass to grow, so under the trees we seem to be good at growing weeds in bare dirt. Enter our cpngregation's volunteers who grind up leaves by mowing over them. We are planning on leaving the ground up leaves under the trees for nutrients and as a moisture barrier for the tree roots. We hope to bag up some leaf mulch to store for use next spring and early fall. The plan is for the Memorial Garden and other garden areas on the church property to be sustained by our leaf mulch.
Many years ago a committee, lead by Dr. Jane Carroll, worked to get our church designated as a Green Sanctuary by the UUA. It doesn't get much more green than mulching our trees and gardens sustainably. And Bette, how about this: no more plastic bags full of leaves on our curb!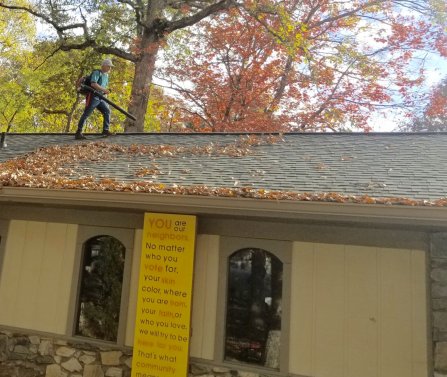 Gary Hurley clearing the roof on 10/24/20. Other workers were Rhea Bockhorst, Mary Soyenova, Kate Ramsey, Andy Reed, and Mark Manual on the ground.
The Magic of Sodium Carbonate (Na2CO3) and an Experiment
From Bette Bates
The great thing about sodium carbonate is that it comes in a paper box (not plastic) as a powder that's commonly sold as washing soda. It's used in glass production, photo developing, dyeing and many other processes. When mixed with water it creates an alkaline solution that's used in cleaning products and swimming pools.
I noticed Charlie's Soap at Town Hardware. The bottle says it cleans everything from false teeth to diesel engines, and is non-toxic and biodegradable. That sounded wonderful! I sprayed it on our moldy deck and deck chairs and it cleaned beautifully without any strong smell. Unfortunately, it's sold in a PLASTIC bottle. But can you guess what the ingredients are in Charlies Soap? Yes…sodium carbonate, a lot of water and a bit of detergent. So, if you want to clean your deck, or outdoor furniture or plenty of other things, without purchasing a plastic container and a lot of water, you can just mix ½ cup sodium carbonate to 1 gallon of water and store it in a container you have already. It's best not to breathe the powder of course. The powder dissolves easiest if you use some warm water when first mixing it, and after that's dissolved, fill the gallon container up with cool water.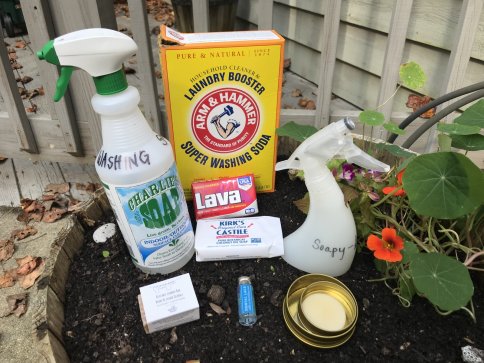 The picture of cleaning items above shows the box of washing soda, a bottle of Charlie's Soap, a laundry bar, silk dental floss in a glass container with metal top, round shampoo and conditioner bars, and a couple bars of soap wrapped in paper. Facebook and Instagram have realized I like non-plastic products, so I now have a long list of online companies that make and ship products without using plastic. This gives me hope and is exciting, but I don't know which are good products and reasonably priced yet. Anyway, an experiment I did was to boil Kirk's Castile soap that you can get at Ingles in a half gallon of water to dissolve it and then added 15 drops of lavender and used it as dish soap. I hear, from Robert, that it doesn't work as well but it works ok and maybe the recipe can be tweaked and improved :) Onward!
Another Laundry Tip
From Larry Pearlman
One thing I have gone to is using The Patented Magnetic Laundry System. Cleans my clothes without using toxic chemicals while also doing away with the packaging of detergents. I've only been using them for a couple of months but so far I'm very happy with them. Clothes are getting clean and all is well with the world.
We all have our own pet ways to be environmentally friendly and none of us do it all. I'm still driving a gas driven car but maybe that's not all bad. I've been driving the same car for 9 years. I get 25-30 mpg. Certainly not the 50+ that I could get with an electric or hybrid vehicle but not terrible. I feel it's more enviro-friendly than sending this one to the scrap heap and having industry churn out another car. Of course, I'll eventually have to buy a new car and will consider electric or hybrid then, but reusing is often better than recycling.
Which brings me to napkins. Do we really need to throw away a napkin because we wiped our mouth with it once? I get it - it's our culture and I'm an outlier here but I can use the same napkin for a week or more. If you find that repulsive or unsanitary than don't do it but if you throw away napkins after every meal just because it's what you've always done, you might want to rethink it.
(Note from editor: I use cloth napkins, and they usually last a week of use...and then I toss them into my laundry basket.)
Picking up as we go along
From Jim Carillon:
I walk Fynnley in a stroller four or five days each week. A mile to the park, another at the park, and the final mile home. While strolling I keep a small berry picking bucket (any kind of small bucket would do) hooked to the stroller. When we see any road trash, especially recyclables, I pick it up and put it in the bucket. On the way some neighbors keep their trash and recycling cans on the street. We are careful to recycle plastic bottles, beer cans, and as much as we can into the neighbor's or our own recycle bins. The neighborhood streets look a lot better too.
Likewise I keep two garbage cans and a cardboard box in our garage. One can truly is for landfill items which with composting all our food and lawn scraps for the garden, doesn't get much. The other can is for all plastic, glass and metal recycling. Finally we break down all cardboard and place it in the box. Once a month or so I take these three containers myself to the recycling center in West AVL. It only costs $2 for the trash can, both the recycling bin and cardboard crusher are free. I save money NOT paying a vendor to pick up our trash weekly and more importantly, save the environment by NOT adding to a large garbage truck with all its carbon consumption and emissions.
My Compost Bucket
From Linda Metzner
I love to contribute my kitchen scraps to the compost piles at the Dr. John Wilson Community Garden in Black Mountain. I keep a quart-sized container beside my sink, for veggie scraps, fruit skins and egg shells (no meat or fish.) When it's full, I carry it to a larger bucket in the basement, and when that is heavy and full, I take it to the garden. This along with my meticulous recycling has reduced my trash to maybe one bag every three or four weeks.
At the garden I carry my full bucket to one of the 10 compost piles, the one marked "Add Here." You take a shovel and sprinkle fresh soil on top of your food scraps. All this compost is available to the gardeners and especially to the community garden beds, which produce over 4,000 pounds of food a year for Bounty and Soul.
Speaking of "soul," this is a soul-refreshing activity. I often bring my camera, finding the lush garden beds and flowers irresistible for filming. Gardeners have offered me fresh produce, and I often clip some wild herbs that grow around the compost bins. Ready to go home and start all over again, connected to the web of life!
Folk Remedies
From Suzanne Ziglar
In March, the Swannanoa Valley Museum and the Black Mountain Library

sponsored a Folk Medicine Workshop. One thing that we made was a

tincture made from thyme, which is supposed to be antiviral. It is easy

to make, and I just made a new jar.
Take some thyme (leaves and stems)

and fill a small jar with it. Pack it in tight. Fill the jar 80+ proof

vodka and let it sit in a cabinet for a month. Whenever your throat

tickles, take a dropper full.
If you need to ask what to do with the

rest of the vodka, try making vanilla extract with some of it. Put 2-3

vanilla beans in a tall, narrow jar (think olives) and fill the jar with

vodka. When the liquid is dark, it is ready to use. Being easy on the

planet can be easy, fun and fulfilling.
UUCSV Board Meeting Abbreviated Minutes
October 22, 2020
Our financial status remains stable.
To the best of our knowledge, Ray, the homeless man who had been living on our church property has moved on. Anna continues to attempt to keep in contact with him.
We have a potential new Board Member to finish out this fiscal year for a recently vacated seat.
Michael has posted the most recent information about his virtual anti-racism training in the Current. The training is scheduled for Nov. 19. Michael is also creating a discussion forum with the congregation on the proposed 8th principle.
Spence reported that the mulching of leaves and mowing is going well and will be ongoing. Our Building and Grounds (BAG) Committee previously dug a rain water drainage trench from the parking lot to the rear of the lot near the playground. An extension agent from Buncombe County came out to advise us on the best way to handle the water flow. He suggested two approaches. The first is to bury a pipe from the parking lot to the existing terra-cotta pipe behind the church with boxes to capture the water. The second option would be to widen the existing ditch into a gentle swale and grass the area. Rhea is pricing the options and will present the choices to the BAG Committee.
Spence also talked to Rhea about reviewing the procedures/policies to include the hiring of minority owned businesses should outside contractors be needed to work on our building and grounds.. Evan will work with Rhea on changing the language in the policies and procedures for the Committee.
Anna reported that the Congregational Care Committee is still actively providing home visits, rides, and shopping as requested.
Robert reported that he is planning to talk to the membership committee for ideas on how to get more participation at our virtual Coffee Hour.
Next month our Religious Education Director, Susan, will add classes for specific age groups that are discussion based.
The sock drive is complete with 251 pairs donated.
Evan suggested that committees send updates to him about their activities as well as pictures to be posted on our church website.
Spence discussed an initiative from the First Congregational Church of Hendersonville, titled With Malice Toward None, Live the Golden Rule Initiative – discussion and potential participations in a Vigil for Civility The statement unanimously approved by our Board is as follows: "We believe we must seek to nurture quality, mutually respectful dialog between our fellow citizens."
Michael will sign the pledge and put a notice in the Current.
Next Board meeting: Note special date of Wednesday, November 18th @ 6:00 p.m.
Respectfully submitted by Milton Warden, Board Secretary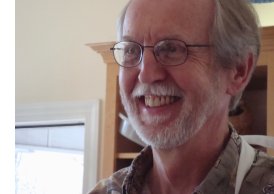 Stillness vs. Action - many of us UU's practice one or both of these in our lives. I found the following quote to be an example of what I was thinking about.
"Strength of feeling, reverence for mystery, and clarity of intellect must be kept in balance with one another. Neither the passive nor the active must dominate, they must work in conjunction, as in a marriage."
As an introvert, I tend to stay quiet in a crowd, and I know there are others that feel the same. I thought at the beginning of our isolation that I would survive just fine. I'm so glad to have a support system of a few good friends. I am leaning on their friendship quite often. But since fall is bringing cooler weather I can't meet friends in socially distant patios of restaurants much more, and I choose not to sit and eat unmasked just a few feet from another table of people who are also eating sans masks.
As I've been saying to anyone who will listen...I want some ideas (called brain storming, perhaps) about ways we UUCSVers can continue to have the joyous meeting and networking which we used to have in our coffee hour (which was usually much less time than an hour.)
Daily, or more frequent Zooms

Phone calls like we used to do in pre-computer-life.

Meeting in the portico of the church, where at least 8 people might sit in a circle socially-distanced from each other.

Meeting in the sanctuary, which apparently can hold 15 people

More Small Group Ministries
"In the Minneapolis-St. Paul area in Minnesota, two psychologists — Leni de Mik, 79, and Brenda Hartman, 65 — are calling attention to what they call SILOS, an acronym for "single individuals left out of social circles," and their need for dependable social contact this winter and fall.
"They recommend that older adults in this situation reach out to others with similar interests — people they may have met at church or in book clubs or art classes, for instance — and try to form a group. Similarly, they recommend that families or friends invite a single older friend into their pods or bubbles.
The first thing I ask you all to do is to gather some of the other ideas that are out there (or in your heads) and share them here, please.
We've had such a good response to the Earth Sustaining Tips, I hope there will be more shared each month.
Next month we can have the topic of "What's Nurtures You?" I want to start with the idea that everything we take in, whether we see it on a screen or listen to it, nurtures us and becomes our psychic food. But I also am interested in plant-based eating and how people have been able to do that. It comes back to Earth Sustainment as well, to stop using animals for food.
Honoring The Cycle
by Larry Pearlman
The theme for this month's Tidings is "Stillness vs. Action". There is certainly value in a consideration of this comparison and there is also value in taking the macro view where both of these are critical elements of the overall cycle.
We are all aware of the cycles of Life. Unless you live in a place, as I did for 30 years, like Arizona where there are two seasons - hot and not-so-hot - or up in northern Alaska where there is dark and light, you get to experience the four seasons as a reminder of those cycles. But how often do we consider those cycles as they relate to other areas of our living? The fact is that everything we are associated with goes through a definable cycle that might be said to have four elements like the seasons.
Think of winter as a time of dormancy where a cycle has come to a close and a new one is in the womb. Spring is when seeds are planted and ideas begin to take form. Summer is a time of action and growth. It is in the fall when we see things come to fruition and celebrate the harvest.
Stillness is well represented in the winter and spring; action in the summer and fall. Each has its value yet they are both needed for the whole picture.
Our 2nd annual UUCSV Auction Fundraiser is coming to the transition between the "summer" and "autumn" aspects of the cycle - the action phases. We have been gathering the items to be auctioned, putting together the auction online site, disseminating information about how it will work and VERY soon the bidding will begin and the harvest will take place culminating in a celebration within UUCSV, Bounty & Soul, and the Swannanoa Dr. Martin Luther King, Jr. Memorial Corporation as the resulting funds are welcomed to be used in worthy ways.
At this time I would also like to honor the stillness aspects - the "winter" and "spring" of the auction. This period started last November, right after the 2019 auction, when those of us on the auction committee began to evaluate what it took to put on the first auction, the results, and whether it made sense to do it again. There was a gestation period to let things settle down and then a time when we began to plant the seeds, the ideas, that would become this year's auction. That time was not as visible as what has been happening these past several months but it was every bit as important to the overall cycle.
I won't dare try to mention everyone who has contributed to the process as I would surely leave someone out but I would like to give special mention to the board for approving this fundraiser and to Evan Yanik and Anna Marcel de Hermanas for their extraordinary efforts in both the stillness and action phases. Of course there would be no auction if it weren't for all of you who have donated items and will be bidding on them (hopefully not the same items you donated) and for the generous businesses of our amazing community who have also donated items.
The fall, or harvest, time may be the most fun of all so I am pleased to welcome you all into the bidding time, November 9-14. One of the nice things about a virtual auction is that nobody will be elbowing you out of the way so they get the last bid in!! Not that UU's would ever resort to that but…..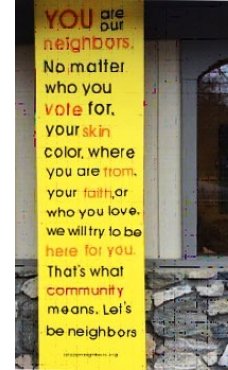 Board of Trustees:
Kathryn Coyle – President
Evan Yanik – Vice President
Barbara Bryan
Spence Foscue
Phil Fryberger
Anna Marcel de Hermanas
Robert Tynes
Non-board officers are:
Lee Reading – Treasurer
Milt Warden – Secretary
Committee Chairs:
Building & Grounds - Rhea Bockhorst
Social Action - Suzanne Ziglar & Julia Jordan (rotating)
Congregational Care - Larry Pearlman
Finance - Lee Reading
Membership - Carol Sheeler
Nominating - Evan Yanik
Personnel – Linda Tatsapaugh/Kathryn Coyle (co-chairs)
Communications - Susan Culler
Governance – Evan Yanik
Religious Education - Jessie Figuera, Jim Carillon, Heidi Blozan (rotating)
Sunday Service Associates - Diane Graham (rotating)
Strategic Planning Task Force - Michael Figuera
Sunday Service Production:
Evan Yanik, AV producer/editor
Annelinde Metzner, Choir director and piano, AV producer/editor of music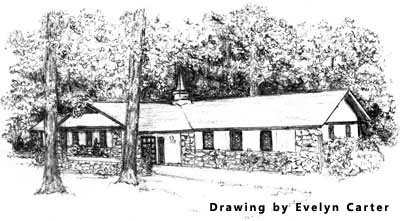 Unitarian Universalist Congregation of the Swannanoa Valley

500 Montreat Road

Black Mountain, NC 28711

(828) 669-8050 (email preferred during pandemic)