Blessed Advent Alki UCC!
With less (or zero) holiday parties, decreased trips to the store and much altered family plans, Advent is not feeling very Advent-y. It feels…just ordinary.
And that is the thing about this week before Christmas. We are accustomed to the Christmas season being given to us, to it happening around us while we simply let the holiday tide wash over.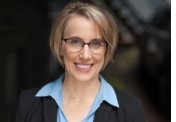 In the absence of 360° merriment, a more pensive question arises. "Does the light really com
e into the darkness?" Where's the prayer that can summon this much-needed light? Where's the on-off switch?
The answer to this question, I believe, is much more nuanced than a simple yes or no. The question of how: "How does the light come into the darkness?" is before us in a new kind of way and I think it is a good thing. The tinsel and the decorations can beckon too much of us so that we don't spend as much time articulating our thoughts to this 'how' question. This year, though, is different and calls us to a different kind of Advent.
We cannot live in a world that is interpreted for us by others. An interpreted world is not a hope. Part of the terror is to take back our own listening. To use our own voice. To see our own light.
— Hildegard of Bingen 1098-1179
Ever onward,
Pastor Kelly
12/17/2020
Winder Solstice Community Event
Monday, December 21,

4:30 to 5:30 pm ish


Front Courtyard
Winter 2020 Solstice Community Lamentation Liberation


Write down your 2020 Lamentations and General Complaints Against the Universe on paper and join us to watch them go up in smoke in our 2020 Lamentation Fire. Let's release 2020 from its grip upon us, and look to longer, brighter days ahead.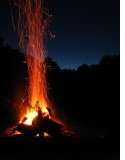 Burning of the lamentations will start at about 4:30 pm, continuing until the fire burns out.



Self-serve cider mix packets will be offered for at-home enjoyment. Please bring a non-perishable food item for the White Center Food Bank.

# # #

The street in front of the church to 62nd Street SW will be closed to automobile traffic. VOLUNTEERS NEEDED for EZ setup and to monitor the street barriers. Contact the church office.

NOTE: Please check the church website for last-minute weather updates and other relevant alerts.

Christmas Eve at Alki UCC
Thursday, December 24, 4:00 to 5:00 pm
Hinds Street Courtyard
Christmas Eve Community Walk-By Open House and Holiday Food Donations Drive
Hosted by Pastor Kelly and the Worship and Music Team
Family friendly; all ages welcome. Enjoy music of the season (streamed outside live from our Sanctuary) as you drop off your food bank donations and pick up a Gift Bag with a blessing and assorted holiday treats.
We will also be offering worship candles for lighting at home during our 7:00 pm on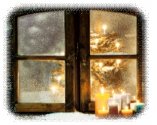 line service.
Note: The street in front of the church to 62nd Street SW will be closed to automobile traffic. Volunteers needed.
# # #
Thursday, December 24 at 7:00 pm
Christmas Eve Online Worship
A Festival of Lessons and Carols
Our traditional Christmas Eve service with at-home candle-lighting and Silent Night.
DEDICATED ZOOM REGISTRATION FOR CHRISTMAS EVE:
To attend Christmas Eve Service, please register here.
After registering, you will receive a confirmation email containing information about joining worship.
Christmas Donations Update
THANK YOU generous people of Alki UCC! Thank you for your shopping efforts, checks, gift cards and just-plain-simple-I-care spirits!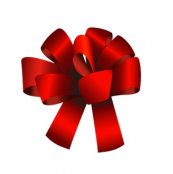 We are well on our way to delivering more than 10 bags of much- needed love (i.e., daily use products + gloves, hats, blankets, hand warmers, etc.) for our unsheltered neighbors, and, putting together a very large bounty of Christmas gifts for our family of eight. Outreach appreciates the warm outpouring of love and support in making these projects successful.
Delivery for Family Gifts:
I will be at the church tonight (Thursday) from 5:00 to 6:30 pm to receive your gifts, and will return Friday morning at 10:00 am to pick up the rest. If you can't deliver by Friday morning before 10:00 am, please contact me for pickup or delivery to my home,
Wrap the parents' gifts and leave the children's gifts unwrapped. Please have them clearly tagged. We provide gift wrap, tape and ribbon for the parents to wrap the kids' gifts.
Christmas Morning Breakfast at Camp Second Chance: We're not serving the meal. All you need to do is arrive with your hot dish at the Camp Second Chance gate by 10:00 am.
The address is: 9701 Myers Way S, Seattle, WA 98108
We need more volunteers to bake egg casseroles, provide sausages, roasted potatoes, deliver holiday flavored coffee creamer, and homemade Christmas cookies.
They also enjoy receiving calendars, books, magazines, small artwork, puzzles, etc.
Our faith calls us to be humble and to walk with our God in serving others. My heart is so filled by the efforts and generosity of this community in following Christ's example of servitude. Bless you all.
— Cinda
"Art for Hunger" Project Benefits Organizations Providing Food
to Those in Need

(Updated with corrected website instructions)
Due to the severe economic impact that the COVID 19 pandemic has had on so many individuals and families, hunger is reaching immense proportions. I have decided to use my art as a way to raise money for those organizations that are dedicated to meeting this crisis head on through an online presence where anyone can purchase matted and framed art and packets of photocards and donate the cost of the artwork directly to an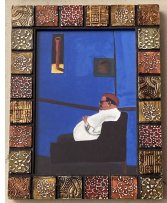 organization providing food for those in need. As the artist, I will not receive any compensation.
If this interests you, visit the Peace and Social Justice website. The Art for Hunger tab is in the black box near the top along with the other
tabs. After clicking on this tab you'll see information below that includes the link to the art for hunger page which includes folders labeled matted art, framed art and photo cards. You'll also see a document titled Art for Hunger Directions, which you should read before proceeding. (Image at right: Pensive Man)
Thank you. — Joe
NOTE:
Tech Deacon Shannon interviewed Joe on Facebook live to hear more about his Art for Hunger project to benefit organizations providing food in this critical time.
Click here to watch their discussion, which starts at about 26 sec. in.
Poor People's Campaign Policy Priorities for the First 100 Days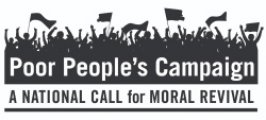 Last week, the Poor People's Campaign: A National Call for Moral Revival released 14 Policy Priorities for the First 100 Days, bold prescriptions to heal the nation.
Following a meeting with the domestic policy team of the Biden-Harris transition team, they held a press conference that you can watch on their Facebook page.
Click here
On Monday, December 21 at 3:00 pm PT, the Poor People's Campaign is participating in a Town Hall with the Congressional Progressive Caucus (CPC) and other partners to launch an initial set of seven legislative priorities for the first six months of 2021.
Click Here to Tune In
Rev. Dr. William Barber, II and the Poor People's Campaign helped shape these priorities extensively including policy recommendations of poor and impacted leaders, economists, public health experts, researchers and faith leaders.
Prayers of Condolence
The Glover family, who lost their dad, Darrell, very unexpectedly last Thursday. Candy and the two boys, Darren and Wyatt, attended Alki UCC where Candy became a very active member organizing prayer shawl knitting meet ups and helping with the Sunday school. As their time at the church progressed they moved up the hill to another church so the boys could be a part of more of the teen activities.
Candy and the boys need our support and prayers. Darrell loved his family very much and, like Candy, was very active in the community. He coached baseball, soccer, basketball and cheered for all our kids regardless of the activity. His enthusiasm and volunteerism is sending shockwaves throughout our WS community.
Special prayers for the family and friends of Walter Wallace,
Jonathan Price, Jacob Blake, Rayshard Brooks, Manuel Elllis, George Floyd, Elijah McClain, Dreasjon (Sean) Reed, Breonna Taylor, Ahmaud Arbery and the heart-breaking list of African-Americans and other people of color murdered or wounded by police or self-declared vigilantes in our nation over many decades. We mourn with you and we stand for justice and healing.
Special prayers for all those on the front lines of working to protect us, keep us healthy, sane, grounded, informed, fed and comfortable during the current COVID 19 outbreak: our faith leaders, front-line health care workers, EMTs, police, firefighters, educators, transit bus and rail drivers, farmers, therapists, social workers, shelter operators, engineers, grocery/drug store personnel, caregivers, childcare specialists, pharmacists, custodians, organizations caring for the most vulnerable, sanitation workers, dispatchers and others keeping our supply chains operational, truth-telling journalists and all the many public servants who are so vital to our community.
For those grieving the recent death of a loved one:
Ed B and family; Jeff D's cousin Jerry Elder and his wife Tami Elder; Todd S and family; Patty M, family and friends of Bob J, family and friends of Jim C, Kirstin and family; Larry G
Recent hospitalization, illness and other concerns:
Sandy and Jim's friend Al, his mom, Sue and friend Kay; Penny M; Sue B's friend Sonia; Kirstin D; Shannon P's father, Rev. Dr. Bill; Verona's younger brother Eric; Julia C's long-time friend Megan; Bonita C; Claire F; Dayle B; Gina E and Ashleigh J; Imy P; Kirstin D's father; Don P; Jeff J; Bev C; John K;
Jan C
For homebound members/friends of Alki UCC: Doris C
Wider World: Prayers for all those affected by the corona virus outbreak; all those suffering from PTSD in the military and around the world; for all those affected by the increasingly cruel and inhumane US immigration policies imposed by the current administration; prayers for fewer guns, for all victims and those affected by gun violence; victims and survivors of extremist violence around the world; migrants seeking refuge around the world, and for those who are trying to help them. The rest of the missing schoolgirls kidnapped by Boko Haram, who remain in our hearts as long as they remain missing. The hungry and homeless, the ill and the addicted, the lost and the lonely; the unemployed.
Worship this Sunday
December 20
at 10:00 am
The Fourth Sunday

in Advent


Scripture:


John 1:6-8 and 14-
A vision for a people in need of hope


Liturgist:




Dan K




Tech Deacons:




Bob C and Shannon P




Moment of Ministry:




Worship and Music



Sunday's Order of Worship is posted here.

Sunday's Music
People, Look East!
French folk melody

I Want To Walk As A Child Of The Light
Kathleen Thomerson

Love Has Come Down
French melody

Messenger Schedule Next Week
We'll be sending out the newsletter on Wednesday, December 23 instead of Thursday. Articles and submissions due on Monday. Thank you.

Candles for Christmas Eve 7:00 pm Service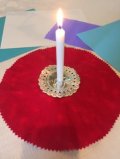 We hope that those of you who received an All Saints Day candle and holder still have them and can reuse them for our online Christmas Eve service at 7:00 pm.
If you did not receive a candle, but would like one to light at home during Christmas Eve worship, please contact the church office for delivery options.
Candles will also be available at our Christmas Eve Community Walk-By Open House and Holiday Food Donations Drive in front of the church from 4:00 to 5:00 pm.
Sunday, December 27, 10:00 am
Online Worship featuring a Carol/Hymn Sing and video selections from the post-Christmas service created by member churches from the Pacific Northwest Conference of the UCC.


Zoom Registration Link for Sunday Worship
NOTE: Christmas Eve worship at 7:00 pm has a different registration link.



You only need to register once for Sunday worship.
You will receive a confirmation email with your own unique link to join Sunday worship.
For additional assistance, phone or text Tech Deacon Shannon Peterson.
Liturgists
December 27
Emily H

Moment of Ministry
December 27
Worship Logistics
The rotating Moment of Ministry worship schedule is posted here.
Registration Now Open for PNCUCC Men's Retreat January 29-30
The online retreat begins Friday, January 29, with music, worship and introductions at 7:30 pm. The Saturday program, led by Phil Porter from 9:00 to 11:00 am and 2:00 to 4:00 pm, ends Saturday evening, with the Wisdom Circle from 7:30 to 9:00 pm. All men are welcome.
Hosted by Phil Porter of Interplay, our theme is "Embodiment in a Disembodied Time." Phil notes: "I don't have to tell you that we're living in challenging times. We are traversing new territory without much of a roadmap.
The retreat cost is $50. A portion of the registration will be donated to the Pacific Northwest Conference Camps, Pilgrim Firs and N-Sid-Sen. Register here.
Double-Convergence in the Advent Sky
Big news for astronomy enthusiasts, and anyone fascinated with our amazing universe.
Read all about it here.




Aligning with the winter solstice on December 21, Jupiter and Saturn will be so close, they will appear, from some perspectives, to overlap completely, creating the first visible "double planet" in 800 years.

Public Health Announcement
To avoid a "twindemic," health officials strongly advise everyone to get a flu shot this season.

Get your flu shot at drug store pharmacies, or find a clinic in King County here.


Click on the blue donate button to make a secure, online credit card donation and an overview of other ways to donate.


Check for church news and calendar updates at www.alkiucc.org.