Since we honored our Presidents in the last issue, we thought we'd follow up with a bow to our First Ladies. They have held a range of influence--from politics, to social causes, to fashion--ever since the founding of our country. Each woman brought her personality and passions to the White House;
each one left a legacy.
We hope you'll include our reading and writing resources in your language arts and history curricula.
Kathleen Krull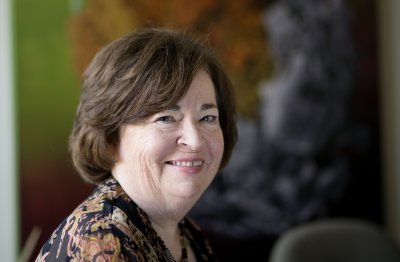 I
'm passionately interested in women's history—especially if it's been neglected, as it so often is—and taking on the saga of America's 42 official First Ladies was a joy.
"Remember the ladies"– Abigail Adams was right all along. We need to include the First Ladies while we're teaching kids about American history. Time and time again, these women have come to the rescue, risen to the occasion, made sacrifices, and served their country.
As you
'll discover while reading A Kids' Guide to America's First Ladies, each one of them had an impact. These are amazing, proactive, accomplished women, especially considering that for much of our history, women couldn't vote, own property, go to college, work outside the home, or do
much of anything to prove their equality.
Most of them acted as their husbands
' eyes and ears, or courageous ambassadors of good will, using great skill to give guidance behind the scenes. Some were more popular and appealing than their husbands and were the decisive factor on their road to victory. Many of them used their spotlight to advance the progress of women, trying to break or at least loosen society's rigid rules.
These are some of the most intriguing women of all time—women who helped shape our country. And yet, with a few exceptions, far too little scholarship has focused on them. My research was sometimes challenging. Many more scholarly books are needed in this area. One thing I learned is that First Ladies are actually crucial to understanding American history. As more information comes out, their contributions may be even greater than we thought.
This January we welcome Dr.Jill Biden (a college professor who is keeping her job), and I for one can't wait to see how she contributes to First Lady history— and inspires further scholarship.
Kathleen Krull has garnered starred reviews and
awards for her many books. The Children's Book Guild of
Washington, DC, honored her with its Nonfiction Award for having a total body of work that has contributed significantly to the quality of nonfiction for children. Please visit her at www.kathleenkrull.com or http://facebook.com/kathleen.krull.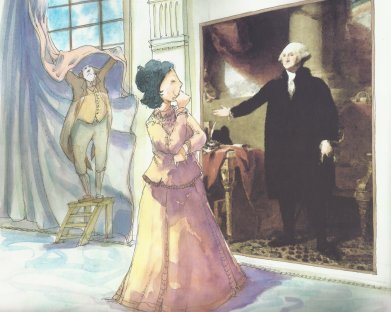 White House, she chose to hang a beloved life-sized portrait of
George Washington in the dining room.
Don Brown is the author and illustrator of numerous fiction and non-fiction books for young people. Just a few of the subjects he's covered are the sinking of the Titanic, the gold rush, the assassination of President Abraham Lincoln, Neil Armstrong's walk on the moon, and the attacks of 911. Our featured illustration is from Dolley Madison Saves George Washington and focuses on the role that one very popular lady played in rescuing a portrait of General Washington when the British set fire to the White House during the War of 1812.
CLASSROOM & HOME ACTIVITIES

by Joyce Moyer Hostetter

First Ladies have been admired for various reasons - their sense of fashion, their good causes, the way they protected their children while in the White House, how they influenced policies and how they responded to difficult moments in history.
Make a poster:
Choose 4 or 5 First Ladies. Research them according to the topics listed above. Create a poster with a section for each First Lady. Using words and images, show in each section several things for which each lady is remembered.
Create a video presentation about 4 First Ladies that you admire. Tell your audience what you liked about each of these women. If possible, find images to demonstrate your points.


Create a mock news broadcast about a dramatic event from the life of one of America's First Ladies. Give details of time, place, what happened, and how the first lady responded. Don't forget to use lively language and include only historical facts.

Search for answers to the following:
1. Who was the very first First Lady to live in the White House?
2. Which First Lady loved to decorate her rooms with pink?


3. Which First Lady got married in the White House?
4. Which First Ladies died while at the White House?
5. Find 5 Fascinating Facts about First Ladies. (Choose any from this webpage.)
A Teen's Take on Three Books

by Olivia Peterson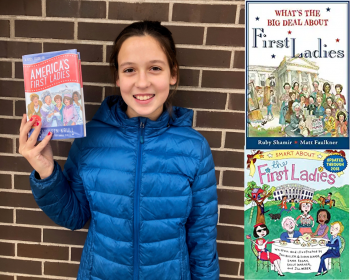 A Kid's Guide to America's First Ladies

by Kathleen Krull is an excellent way to learn about all of the American First Ladies. This book goes through every First Lady's life before and after serving in office. Readers will learn interesting facts about Martha Washington, Dolley Madison, Melania Trump, Ida McKinley, and others. This book taught me lots of weird and cool things I wouldn't have known about our First Ladies, like their love of fashion and the fact that some presidents never married. I would recommend this book to anyone looking for a fun read about the amazing women who served as our First Ladies.
Smart About the First Ladies

by Sally Warner is very interesting for kids ready to learn new things about our First Ladies. There is even inside information about the First Kids! Some visuals include a map of the White House, pictures of the First Ladies, and also names and pictures of their husbands. You can learn how most of the First Ladies had a first for everything. For example, did you know that Sarah Polk was the first First Lady to be photographed? This book is great for children because it includes drawings and funny conversations between people in the White House.
What's The Big Deal About First Ladies

by Ruby Shamir is an outstanding book for people who want to learn more about what our First Ladies did in and out of the office. It also gives you examples of how the presidents and First Ladies helped change the world. There weren't many pages in each chapter which helped me read faster. All of the wonderful photographs added to the reading experience

.
Olivia Peterson lives in Morris, IL, with her parents, brother and her new Italian Greyhound, Auggie. She is in 7th grade has read 45 books since quarantine started in March. She loves playing basketball, softball, volleyball, the piano, and playing with Auggie.
Please Share Talking Story!
Have you noticed the "Share" button on the top of this newsletter? If you share TALKING STORY either on social media or email it to a friend, we will enter your name in our giveaway. Please
email
by January 15 to tell us what you have done, and your book preference and we will add your name to the hat!
We love to hear from our readers!

You can contact us through the newsletter or individually at the following websites.

We're also both available for school visits.

Joyce

We're always looking for teen or pre-teen reviewers. If you know someone who might be interested in reading and writing a short synopsis of three books, please email us.
If you're having trouble emailing us, try using CHROME browser.
and we'll enter your name to win one of the three books below.
Each will intrigue a young reader in your life.
If you have a book preference, please mention it. We try to honor requests.
US

address

only!
Enter by
January 15

(Or better yet, enter right now!)
If you forward Talking Story
to a friend or share this issue on social media, please let us know. We will enter your name for one of these three books.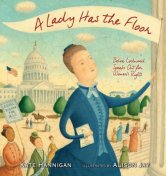 In the course of my research I've learned some fascinating things about first ladies. Eleanor Roosevelt, the wife of President Franklin D. Roosevelt is one of those.


A few years ago I wrote a novel (still unpublished) told from the viewpoint of a conscientious objector (CO) to war. My protagonist, along with many other COs, asked to serve his country by building up life rather than destroying it. These COs filled in at state mental hospitals when other staff members were drafted into the military.

They were horrified to discover appalling and sometimes inhumane conditions. Patients were sometimes dangerous and were accustomed to harsh treatment. Yet these peace-loving young men treated them with kindness.

A small group of these conscientious objectors reached out to First Lady, Eleanor Roosevelt with their concerns. One of them secretly photographed conditions at Byberry Hospital in Philadelphia. As a result, Mrs. Roosevelt used her influence to get the photographs published in the May 1946 issue of LIFE magazine. She also helped to establish the National Mental Health Foundation which brought reform to mental hospitals and the treatment of patients.

Research leads to many more stories than an author can include. But I surely love learning along the way!

Congratulations to

winners from our

fall issue.

Thomas Jefferson Builds A Library.

Jana Leah won Truth and Honor:

The President Ford Story.

A Vote is a Powerful Thing.

Kathleen Krull for being our expert.

Harper Collins,

Boyds

Mills & Kane, and Joyce Hostetter for contributing books for our giveaway.

Olivia Peterson for introducing books.


Joanne Hunsberger for proofreading.