If you want to keep it really simple, just order one of these "hot off the press" kits!




This colorful and fun Heart Scarf Kit uses Kureyon by Noro. This is a great project if you want to learn or practice your intarsia knitting! $50




Or how about this organic Shetland wool shawl called the Walkabout Organic Shawl Kit, is available in 3 great colorways - just $70 for 10 sks of organic yarn and the pattern!

Looking for a larger and interesting project to keep you going thru the rest of the winter?



"Modular" knitting or crocheting an afghan or throw can be a lot of fun. It is a great way to play with color. And while knitting a big throw can be daunting for knitters and crocheters who prefer a more immediate sense of
accomplishment, knitting an afghan modularly means you get that sense of accomplishment as you finish each square or motif along the way to completing the entire throw!

This approach to knitting or crocheting is also a great way to use up stash! Have some stash, but not sure it will work together? Sometimes you just need something to bring it all together, so bring your stash (of a similar gauge) in and we'll help you find a yarn that can make it all work!



Or if you don't have a stash of yarn at home, the simplest way to an amazing modular throw is to pick a yarn with a long repeat (scroll down for ideas).


Betsy and I knit the store model shown above - also a form of modular construction. It is knitted in one piece, but square by square, which is why it's an easy project to share with someone else! And since you pick up along the edge of the previous square to knit the next one, that means you don't have any stitching together of blocks at the end!This project has been a perennial favorite and is worked in a worsted weight yarn with a long repeat - think
Kureyon,
Silk Garden
,
Ito
,
Amitola Grande
,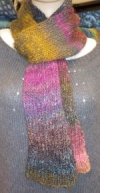 And if you're looking for a smaller and simpler project, you can't go wrong with the traditional k1p1 scarf using a lovely long repeat yarn such as Silk Garden, shown here. I used a US 9 needle, cast on 33 sts & used 3 sks .


Introducing Shibui's new
"Haven"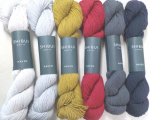 This lovely new extrafine merino/cashmere blend yarn is recommended knit at 5.5 sts/inch on a US 6.
It has a fabulously soft hand and would be a wonderful choice for a luxurious scarf/cowl or for an "heirloom" sweater!
There is still a blue on backorder, but these lovely 4 neutrals arrived along with the smashing new Syrah red and the ever popular Pollen gold!
Check Haven out here




Soft Linen, by Katia, is a new 100% linen cake in a gradient of colors that will be new for the spring. I expect it will be popular for knitting shawls and tops, as well as for weaving! I also have a 100% linen from Araucania arriving in solid/kettle dyed colors!













This new Jody Long yarn is 90$ organic cotton / 10% cashmere and comes in a whopping 253 yds/hank. With a recommended gauge of 5.5 sts/inch, it will be a great choice for summer tops, pullovers and cardigans, as well as shawls!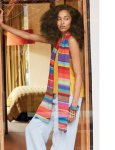 Lastly, for a great basic cotton, I have ordered Rowan's Handknit Cotton which is recommended knit at 4.5-5 sts/inch. It is not mercerized so will be great for garments as well as washcloths if you're looking for quick simple knitting to take to the beach! And because of the fabulous color range, you can have fun knitting projects like this colorful scarf - free download from Rowan!



Stay tuned to our Facebook page as each of these yarns arrives!

Pantone Colors of the Year: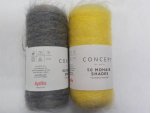 "Illuminating Yellow" and "Ultimate Grey"

If you follow us on Facebook you've already seen that "illuminating yellow" and "ultimate grey" are the trending colors Pantone identified for 2021.
As Pantone states :



A message of happiness supported by fortitude, the combination of Ultimate Gray + Illuminating yellow is aspirational and gives us hope. We need to feel that everything is going to get brighter – this is essential to the human spirit.



Grey - any grey, pretty much sells itself!

But yellow? Just about every yellow - well, not so much!
(despite how great the poet laureate looked in bright yellow last week at the inauguration!)

Why is that? Is it because, yellow is the "see me, I'm here" color that stands out in a crowd. Think about Hi-Lighters, taxis, "danger/curve ahead" signs! Studies show it is the attention getting color. Maybe knitters don't want to stand out in a crowd?

Or could it be that history has instilled

us with an aversion to yellow because it was used by so many cultures over the centuries to identify groups of people as "other" for racist/religious reasons? The Muslims required the Jews and Christians in Baghdad in the 9th century to wear a yellow identifier just as Nazi Germany required Jews to wear a yellow star. And in the 16th century when India was under Islamic rule, Akhbar required the Hindus to wear a yellow identifier.





Or maybe those knitters that are medically inclined associate the color yellow too much with jaundice to usually choose it for knitting?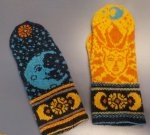 Whatever the reason bright, sunny yellow has only had limited popularity in the past for kids garments and accessories, or (as shown in these mittens chris knit )as a great color to use as a "pop" or highlight in multi-color work.


This explains why the yellows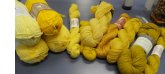 that I have in stock today (pictured right) are either from the machine washable "kids" yarn section (Calico, Babe Worsted & Encore) or yarns I stock for multi-color knitting like 220 Sport, Elemental Shetland, and my own NFAC Fingering Merino (not online, but at the shop)..
So I was feeling challenged by Pantone's choice of "illuminating yellow" for the color of the season and found it difficult to order much of it in the spring yarns for the store! But I did order it in a few of the popular yarns -


Noro's new magazine features a lovely shawl knit using Sonata's bright yellow/green and a lovely greyish taupe, shown above. The new magazine will be here mid Feb, as will these two colors!

And one of the new Shibui colors arriving for the spring is a brigh

t, happy yellow called "canary", shown left with their new green for the spring. Both of these, along with their new blue will be arriving in February, as well.



Anyway, if you want to knit "on trend" and work some of this hopeful yellow into your knitting this spring, HERE ARE SOME TIPS: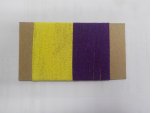 1) basic color theory tells us to use high value colors like bright yellow in small amounts relative to other colors in a multiple color project (i.e. if knitting two colors knit no more than 1/3 of it in yellow). That's because our eyes see the high value color first, and foremost, and so that color dominates other colors. For example, on the yarn wrap I show here, I wrapped an equal number of strands of yellow and purple yarn side by side, and yet it looks like I did more yellow, right? The yellow stripe looks larger even tho' it is the same size. So keep this in mind (it's true for white, as well) if you're working several colors together with yellow.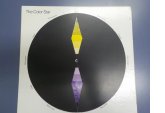 2) color theory principles also inform us that to tone down yellow's "eye-dominating" quality we can temper it's dominant presence by working it next to either a grey or taupe (that's why Pantone paired Illuminating yellow with ultimate grey!). Or, pairing yellow with it's complement (the color across the wheel from it), which is violet, works to tone it down as well! This works because when complements are knit next to each other they cast a grey pallor each over the other, so the grey shadow that violate casts on yellow mutes and tones it down to our eye!.

So hopefully some of you will have fun knitting something hopeful and happy this spring with one of the "illuminating" yellows at the store and can use either of these knitting tips to good advantage when you do so!




Summer Classes posted....


why not treat Mom (and yourself) to Eco Printing a Silk Scarf for Mother's Day?




I've organized a few classes for the spring and summer and have posted them online.


To be safe, just like last summer, these classes will all held out of doors, in the garden, beneath the tent canopies (so we're protected from drizzle). Participants will wear masks and each participant will have their own table, 6 ft apart for social distancing.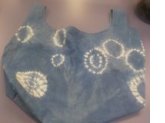 Since the spring and summer are great times for eco-printing (as in a closeup of a silk scarf done by Jody in last summer's class shown above in the "on trend" bright yellow) and shibori (as in the market bag shown left),and because natural dyeing is always popular in the summer when plants are abundant, you will discover that most of the classes offered involve those techniques.



I've tried to offer several "project" based classes that can be done in a day or less. Hence the Eco Printed Silk Scarf, Shibori Market Bag and the Naturally Dyed & Eco Printed Origami Wallet (the piece shown left is a sample from this class, not yet folded into an origami wallet, which is shown here completed using a piece of shibori.




But keep in mind that even if you don't "need" or 'want" a scarf, market bag or origami wallet yourself, these make great gifts. And don't lose track of the point that these classes are a great way to have fun and learn something new and not just about the "end product"!



In addition to the many dyeing classes, since the spring is often the time of year that families get new puppies and when sheep are shorn, I also added a Kumihimo Dog Leash class to the mix, as well as a Beginning Spinning class.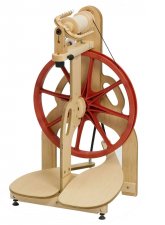 If you didn't know you wanted to learn to spin before this, feast your eyes on the new colors of

hand-dyed Blue Faced Leceister top

that arrived yesterday! This may entice you to join us if all the freshly shorn fleeces in the state this spring doesn't!!



p.s. I have a slightly used shop Lady Bug like the wheel pictured here, with 2 bobbins, available for $625 (brand new it sells for between $736-$750).

View Classes Here



YARN & FIBER CLEARANCE - every week in February!
Stay tuned to our Facebook page every Monday to see what yarns & fibers are on clearance that week! Or just stop by each week in February to see what yarns and fibers are on clearance that week!

From 35% - 50% and higher....you'll find some great deals!