International Rescue Cat
Awareness Month
March 13: K-9 Veterans Day
March 23: Cuddly Kitten Day
March 21-27: Animal Poison Prevention Week
March 28: Respect Your Cat Day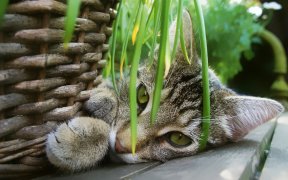 In honor of Rescue Cat Awareness Month, here are some of the best local organizations where you can find a cat that might be the newest member of your family.
12450 Ulmerton Rd,

Largo (727) 582-2600

9099 130th Ave,

Largo (727) 220-1770

405 22nd St. S,

St. Petersburg (727) 328-7738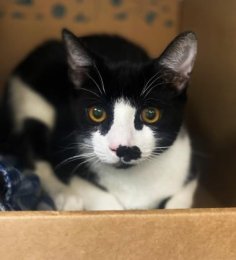 2911 47th Ave N,

St. Petersburg (727) 522-6566

My name is Teddy Lam and I am just a young Bichpoo pup. Watch out, I am toe nibbler, I may grow out of this mischievous hobby but for now it is fun! My other favorite thing to play with is my stuffed toy named "Doggo". My most embarrassing moment so far was the time I got stuck under the bed. I am so spoiled that I sleep ON mom's head.

My mom and I were instantly connected and our bond grows stronger each day. She says, "I don't know what I did in my past life to allow me to win the Florida Paw-r-ball with Teddy. He is the sweetest, friendliest, gentlest, most lovable little cuddle bug. He's truly brought so much joy to everyone he's met. I cannot be happier to have him as my fur baby!"

REMINDER:
DAYLIGHT SAVINGS TIME STARTS MARCH 14th

AT LARGO VETERINARY HOSPITAL
SHOULD YOU WAKE A
DREAMING DOG?
When a dog is in REM sleep, you may notice them flicking their paws, twitching their legs, whimpering or making other noises. Sometimes their facial muscles are twitching and they seem to have rapid movement under their eyelids. These are all normal behaviors. The smaller muscles aren't paralyzed during REM sleep like the major muscles are and these movements may indicate that your pup is having a dream.

This is a good time to let sleeping dogs lie. It's not so much that interrupting the dream is bad, but pulling a dog abruptly out of REM sleep can be startling. Such confusion might provoke an aggressive reaction. At the very least, you're interrupting an important part of the sleep cycle, and robbing your dog of some well-deserved rest.

ARE THERE POISONS HIDING
IN YOUR HOME?

Many pet owners know that chocolate, mouse and rat poison are toxic if ingested by pets. With March being Poison Prevention Awareness Month, we thought it fitting to point out some less known household items that could turn dangerous if they ended up in our furry friends' paws.

Dryer sheets/Fabric Softener sheets, are placed in the dryer to eliminate static cling and minimize wrinkles in clothing. They do this by depositing chemicals on our clothing. These chemicals could be toxic if a pet were to chew on or eat a dryer sheet. Even a used dryer sheet contains enough chemicals to be harmful if ingested.
Sugar-free gum or sugar-free candy contain a sweetener called Xylitol. When a dog eats something containing xylitol, it causes the rapid release of insulin. This release of insulin leads to a rapid drop in blood sugar levels, otherwise known as hypoglycemia. If untreated, hypoglycemia can lead to death. (Xylitol is also found in: puddings, toothpaste, mouthwash, vitamins, cough syrups, baked goods, laxatives, prescription medications, allergy medications)
Batteries: Some pets tend to chew on whatever they can find. Unfortunately, if this curiosity leads to the remote control or a child's toy, your dog may end up chewing on or puncturing a battery. Once punctured, the compounds from the battery can cause severe injuries to your dog's mouth, tissues, and digestive tract.
Human medication: Prescription and over-the-counter medications have been the two most common causes of pet poisoning cases.
Apple seeds contain trace amounts of cyanide which, over time, can build up in a dog's system and become toxic.
Grapes and raisins: Even a small number of grapes or raisins can cause kidney failure in dogs.
Onions add flavor to many human recipes but table scraps with onions that end up in your dog's dish are dangerous. In dogs, onions lead to a breakdown in red blood cells, ultimately causing anemia.
Tea and coffee, like chocolate, are toxic to pets because they contain caffeine.
Lily Plants can cause kidney failure in cats.
Some common symptoms include:
Vomiting

Diarrhea

Seizures

Loss of appetite

Lethargy

Increased thirst

Increased urination
If you think your pet may have ingested something poisonous, contact the ASPCA Animal Poison Control Center at (888) 426-4435.