Peddler Route leads to a Modern Barn
-
the Claude Wild barn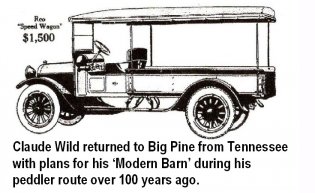 At the height of his travels, Claude Wild drove a state-of-the-art peddler's truck, an REO "Speed Wagon", and typically made $75 a circuit, driving from Big Pine to Newport, TN, to Asheville, and back to Big Pine. He did not believe in buying food while on the road, and his wife made him ham biscuits to eat while traveling. He was the first Big Pine resident to own a truck

.

The First Modern Barn in Madison Co.
More about the Claude Wild barn from our Data Base
Make Cash from Tobacco Baskets
From your barn to the walls of your home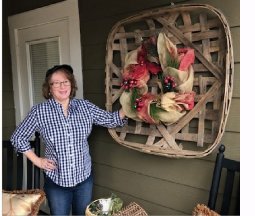 The tobacco basket was stenciled with "CAROLINA WHSH" and "MADISON, N.C." on its sides. My search for a genuine local tobacco basket for my collection was finally over. But, my curiosity was piqued about its origin which could be answered when I learned the meaning of the stencils.
Read its History and Value
Cindy McCabe with the tobacco basket she has repurposed for her home decoration

.
2 Ways to Barn Tour -


GUIDED BARN TOURS: You pick a date. You drive your own car safely, socially-distanced from the tour guide.
Call tour guide Taylor Barnhill @ (828) 380-9336 to arrange a date


or email us for information: info@appalachianbarns.org





or DIY 1 - 2 Hour Driving Tours around Madison County. Brochures for all six different tours are available at the Madison County Visitor Center in Mars Hill.
Here is the Tour for Mars Hill.

Download all Barn Tours at the bottom of this linked page.

Grant money received for Smith Farm project -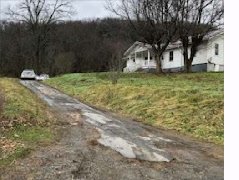 The Appalachian Barn Alliance recently received grant money to improve the driveway and develop temporary parking spaces on the Lower Smith Farm property of the Bailey Mountain Preserve in Mars Hill. The grant will create better public access to the lower 8 acres that is being developed into a farmstead which serves as an entrance to the larger preserve which leads to hiking trails up Bailey Mountain.
The Madison County Tourism Development Authority was pleased to help with the project.
More about Smith Farm and Bailey Mountain
Virtual Tour launch on March 21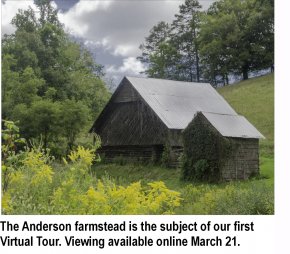 With the beginning of Spring, the ABA will launch its first virtual tour of a barn property. The beautiful Oscar Anderson farmstead is one of our favorites and our researcher Taylor Barnhill has all the details. Watch for an email or check our website for the details on how to view the video and enjoy the tour from the comfort and safety of your home.

More stories and photos