Like the growing speed and energy
of
a ball rolling down a hill, it is starting
to feel to me like there is some momentum toward recapturing a sense
of our pre-Covid lifestyles. More and more of the folks I know have gotten their 2nd vaccinations and I get mine next week! Though, even with the vaccine distribution going well, we will all need to continue to focus on the safety provided through masks and other mitigation techniques for a time, it DOES feel better to at least see things moving forward once again.
In the news recently, I read that Bikes, Blues, and BBQ will return in 2021 and also that the Walton Arts Center will be resuming Broadway shows in the fall! But perhaps even more important to most of our readers, I saw a post on Facebook announcing that Brick Fields Blues Therapy at Moranos in Fayetteville will resume April 14th!
Can we get a "Glory Be!" Since I rarely catch such posts on FB, i
f you are
an artist, venue, or fan, please
remember you can submit live music events each week by emailing me using the email at the end of this column.
This week we have a new article that highlights two awesome options for musicians wanting to take the next step toward recognition of their craft. With both competitions currently taking submissions, check out the article below for more information and links. We are once more sharing the link to the upcoming 3rd annual Fayetteville Jazz Festival as well as
an article about a radio program about delta blues put out by Arkansas State University. The feature, "Kevin Bonner Reviews," will return next week with a new review.
Always remember, this is YOUR newsletter! Please send
feedback or suggestions our way. You can reach me by email at the address below. We appreciate our readers and want
to see
your ideas included!
Mark Your Calendar

2021 Fayetteville

Jazz Festival

Blues, Jazz and Gospel lovers should mark their calendar to attend the 3rd Annual Fayetteville Jazz Festival.
Read on below for more information!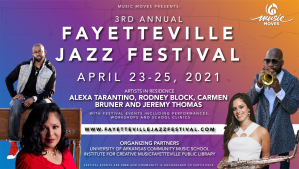 Music Moves Presents the Fayetteville Jazz Festival
Featuring Artists in Residence Alexa Tarantino, Rodney Block, Carmen Bruner, and Jeremy Thomas
Friday, Saturday, and Sunday
For more information, contact:
Chris Teal, Fayetteville Jazz Festival Director, Institute for Creative Music Director (509) 230-0688; or,


Anthony Ball, Music Moves Director, (479) 595-9109
Check It Out!

"6 Degrees of the Delta"

Radio Program From ASU

Sundays at 5 pm
#6DegreesoftheDelta is the idea that all modern music can be connected back to the Delta through 6 people or less. Based on small world theory and 6 Degrees of Separation, #6DegreesoftheDelta will provide good music with a good story and rich history to be enjoyed by everyone.
Listen on KASU-FM 91.9 and streaming globally on KASU.org, on the TuneIn Radio App, or by telling your smart speaker of choice to play KASU. Joins us for the fun!
For more information, click HERE
...to Take Your Music to the Next Level?

Two Great Competitions

The International Songwriting Competition (ISC) and the Unsigned Only Music Competition are designed to give artists more exposure and recognition for their music. Each gives away over $150,000 in cash and prizes and the chance to be heard by influential industry decision-makers. All styles and genres of music are accepted including Blues, Americana, Jazz, Country, and more.

WHAT IS THE DIFFERENCE BETWEEN ISC AND UNSIGNED ONLY?


ISC is all about the song and recognizing talented songwriters (both professional and amateur).

Original music only, all prizes and recognition go to the songwriters.
Unsigned Only is all about the artist and

discovering talented performers who are not signed to a major record label (indie artists are eligible).

Original music and cover versions, all prizes and recognition go to the artist.
EVERYTHING IS ONLINE
We know this past year has been extremely challenging for artists. The good news is both competitions remain a viable option for artists to get more exposure. Neither has a physical event to attend, so artists can safely enter online.
Both competitions offer the opportunity for artist's music to be heard by an elite panel of recording artists and music industry executives.
Support Options

For Local Artists

Please check this section of the newsletter weekly for ideas of how to support local musicians and venues. Submissions are being reduced to contact information this week as we restart the Live Music Calendar.
*****
Buddy Shute and the Motivators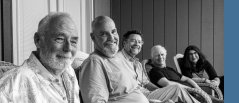 Buddy Shute and the M
otivators live at the Eureka Springs Auditorium on YouTube: LiveAtTheAud
***
To learn more about the band, visit:

Facebook: Buddy Shute and the Motivators
******
Brick Fields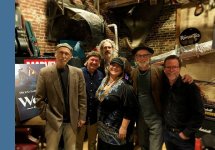 We have released a single from the upcoming album. Here is a link to the video "Take Me To the Riverside"
Once live music begins again, f
olks can stay updated on our concerts by signing up to our email at www.BrickFieldsMusic.com and following us on Facebook at:https://www.facebook.com/BrickFieldsMusic
We also have two stores on our website one for music merchandise and another for Blues Therapy handmade items such as essential oil blends, Jewelry, tie dyes, bath salts, body butters and more.
Thank you for your support.
I pray that each of you and your families are all doing okay through this.
Brick Fields
Booking Call: The Brick House 479-846-4668
*****
The Jeff Horton Band
Based in Bentonville, Arkansas, the
Jeff Horton Band definitely has
a passion for the Blues! For the last
10 years Jeff and the guys have
done their part in sharing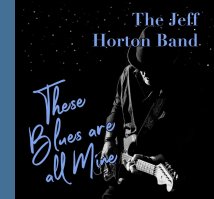 the Blues
Now, they're about to release their first all original album,
"These Blues are all Mine"!
Just like at their live shows, this album features a variety of Blues, from
the traditional to the contemporary there's definitely something for
everyone that loves the Blues.
*****
Jimmy Wayne Garrett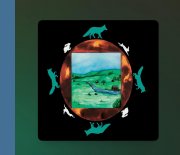 For more information about Jimmy Wayne Garrett, his schedule, recent interviews, or buy the latest album, visit: JimmyWayneGarrett.com
His music may also be found HERE:
LIVE MUSIC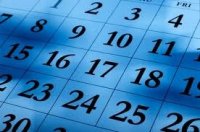 Please enjoy the following listings comprised of bands, venues, and/or organizations that support Ozark Blues Society. Always check with individual venues for event details and schedule changes. Submit weekly listings by emailing: SANDY
**Limited listings are currently available
on published community calendars.
If you know of dates for local blues
not included below, please email Sandy at the above email link.
Uncrowned Kings for Happy Hour at George's Majestic Lounge in Fayetteville

Jenna and Friends at JJ's Grill and Chill in Bella Vista
04.10
Buddy Shute and Mark McGee at Jammin' Java in Fayetteville

Nathan Bryce and Loaded Dice at The Meteor Guitar Gallery in Bentonville
Brick Fields Blues Therapy at Moranos in Fayetteville

Jim Mills at JJ's Grill and Chill on Steamboat in Fayetteville
04.15
Richard Burnett at JJ's Grill and Chill in Springdale
04.16
Full House for Happy Hour at George's Majestic Lounge in Fayetteville

Funk Factory at George's Majestic Lounge in Fayetteville

Richard Burnett at JJ's Grill and Chill in Bella Vista
04.17
Gary Hutchison at JJ's Grill and Chill in Fort Smith
Please Submit Dates for Regional Blues Artists HERE

04/23-04/25 Fayetteville Jazz Festival in Fayetteville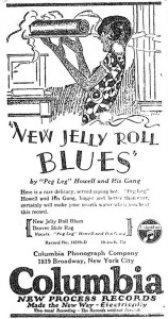 Today's show features music performed by Peg Leg Howell, Tommy McClennan, and Lil Ed Williams

"The blues is an impulse to keep the painful details and episodes of a brutal experience alive in one's aching consciousness,
to finger its jagged grain, and to transcend it,
of philosophy but by squeezing from it a near-tragic, near-comic lyricism. As a form,
the blues is an autobiographical chronicle of personal catastrophe expressed lyrically.

"
Ralph Ellison

Blues Education Supporters
Thanks to the following for their support of blues education.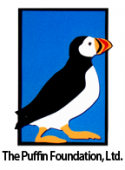 Check Out these regular local radio programs

"The Generic Blues Show" hosted by Paul Kelso airs every Friday night at 9pm on KUAF 91.3FM
Rockin' Hog Radio presents "Sunday Morning Blues" from 8am to 10am every Sunday
LINK
Get Involved with the Ozark Blues Society

Annual membership levels begin at $15 and give you so much in return, including meeting new friends while enjoying the best blues artists in the area.
By being a member of The Ozark Blues Society of Northwest Arkansas, you are helping to support the Arts and to preserve the Original American Art Form known as The Blues.
Membership Benefits Include:

Weekly E-newsletter
Opportunities to win tickets to events
VIP seating at events (when available)
Discounts on OBS merchandise
Social networking – meeting other people who also love the blues
Opportunities to volunteer on OBS committees and at events
Ability to attend board meetings and vote on upcoming organizational issues and elections
Visit our Website to renew or join! Ozarkbluessociety.org