Not sure about all of you reading this,
but dreary, rainy days like today are not my favorite. Add to that a trip to the dentist, and a backlog of house cleaning and...well...yep, not my favorite kind
of day. That said, today's newsletter ought to perk everyone up at least a bit. The weekly music calendar continues to expand with opportunities to hear some of your local favorites. You will also find in this week's edition, another fantastic Album review by Kevin Bonner. And don't forget next weekend's Jazz Festival. Tickets are almost sold out. Be sure and check out the article below and sign up for some of the free tickets right away
if you are wanting to attend.
Again this week you will find the article that highlights two awesome options for musicians wanting to take the next step toward recognition of their craft. With both competitions currently taking submissions, check out the article below for more information and links.
Always remember, this is YOUR newsletter! Please send
feedback or suggestions our way. You can reach me by email at the address below. We appreciate our readers and want
to see
your ideas included!
NEXT WEEKEND!

2021 Fayetteville

Jazz Festival

If you hurry, there are still a few (free) tickets available for the show on Sunday, April 25th. If you were thinking about going and haven't done it yet, now is certainly the time to get your tickets.
The 3rd Annual Fayetteville Jazz Festival is a don't miss event!
Read on below for more information!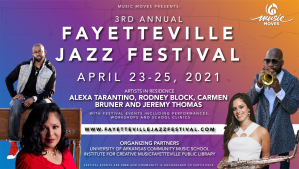 Music Moves Presents the Fayetteville Jazz Festival
Featuring Artists in Residence Alexa Tarantino, Rodney Block, Carmen Bruner, and Jeremy Thomas
Friday, Saturday, and Sunday
For more information, contact:
Chris Teal, Fayetteville Jazz Festival Director, Institute for Creative Music Director (509) 230-0688; or,


Anthony Ball, Music Moves Director, (479) 595-9109
Second Edition!

Kevin Bonner

Reviews

CROOKED EYE TOMMY BUTTERFLIES AND SNAKES
Welcome back fellow Kitty Cats and Jammer Kids. Kevin B. returning to drop another review of some blues music for you. In this episode, I'll be discussing the not necessarily new but new to me album Butterflies and Snakes by the Southern California based group Crooked Eye Tommy.

Brothers Tommy and Paddy Marsh make up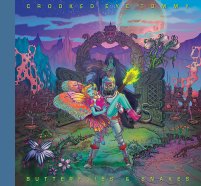 the core of Crooked Eye Tommy. International Blue Challenge semi-finalists (2014 - band) / finalists (2020 - duo), these gentlemen have offered up a varied set of all original tunes on this their first release on their eponymous label. Recorded in Ojai, California, Butterflies and Snakes is described by the band as "a BOLD EXCURSION!" and an "amalgamation of Deep Seeded Blues and Smokey Southern Rock with Big Guitars and even Bigger Vocals." Strong words from the left coast. Words that C.E.T. ably back up with this album.

The Marsh boys, who each play a mean guitar and handle lead vocal duties, fill out their line-up for this album with a nice, tight group of players including Glade Rasmussen on bass guitar, Tony Cicero on drums, Jimmy Claire (Raven/America) on saxophone, piano and Hammond B3, Bill Bilhou on B3, and Jesse Siebenberg (Supertramp) on steel guitar. Becca Fuchs and Dan Grimm add backing vocals. Each of the seasoned players is top notch at their craft. The production on this effort is clear and robust.
Some stand out tunes on the album begin with "Crooked Eye Tommy", written and voiced by the man himself. It's a menacing, propulsive swamp stomp in which Tommy is "…gonna let the world know what a crooked eye can do." All slide guitars and funky electric piano atop a groove that is heavy enough to rattle walls.
There is some right nice horn and keyboard work in Tommy's next tune, the latin-spiced "Come On In." This rhumba lopes along while Tommy likens his broken heart to an empty house , inviting his next love to make herself at home, such as it is.
It's been said that good musicians borrow, great musicians steal. Brother Paddy takes the lead in the name-checking "I Stole the Blues," confirming that sentiment. Muddy Waters, Albert King, Johnny Winter, T-Bone Walker and even Jerry Garcia are all given a shoutout. Nice to hear the refrain "… I stole the blues, now it's time to give it back."
"Time Will Tell" is a funky workout with some stellar twin-guitar leads ala the great Dickie Betts/Duane Allman joints or even those of Thin Lizzy. If it ain't killed ya baby, you ain't dead yet.
"Tide Pool" slides into the mix, slowing things down to a "hug your significant other and sway side to side" vibe. Paddy wonders what will happen to his love; like a tide pool, will it dry up? Be rescued by the sea?
In a shift away from the general "my girl is gone" topics used so much in the blues, C.E.T. add some political takes on two of the tracks: "Somebody Got to Pay" – a shuffle-driven rebuke of elected official money grabs; and "Mad and Disgusted" wherein the lads rail against government overregulation.
Butterflies and Snakes offers up a wide variety of music, culminating in the straight up soulful country feel of "Southern Heart."

My overall impression on a scale of "Not-a-Fave to Rave" lands this debut effort straight in the middle. Solid songwriting, excellent musicianship and smooth production make the tracks very suitable for a long drive or to help warm ya up before a night out on the town.
Until next time. . . Kevin B.
...to Take Your Music to the Next Level?

Two Great Competitions

The International Songwriting Competition (ISC) and the Unsigned Only Music Competition are designed to give artists more exposure and recognition for their music. Each gives away over $150,000 in cash and prizes and the chance to be heard by influential industry decision-makers. All styles and genres of music are accepted including Blues, Americana, Jazz, Country, and more.

WHAT IS THE DIFFERENCE BETWEEN ISC AND UNSIGNED ONLY?


ISC is all about the song and recognizing talented songwriters (both professional and amateur).

Original music only, all prizes and recognition go to the songwriters.
Unsigned Only is all about the artist and

discovering talented performers who are not signed to a major record label (indie artists are eligible).

Original music and cover versions, all prizes and recognition go to the artist.
EVERYTHING IS ONLINE
We know this past year has been extremely challenging for artists. The good news is both competitions remain a viable option for artists to get more exposure. Neither has a physical event to attend, so artists can safely enter online.
Both competitions offer the opportunity for artist's music to be heard by an elite panel of recording artists and music industry executives.
Support Options

For Local Artists

Please check this section of the newsletter weekly for ideas of how to support local musicians and venues. Submissions are being reduced to contact information this week as we restart the Live Music Calendar.
*****
Brick Fields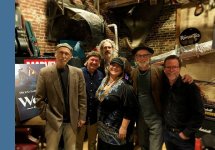 We have released a single from the upcoming album. Here is a link to the video "Take Me To the Riverside"
Once live music begins again, f
olks can stay updated on our concerts by signing up to our email at www.BrickFieldsMusic.com and following us on Facebook at:https://www.facebook.com/BrickFieldsMusic
We also have two stores on our website one for music merchandise and another for Blues Therapy handmade items such as essential oil blends, Jewelry, tie dyes, bath salts, body butters and more.
Thank you for your support.
I pray that each of you and your families are all doing okay through this.
Brick Fields
Booking Call: The Brick House 479-846-4668
*****
The Jeff Horton Band
Based in Bentonville, Arkansas, the
Jeff Horton Band definitely has
a passion for the Blues! For the last
10 years Jeff and the guys have
done their part in sharing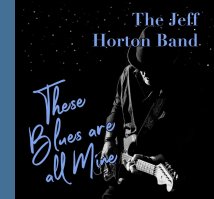 the Blues
Now, they're about to release their first all original album,
"These Blues are all Mine"!
Just like at their live shows, this album features a variety of Blues, from
the traditional to the contemporary there's definitely something for
everyone that loves the Blues.
It's Official! A CD release party will be held at
The Meteor Guitar Gallery in Bentonville on April 30th - Show starts 6:45pm. Joining the JHB, will be
special guests Buddy Shute & The Motivators. It's going to be an awesome night!
*****
Jimmy Wayne Garrett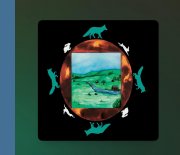 For more information about Jimmy Wayne Garrett, his schedule, recent interviews, or buy the latest album, visit: JimmyWayneGarrett.com
His music may also be found HERE:
*****
Buddy Shute and the Motivators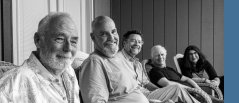 Buddy Shute and the M
otivators live at the Eureka Springs Auditorium on YouTube: LiveAtTheAud
***
To learn more about the band, visit:

Facebook: Buddy Shute and the Motivators
******
LIVE MUSIC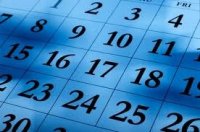 Please enjoy the following listings comprised of bands, venues, and/or organizations that support Ozark Blues Society. Always check with individual venues for event details and schedule changes. Submit weekly listings by emailing: SANDY
**Limited listings are currently available
on published community calendars.
If you know of dates for local blues
not included below, please email Sandy at the above email link.
Full House for Happy Hour at George's Majestic Lounge in Fayetteville

Funk Factory (SOLD OUT) at George's Majestic Lounge in Fayetteville

Jenna and Tony at Bentonville Tap Room in Bentonville

Richard Burnett at JJ's Grill and Chill in Bella Vista
04.17
Jeff Horton Band at Good Vibrations in Rogers

Gary Hutchison at JJ's Grill and Chill in Fort Smith
04.18
Afro-Cuban ans Soft Jazz at Six Twelve Coffehouse and Bar in Fayetteville


In The Atrium: SoNA Voices featuring Lia Uribe at WAC in Fayetteville

Take Cover at Bentonville Brewing Company in Bentonville
Brick Fields Blues Therapy at Moranos in Fayetteville

Steve Dimmitt at JJ's Grill and Chill in Fort Smith
04.22
The Handshake Saints at Bentonville Tap Room in Bentonville

Vince Turner at JJ's Grill and Chill in Bella Vista
04.23
Nace Brothers for Happy Hour at George's Majestic Lounge in Fayetteville

Fayetteville Jazz Festival in Fayetteville

J Ray Davis at Bentonville Tap Room in Bentonville
04.24
Fayetteville Jazz Festival in Fayetteville

Roger Thomas at Flavors Lounge in Bentonville

An Homage to Sting and the Police at The Meteor Guitar Gallery in Bentonville
Please Submit Dates for Regional Blues Artists and Group Events HERE
Today's show features music performed by Django Reinhardt and Boz Scaggs

"Jazz attracted me because in it I found
and instrumental precision I admire in classical music, but which popular music doesn't have..

"
Django Reinhardt

Blues Education Supporters
Thanks to the following for their support of blues education.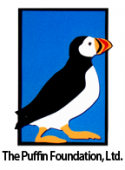 Check Out these regular local radio programs

"The Generic Blues Show" hosted by Paul Kelso airs every Friday night at 9pm on KUAF 91.3FM
Rockin' Hog Radio presents "Sunday Morning Blues" from 8am to 10am every Sunday
LINK
Get Involved with the Ozark Blues Society

Annual membership levels begin at $15 and give you so much in return, including meeting new friends while enjoying the best blues artists in the area.
By being a member of The Ozark Blues Society of Northwest Arkansas, you are helping to support the Arts and to preserve the Original American Art Form known as The Blues.
Membership Benefits Include:

Weekly E-newsletter
Opportunities to win tickets to events
VIP seating at events (when available)
Discounts on OBS merchandise
Social networking – meeting other people who also love the blues
Opportunities to volunteer on OBS committees and at events
Ability to attend board meetings and vote on upcoming organizational issues and elections
Visit our Website to renew or join! Ozarkbluessociety.org