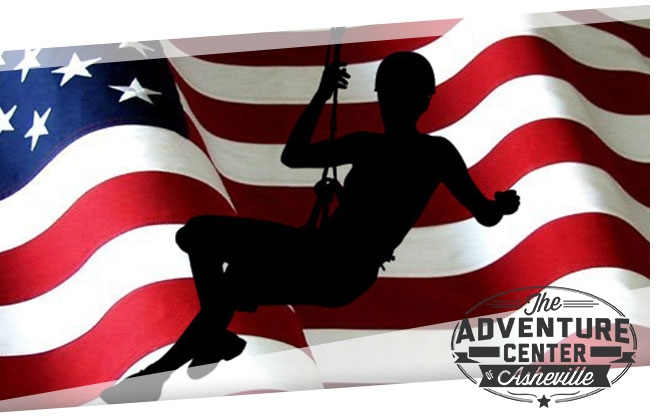 Memorial Day Monday, May 31 get 50% off your Adventures
at the Adventure Center of Asheville and Wildwater, Ltd. In Asheville that includes our Asheville Zipline (ages 8+), Asheville Treetops Adventure Park (ages 4+) and KidZip (ages 4+). At Wildwater, Ltd., the discount applies to all their adventures at all of their locations (Pigeon, Nantahala, Ocoee and Chattooga Rivers) including white water rafting, ziplines, lodging, jeep tours, and more! Reservations are suggested and can be made at 877.247.5539 or on adventureavl.com or wildwaterrafting.com.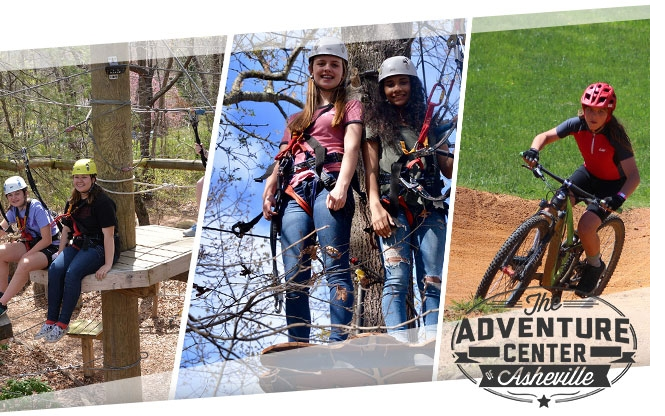 Epic Birthday Parties
At the Adventure Center of Asheville, there are so many unique outdoor Birthday Party options in one location at our Kid Zip, Treetops Adventure Park, and Kolo Bike Park!
Stepping out of your comfort zone and riding a hang glider that is 30 feet in the air or zipping off a 25 foot platform or crushing a berm or gap jump is an exhilarating experience that the birthday boy or girl, their family and friends will not forget!
Not only can we provide EPIC FUN, but our activities also include problem solving, team bonding, working and laughing together!

You can bring your own cake, party snacks and drinks and use our picnic tables instead of cleaning your house. Twice!

Benefits of being outdoors are immeasurable! And you don't have to be cramped inside a hot, loud space.

Those who want to watch- are free!

Birthday Party includes 2 hours of adventure plus an extra 3 hour access to picnic area.

Age appropriate options!

Open all year- we love to host Winter Birthdays ! Just put on a coat and enjoy the beautiful sunny winter days in Asheville, NC.
At the Treetops Park, each participant can choose their level of challenge (once they are old enough). So if there are kids that are nervous they can climb on lower trails while those who are very adventurous can climb a higher trail and they are all in the same space laughing with each other!
Our Kid Zip in the only place for kids under the age of 8 years old to Zipline in WNC. And this park is made especially for their weight and size. They will Zip the park many times in 2 hours and gain confidence in themselves!
At Kolo Bike Park, parent chaperones are free when escorting younger kids on our trails. And kids can enjoy the trails, two pump tracks, jump line and skills area.
For more info: click here!
Register for Summer Camps today!

Our 3 EPIC Summer Outdoor Day Camps are available
at the Adventure Center of Asheville: Kolo Bike Camp, Kolo Bike Park Kiddie Camp and Adventure Camp for ages 5-15.
Click here for more information!
Or call our office to save on the online booking fees! 828.225.2921
Our 3 summer day camps offer kids the chance to get out in the fresh air, off screens, to use their critical thinking and problem-solving skills. With immersive learning experiences every day, we are the perfect way to enjoy the summer in Asheville!
Do you know how we are different? We are all outdoors on over 100 acres. Our highly trained activity staff and camp counselors offer high adventure, low ropes team building, bike instruction and personalized immersive learning to small groups of kids all year long! We are a locally owned family business who has been offering guided adventures for over 50 years!
Want to learn more?
Check out our camps page on the website
! And book your kids before we sell out!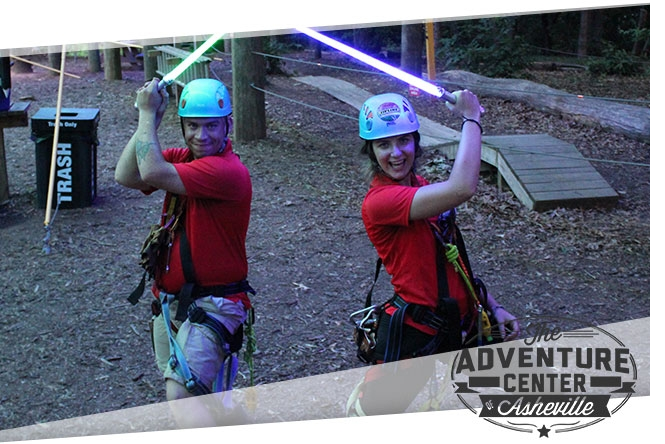 We're Hiring!
ACA is hiring for Spring/Summer/Fall positions! We are looking for Zipline Guides, Asheville Treetops Adventure Park Rangers, Summer Camp Counselors, Kolo Bike Park technicians and customer service, and Welcome Center check-in staff!
For more information, check out our jobs page!
FYI: We have the best staff in the outdoor recreation business! So consider joining our team for a rewarding job experience!