Can't wait to see everyone 😃👍😃

We are beginning to see more and more things opening up here in Chicago and around the country. We started dancing physically together two weeks ago!!! It was truly amazing and so well received.

Let's do it again this Sunday. 👍
AND HERE IS THE "SURVIVORS PICTURE"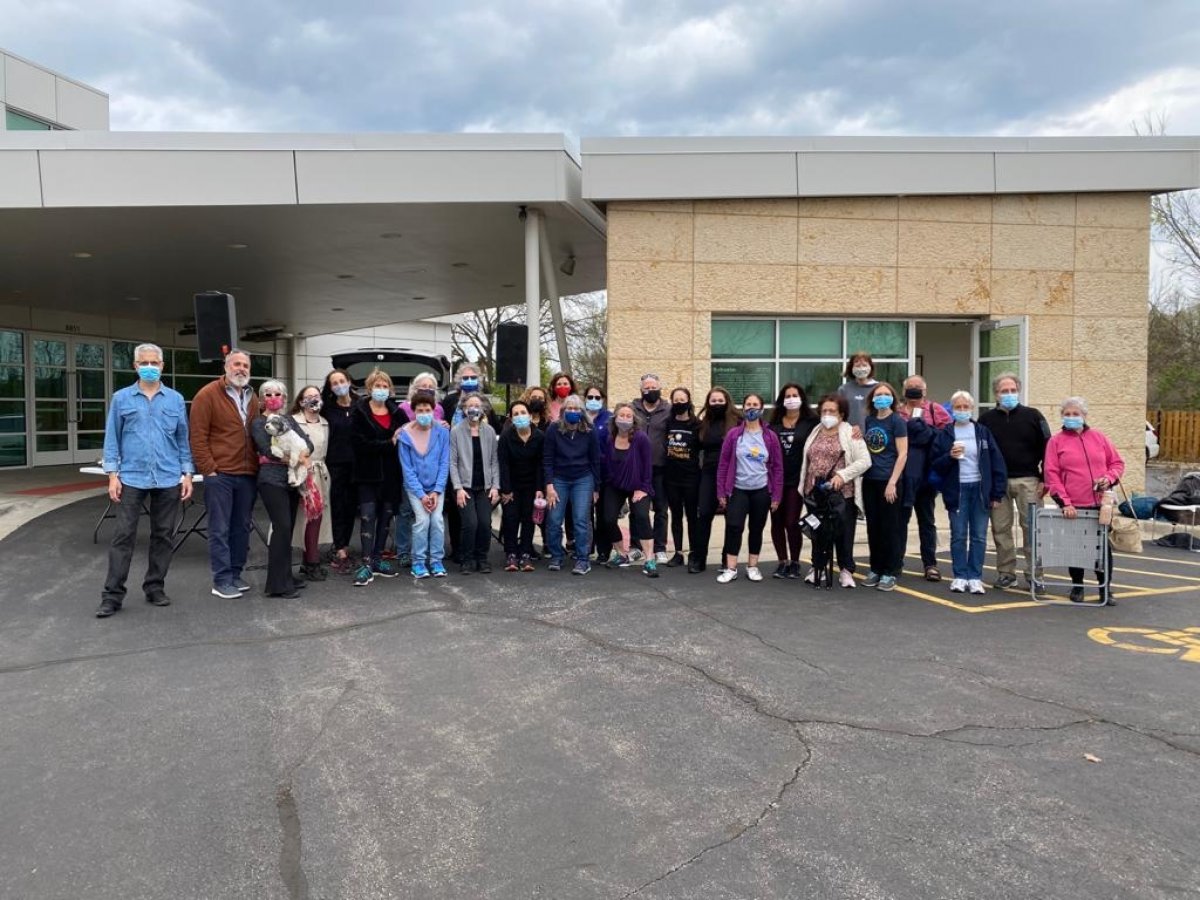 We have the positive news that you have been "dying to hear." 😀 With huge thanks to Iris and David Jacobson, we will dance in the

parking lot

of Chicago Jewish Funerals in Skokie on Sunday, May 3 from 3-5PM. 8851 SKOKIE BOULEVARD SKOKIE, ILLINOIS 60077. Waze Link
David is making this venue available at no charge, for which we are so very grateful. If you would like to make a contribution in his honor, here is his recommended charity.
http://www.gomlefund.org/
KEEPING US ALL SAFE
As has been the plan all along, MASKS WILL STILL BE REQUIRED both for dancing and hanging around. Bring your own chair. Bring your own water. This week, be prepared for heat! (

Bring shoes that will give you cushioning and not too much traction

. There will be bathroom access but please don't plan on hanging out in the building.
BTW, vaccinations will not be required, but are of course preferable. Masks and distancing are required (in case you didn't hear me the first time 😀). Hugging will be permitted by hopefully vaccinated/consenting adults. ❤

But we will be distancing when we dance. Please make sure that you "dance defensively."
Also, by attending this session, you are expressly agreeing to hold harmless Chicago Jewish Funerals and their staff, Penny Brichta and Phil Moss for any damages due to injury or illness that might result from your participation.
While I will not be charging a fixed amount, I will leave a box on my table so you can pay what you want. Or you can use:
Direct PayPal Link
or Chase Quickpay (Zelle) (philip_b_moss@hotmail.com) or Venmo (PhilipBMoss - phone last 4: 8669)
My plan is to focus mostly on our pre-pandemic circle/lines repertoire. I will sprinkle in some of the hits from this past year too. If you have requests, please use the NEW Request Web Page Link to submit them.
Please make sure to watch our Chicago Israeli Dancing FB group, but especially make sure to join/watch our WhatsApp group Chicago Israeli Dancing

(Invitation to CID WhatsApp Group)

for any last minute communications (including cancellation should the need arise). Please spread the word. Phil's contact info:
philip_b_moss@hotmail.com cell: 847.274.1809 WhatsApp: +13125198669
We will take this week to week and see how things go. If it is still successful this week, let's plan on doing this next week too, same time same place.
Again Jacobsons, thanks so much!
Looking forward to seeing everyone on Sunday in person!!!
Phil and Penny