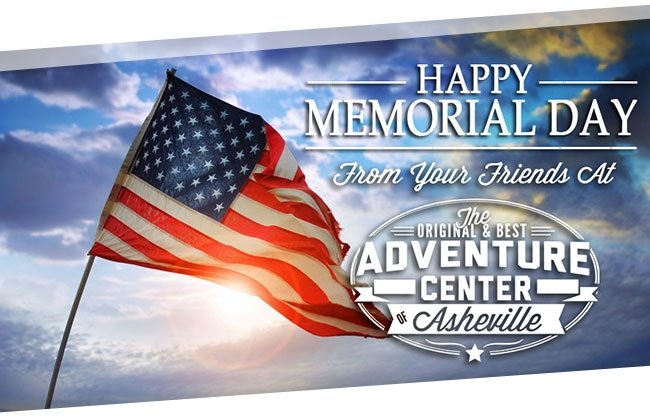 Memorial Day Monday, May 31 get 50% off your Adventures
at the Adventure Center of Asheville and Wildwater, Ltd. In Asheville that includes our Asheville Zipline (ages 8+), Asheville Treetops Adventure Park (ages 4+) and KidZip (ages 4+). At Wildwater, Ltd., the discount applies to all their adventures at all of their locations (Pigeon, Nantahala, Ocoee and Chattooga Rivers) including white water rafting, ziplines, lodging, jeep tours, and more! Reservations are suggested and can be made at 877.247.5539 or on adventureavl.com or wildwaterrafting.com.
Kolo Bike Park
$5 after $5 Thursdays - ALL SUMMER!
Ride our Bike Park on Thursdays after 5pm for $5. (Rentals are available for extra charge.) Check out our trails, pump tracks, rock garden, Teeter Totter of Doom and Littleville!
Call for conditions: 828.225.2921
Summer Twilight in the Treetops Park Night Climbs
On a fun evening, imagine climbing 40 feet in the air and zipping along a hang glider or a sky kayak in the largest adventure park in Western North Carolina. Then, as the sun starts to set, the challenges become illuminated with over 15,000 colored twinkle and laser lights. Five of the Adventure Park's aerial trails become illuminated with all their leaves, cables, ropes and platforms.
This mystical climbing experience is offered Saturday nights all summer from June 5 to September 4 at 7:45 pm. Then we celebrate the Holidays by offering it on Saturday, November 27 and Monday, December 27 at 4:30 pm. Our Twilight Climb is a great way to celebrate with friends and family. It can also be a fun way to have a date!
To book your Twilight experience, call 877.247.5539.
(The Black Trail is not available for Twilight Night Climbs.)