Barn Memories: Deep roots mark former superintendent's childhood
David Wyatt, a superintendent of Madison County schools who retired in 1996, grew

up on a farm in the Petersburg community, graduated from Marshall High and Western Carolina University, and returned to teach science and math before venturing out into other positions in WNC. After he and his wife Willa returned, they became leaders in the effort to restore the historic Mars Hill Anderson-Rosenwald School, built in 1928.
In a short audio recording, Wyatt recalls his childhood at the family "home place" that still includes a smoke house, pack house, spring house and a log cabin dating back to 1805.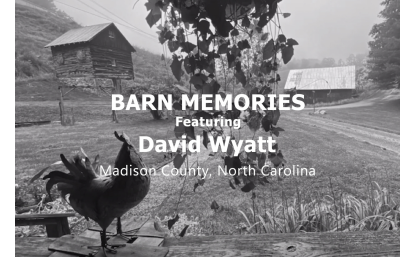 For our 'Barn Memories Project,' the National Trust for Historic Preservation (Terrence Mills

Fund for North Carolina and South Carolina) helped us record the voices of our neighbors

who know, first hand, what it was like to grow up on Madison County farms.

How a Barn's Roof 'Bought' a Living Room Suite. A barn on the Walnut Self-Guided Tour.
Of all the storied barns in the Walnut community and Big Pine Creek valley, the Knox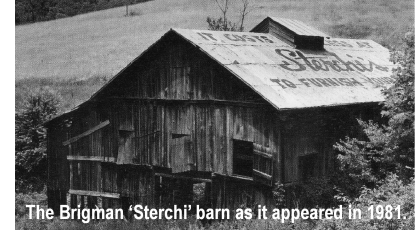 Brigman barn at Ten Point Lane and US 25/70 could be spotted for years with "Wall Drug" painted on its roof. On a bus tour across the nation, Brigman and his wife had gotten the idea at the famed Wall Drug Store and the many billboards leading into the tiny burg of Wall, South Dakota, adjacent to the Badlands National Park.
Then, in the 1980s, Mrs. Brigman decided to replace her living room furniture. In a clever move, she negotiated with Sterchi Furniture in Asheville to repaint the roof with a huge "Sterchi's" logo in exchange for the furniture she wanted. This followed a once-prevalent mountain tradition in which crews would then proceed to provide farmers with freshly painted barns.
This driving tour, partially over steep, narrow roads, includes barns with distinctive monitor roofs, which have a symmetrical, two-sided roof with a raised area along the ridge with its own roof. Our website of the Walnut Township includes 534 photos, 17 architectural drawings, and additional documentation of 10 barns. Download the Walnut Self-Guided Tour here or see all Six (6) tours at our website.
___________________________________________
Smith Heritage Farmstead Update
The ABA is excited to see the fruits of our "grant labor" at the Smith Heritage Farmstead at the Bailey Mountain Preserve in Mars Hill.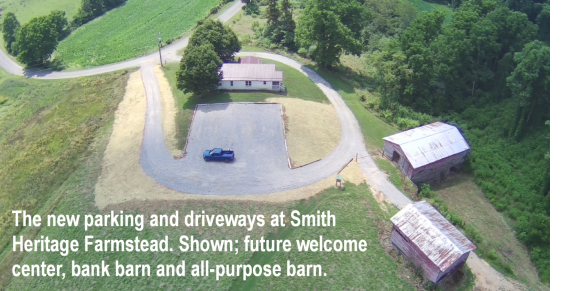 The next several months will begin the transformation of the Smith Farm into our vision of a Heritage Farmstead, open to school children and the public. Just this month, funds received from the Madison County Tourism Development Authority were used to create a much-needed parking area and to develop the driveway to be a more welcoming surface! We are grateful for the partnership with the town of Mars Hill to help us find a home. And, to the TDA that set us on our way.

Volunteers Paul Allen and Larry Burda, along with the heavy-lifting crew along with ABA board member Rob Kraft, stepped up to move the last of some donated, hand-hewn logs to the Smith Farm in Mars Hill. The logs will be used to help reconstruct a beautiful livestock barn at our eventual Heritage Farmstead. A GREATLY appreciated gift. Much more on our Facebook pages.
______________________________________
__________________________
The Old Barn "to be preserved, and to be used as an educational tool for people to know what we are all about around here, and where we came from. That's what this barn is to me,

a testament of where I came from. " - Elaine Ray Thomas

_________________________________________
More Help for the ABA

any ol' car, or truck, will do
Rob Kraft, Vice President of the Barn Alliance, had been using his mother's 2002 Saturn station wagon as his primary first-responder vehicle after she gave it up in 2019. But, somehow, he "poked a major hole in the transmission" and left it sitting idle. So: Through careasy.org, a nonprofit that helps other nonprofits, he donated the vehicle and a tow truck whisked it away. 70% of its selling price at auction will be returned to the Barn Alliance!
Call 855-500-7433 and mention the ABA if you'd like to make a similar gesture.
Barn Tours Resume August 6th
The popular barn tours of Taylor Barnhill, the Barn Alliance's longtime researcher, will resume August 6 and continue on the first Friday of the month through December.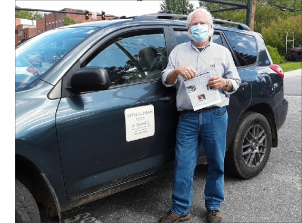 So, mark the dates: Aug. 6, Sept. 3, Oct. 1, Nov 5 and Dec. 3, weather permitting.
The tours depart at 9 am. from the Ingles' parking lot in Mars Hill, take roughly three hours and include a bathroom break. You'll follow Taylor in your own vehicle.
The cost is $45 per person.
For reservations, call 828-380-9146 or visit appalachianbarns.org
___________________________________________________________
Save these Dates
————————
Mark your calendar for Barn Alliance happenings!
* Sept. 11: Barn Day. 1:30 at

The Lodge at Bear River.

Travel in 15-passenger vans to tour three historic barns then return for food, drink and music.
The Lodge is near the intersection of Hwy 25/70 and Hwy. 208.
* Oct. 2: Bascom Lamar Lunsford Festival from 10 a.m. to 5 p.m. in Mars Hill. We'll
have a booth with displays, and volunteers to answer your questions.
* Oct. 15-16: Pastoral Palette, our fundraising gala and art sale. 5 to 8 p.m. Oct. 15
at Echoview Fiber Mill, Weaverville. Paintings that celebrate the heritage and art of
western North Carolina barns and rural landscapes. On Oct. 16 from 11 a.m. to 4 p.m.
__________________________________________________________________________
Did You Know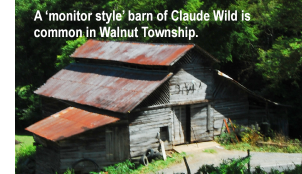 * Our Self-Guided Driving Tours
include 6 townships
* These tours feature 53
barns
* Easy-to-follow driving
directions
* Photos & info about all 53
barns
Beech
Glen,
Laurel,
Spring
Creek,
Walnut,
Mars Hill and
South Marshall
___________________

_____________________________
Barnhill on Barns at Marshall library
Wow! Was that fun being part of Taylor's presentation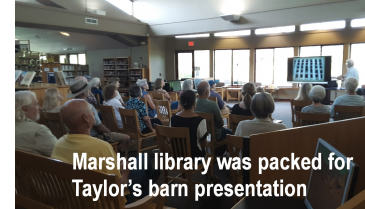 at the Marshall library on July 21st!
It just reminds us of why we do this and what great reactions and questions we get from those who attend.
It was a good group (33 people) of mostly new faces, and with a LOT of inquiries about the ABA. We're always looking for new members, and several joined and complimented the program

.
Coming Up
At 7 p.m. Tuesday, Aug. 24, Taylor Barnhill, longtime researcher for the Barn Alliance, will address "The Barns of Upper Laurel" at Ebbs Chapel Performing Arts Center Auditorium, 271 Laurel Valley Road, Mars Hill.
Sponsored by the Wolf Laurel Historical Society, the event is free and open to anyone interested in regional history, Puncheon Fork and the headwaters of Laurel Creek.
_______________________________________

We're Looking for
If you know of a farm that has been in the same family for more than 100 years, please spread the word that the family may be eligible to become a Century Farm. There are 1,950 Century Farms now registered in NC but only four in Madison County! We know that figure can't be correct! Let us hear from you at

info@appalachianbarns.or

g.
______________________________________________
Riddle Honeycutt Barns have new purpose

It's rare for one of our Madison County farmsteads to hit the pages of the New York Times, but that's what happened July 23rd. The nuptials of Taylor Hollencamp and Lauren Few at the Farmhouse at Riddle Hill in Mars Hill took place where Riddle Honeycutt built a barn in 1900, according to the ABA database. Among the outbuildings: A welding shed that now serves as a wedding chapel.
_______________________________________________

Send Us Your Farm Story

We would like to hear your story, past or present, about your farm. Do you have or know of a barn that has been repurposed? We'll include it in a future Barn Lights newsletter.
Please include your name and contact information.
Send to: info@appalachianbarns.org