Next week officially kicks off the holiday season with tables full of Turkey and all the fixin's and Football galore
. The board of Ozark Blues Society sends the best of Holiday Greetings to all our members and readers. Looking for a special gift for a blues loving friend? Why not gift them a membership in Ozark Blues Society! Memberships start at just $15 and funds go to support local blues events and our Blues in the Schools programs. Just visit www.ozarkbluessociety.org and give it a try!

In general, blues news kind of drops off this time of you. Remember, we are always looking for articles from readers. If you have a blues history topic, blues event, of an artist or their music you wish to share a review of, drop Sandy an email so she can help you share.
Clearly the
live music calendar continues to transform from patio performances
to more varied indoor events. We
will continue to offer an updated
Always remember, this is YOUR newsletter! Please send
feedback or suggestions our way. You can reach me by email at the address below. We appreciate our readers and want
to see
your ideas included!
It's A Wrap!


The Blues was alive and well last Friday night at The Meteor in Bentonville!!!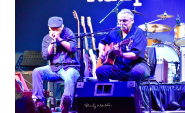 Jeff Horton's "Blues in Bentonville" concert, featuring, Gary Hutchison & Ralph Hert,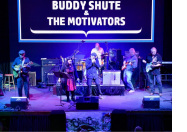 Buddy Shute & the Motivators,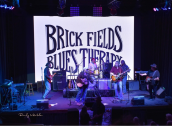 Brick Fields,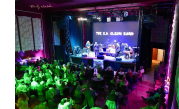 The R.d. Olson Band, and The Jeff Horton Band, played to a nearly packed house of enthusiastic Blues fans!
Each one of these fantastic groups brought a truckload of energy and passion along with them for the evening and a great time was had by all! The All Star Jam at the end of the night was definitely the highlight as the musicians really got to kick up their heels and have some fun!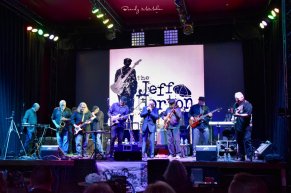 The Ozark Blues Society was there in support of the event as well as conducting a membership drive, and local artist Karen Lynn not only had some of her art on display, but she also donated a poster of the Jeff Horton Band onstage during their recent OBS Blues Challenge win, and had it autographed for the band, later to be raffled off at the 21C IBC Fundraiser event in January.
This event was the first of many as Jeff will now be starting a monthly Blues Night at The Meteor Guitar Gallery! So keep your eyes peeled for further Blues events brought to you by JH Productions and The Meteor Guitar Gallery
Bandzoogle Presents

Marketing Strategies

for Musicians

Liz Lottmann shared the following...
Known by working musicians as a great site for a multitude of helpful information, Bandzoogle's blog this week offers advice for strategizing on marketing your band. Read the article HERE:
Support Options

For Local Artists

Please check this section of the newsletter weekly for ideas of how to support local musicians and venues. Submissions are being reduced to contact information this week as we restart the Live Music Calendar.
*****
Buddy Shute and the Motivators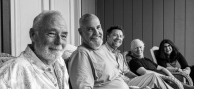 Buddy Shute and the M
otivators live at the Eureka Springs Auditorium on YouTube: LiveAtTheAud
***
To learn more about the band, visit:

Facebook: Buddy Shute and the Motivators
******
Brick Fields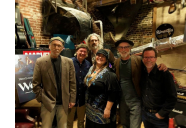 We have released a single from the upcoming album. Here is a link to the video "Take Me To the Riverside"
Once live music begins again, f
olks can stay updated on our concerts by signing up to our email at www.BrickFieldsMusic.com and following us on Facebook at:https://www.facebook.com/BrickFieldsMusic
We also have two stores on our website one for music merchandise and another for Blues Therapy handmade items such as essential oil blends, Jewelry, tie dyes, bath salts, body butters and more.
Thank you for your support.
I pray that each of you and your families are all doing okay through this.
Brick Fields
Booking Call: The Brick House 479-846-4668
*****
The Jeff Horton Band
Based in Bentonville, Arkansas, the
Jeff Horton Band definitely has

a passion for the Blues! For the last
10 years Jeff and the guys have
done their part in sharing
the Blues
as much as possible, treating their fans to an enjoyable experience.
For more information on the Jeff Horton Band check out:
Jeff has also put together a Spotify playlist for NWA Blues. It can be found, HERE:
*****
Jimmy Wayne Garrett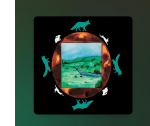 For more information about Jimmy Wayne Garrett, his schedule, recent interviews, or buy the latest album, visit: JimmyWayneGarrett.com
His music may also be found HERE:
YouTube link https://www.youtube.com/watch?v=NAj6BYVglL4&list=OLAK5uy_la2zCm6zUphqeNMMe4j9I2jxiI2YT1AkU
*****
LIVE MUSIC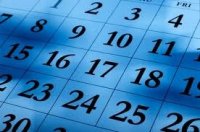 Please enjoy the following listings comprised of bands, venues, and/or organizations that support Ozark Blues Society. Always check with individual venues for event details and schedule changes. Submit weekly listings by emailing: SANDY
11.
19
Full House for Happy Hour at George's Majestic Lounge

in Fayetteville

Jimmy Wayne Garrett at Levi's Gastrolounge in Rogers

Jenna and Friends at Moonbroch in Rogers

Avery Sunshine and Pura Coco for Soul Nite at the Meteor Guitar Gallery in Bentonville

Ocie Fisher at JJ's Grill and Chill in Bella Vista

Nathan Bryce and Loaded Dice at the Rowdy Beaver Den in Eureka Springs
11.20
Fayetteville Roots presents Richard Thompson and Justin Peter Kinkel-Schuster at Faulkner Performing Arts Center at UA in Fayetteville

Crystal Bridges (CB to You) Mobile Arts Lab at St James Baptist Church Community Food Pantry in Fayetteville

Brian and Terri Kinder for Super Saturday Series at Fayetteville Public Library in Fayetteville

Ocie Fisher at JJ's Grill and Chill in Rogers

Jeff Horton Band at the Boars Nest in Rogers

Jimmy Wayne Garrett at the 1886 Crescent Hotel in Eureka Springs
11.21
11.22

11.23
Adam Collins, Matt Beach and Garrett Jones for Jazz at the Undercroft Bar in Bentonville
11.25 Happy Thanksgiving!

11.26
Isayah's Allstars for Happy Hour at George's Majestic Lounge

in Fayetteville

Jenna and Friends at JJ's Grill on Dickson in Fayetteville
11.27
Please Submit Dates for Regional Blues Artists and Group Events HERE
In this issue: 11/19/2021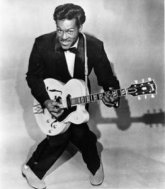 Today's show features music performed

"If you want to release your aggression,
get up and dance. That's what Rock and Roll is all about.
"
Chuck Berry

Blues Education Supporters
Thanks to the following for their support of blues education.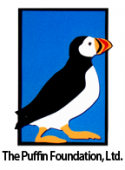 Check Out these regular local radio programs

"The Generic Blues Show" hosted by Paul Kelso airs every Friday night at 9pm on KUAF 91.3FM
Rockin' Hog Radio presents "Sunday Morning Blues" from 8am to 10am every Sunday
LINK
Get Involved with the Ozark Blues Society

Annual membership levels begin at $15 and give you so much in return, including meeting new friends while enjoying the best blues artists in the area.
By being a member of The Ozark Blues Society of Northwest Arkansas, you are helping to support the Arts and to preserve the Original American Art Form known as The Blues.
Membership Benefits Include:

Weekly E-newsletter
Opportunities to win tickets to events
VIP seating at events (when available)
Discounts on OBS merchandise
Social networking – meeting other people who also love the blues
Opportunities to volunteer on OBS committees and at events
Ability to attend board meetings and vote on upcoming organizational issues and elections
Visit our Website to renew or join! Ozarkbluessociety.org