OK, time to focus is what I keep telling myself. We are off the roller coaster ride
I spoke of last week, the sun is out today...but the street I live on is a hill and is still impassable. (Currently watching a stuck vehicle saga.) Focus, focus...
it is suppose to be upper 60's by the middle of next week. Best to keep the focus on nicer days ahead, don't you agree? Heck, I've got Florida friends posting spring flower pictures. Focus is the key. Our day will come!
We have a new article this week you may enjoy. Knowing that perhaps some of our blues loving readers missed the recent visit of blues legend, Buddy Whittington, Stephen Boudreaux offered to share about the event. Read on below for a full run down. Thanks, Stephen! Also of note, we received an email sharing that the "Blues at the Abbey" event was again postponed due to the weather. Please continue to follow this newsletter for another update when they reschedule.
We are still on delay for sharing the new ticket link for the fundraiser. Everything is coming along and there is still plenty of time to get the information to everyone, so please be patient with us as we continue to navigate the effects dumped on us by the Covid 19 virus and this crazy weather. The ticket link will launch on our website as soon as it is available. As previously noted, reserved seats will be limited so we would encourage you to visit our website to keep an eye out for the link. Watch for more information to come after our February board meeting which has been rescheduled to next week due to the weather.
Read
on below for all the news.
Always remember, this is YOUR newsletter! Please send
feedback or suggestions our way. You can reach me by email at the address below. We appreciate our readers and want
to see
your ideas included!
a humble, yet legit

Blues legend.

By Stephen Boudreaux

Some say that "The Blues" is a dying art. Regional music scenes used to flourish with dozens of blues bands vying for venue spots. I mean, literally EVERY modern form of music…Rock, Jazz, Country…would never have existed if it weren't for the evolution of African-American work songs and spirituals blending into society and culture in the 1800's jumping into modern, post-industrialization America of the very early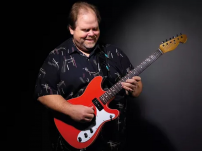 20th Century.

So, no matter how hard these new generations try to squash out The Blues in favor of EDM or Red Dirt or K-Pop or substanceless post-Pop… as long as we have a soul, The Blues will find a way to our ears. The Blues is more than just the words, the rhythm and the melodies. It's an experience and an emotion being conveyed. While some heady folk might scoff at The Blues as "boring" or "too simple" for their tastes, it was never really about its musical virtuosity. Although some blues tracks can be quite complex and actually performing the genre with authenticity can be more challenging than one thinks, it's never been about that. It's quite literally about the "feel" and the emotion and the story…
or the "message" which is the lineage of the aforementioned spiritual.
Having the opportunity to hear a world-class blues performer can alter one's perception
of the genre. How would a blues performer
be considered "world-class"? Well… yes,
there would be some element of virtuosity, but not in the mathematical technical sense. But rather in the way the performer can convey the emotion of a song…that can deliver a noticeable tone that makes one take pause for reasons beyond the music itself. Buddy Whittington is one such "world-class" performer.
Buddy Whittington, a Texas native around
the same age as Stevie Ray Vaughan,
grew up under the influence of early 60's
rock pioneers like the Rolling Stones and
The Beatles. However, he was pointedly taken by John Mayall's Bluesbreakers featuring
a young Eric Clapton whose 1966 self-titled album was hugely influential to Whittington
and scores of other aspiring guitarists.
was etched. Even having his rhythm section formed by Mick Fleetwood and John McVie
who, along with Peter Green, would go
on to form Fleetwood Mac.
Over the course of his development, Whittington would ultimately find his own band, The Sidemen, opening for John Mayall's Bluesbreakers in 1991 when then, guitarist, Coco Montoya was holding the chair. When Montoya left in 1993, John Mayall called Buddy Whittington to fill that spot for the next
15 years. The Bluesbreakers featuring
Buddy Whittington recorded 8 albums
Whittington is one of those that can really deliver. His guitar tone has that "something" that conveys a voice that can deliver
a message without lyrics, but it's the choice
of note placement with the hands that
are clever and exciting. If that weren't
enough, Buddy Whittington has a strong
and charismatic vocal delivery that brings
songs to life. Rich and powerful.
On February 11th, 2022, Northwest Arkansas was treated to a show featuring Buddy Whittington performing in celebration of our own regional guitar hero, Gary Hutchison's 69th birthday. The show featured Whittington on guitar and vocals, Gary Hutchison on guitar and vocals, another legend, Earl Cate on guitar, Hutchison's Oreo Blue rhythm section (Stephen Boudreaux (drums and vocals), Rick Endel (keyboards and vocals), and Vince Turner (bass and vocals)), and guests, John Moss (guitar and vocals) and Annie Walser (piano and vocals).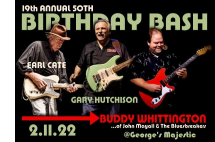 For Blues lovers, it was a bit of a Nirvana if Nirvana was where great guitar players are showcased. Despite no rehearsals or
pre-planned set lists,
it was a magic of spontaneity that proved
out a stage-full of professionals leaning
on a combined thousand years
Atop the great performances, Buddy Whittington proved to be just a great human. And the stories told between his experiences and those of Earl Cate, Gary Hutchison, and John Moss were the stuff of (sometimes seedy) novels. Word is that there might be another opportunity to bring Buddy Whittington
back to Northwest Arkansas for a second chance for those that missed this show to see what the fuss was about. I, for one, will be there…drumming or not.
Rescheduling

AGAIN!

Blues at the Abbey

****

Weather cancels again

***
New Date TBD

What: 20th Annual "Blues at the Abbey" featuring Blind Mississippi Morris.

When: TBD

Where: Subiaco Academy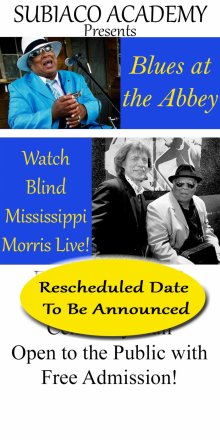 Great Article!

Arkansas

Blues History

Thanks go out to Liz Lottmann for sharing the link below that highlights the history of the blues artists that came from the Pine Bluff area. What a list!
Updates

Ozark Blues Society


2022

IBC Fundraiser

As our readers know, the new date for our IBC Fundraiser will be, Saturday, April 30, 2022. This is just one week before the International Blues Challenge in Memphis so represents a great opportunity for the NWA community to come out and hear the Jeff Horton Band as they share the music they will be taking to Memphis!
We have been working with our event sponsors and now gathered the information we needed to get our new ticketing link ready to go. We apologize for the delay in sharing this new link, and appreciate your patience. While not ready at the time of today's newsletter publication,
the link should be posted over
Our board of directors continues to plan the details following the change of venue to the Meteor Guitar Gallery in Bentonville. We are working hard to turn the vibe of the Meteor into a special event for all. Watch for more information as we finalize the details of this new event. A BIG thank you to all the great blues loving folks in NWA. We appreciate your support of Ozark Blues Society and our 2022 IBC challenger, the Jeff Horton Band.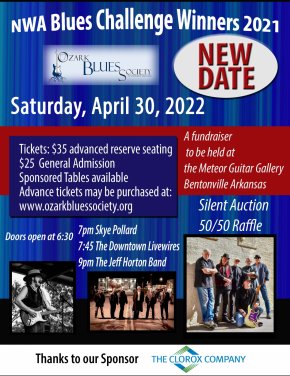 Support Options

For Local Artists

Please check this section of the newsletter weekly for ideas of how to support local musicians and venues. Submissions are being reduced to contact information this week as we restart the Live Music Calendar.
*****
Brick Fields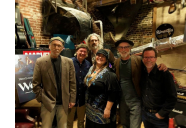 We have released a single from the upcoming album. Here is a link to the video "Take Me To the Riverside"
Once live music begins again, f
olks can stay updated on our concerts by signing up to our email at www.BrickFieldsMusic.com and following us on Facebook at:https://www.facebook.com/BrickFieldsMusic
We also have two stores on our website one for music merchandise and another for Blues Therapy handmade items such as essential oil blends, Jewelry, tie dyes, bath salts, body butters and more.
Thank you for your support.
I pray that each of you and your families are all doing okay through this.
Brick Fields
Booking Call: The Brick House 479-846-4668
*****
The Jeff Horton Band
**Read on for NEW information**
Based in Bentonville, Arkansas, the
Jeff Horton Band definitely has

a passion for the Blues! For the last
10 years Jeff and the guys have
done their part in sharing
the Blues
as much as possible, treating their fans to an enjoyable experience.
Jeff reports he has some exciting gigs coming up at Good Vibrations in Rogers. There will be a new jam every other Monday from 7-9pm, beginning December 27th. Additionally, he and the band will be hosting the New Year's Eve party
at
Good Vibrations this year.
For more information on the Jeff Horton Band check out:
Jeff has also put together a Spotify playlist for NWA Blues. It can be found, HERE:
*****
Jimmy Wayne Garrett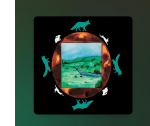 For more information about Jimmy Wayne Garrett, his schedule, recent interviews, or buy the latest album, visit: JimmyWayneGarrett.com
His music may also be found HERE:
YouTube link https://www.youtube.com/watch?v=NAj6BYVglL4&list=OLAK5uy_la2zCm6zUphqeNMMe4j9I2jxiI2YT1AkU
*****
Buddy Shute and the Motivators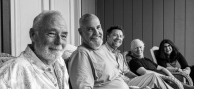 Buddy Shute and the M
otivators live at the Eureka Springs Auditorium on YouTube: LiveAtTheAud
***
Buddy's latest project is a duo with Mark McGee. They will be representing the Fort Smith Riverfront Blues Society at the 2022 International Blues Challenge. Their recently released CD/EP is now available.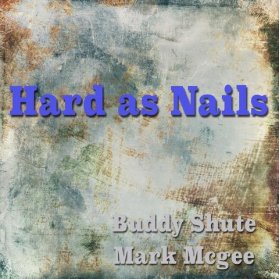 To learn more about the band, and Buddy's duo with Mark McGee, visit:

Facebook: Buddy Shute and the Motivators
******
LIVE MUSIC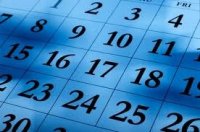 Please enjoy the following listings comprised of bands, venues, and/or organizations that support Ozark Blues Society. Always check with individual venues for event details and schedule changes. Submit weekly listings by emailing: SANDY
2.
25
Ultra Suede for Happy Hour at George's Majestic Lounge in Fayetteville

SoNA Beyond: Rhythm of Life at Fayetteville Public Library in Fayetteville

Jimmy Wayne Garrett at Levi's Gastrolounge in Rogers

Dawson Hollow and Good Morning Bedlam at Meteor Guitar Gallery in Bentonville

Ocie Fisher at JJ's Grill and Chill in Bella Vista
2.26
Funk Factory at George's Majestic Lounge in Fayetteville

SoNA: Continental Connections at WAC in Fayetteville

Blew Reed and the Flat Heads at Rowdy Beaver Den in Eureka Springs
2.27
Jer's Itty-bitty Big Jazz Band at Six-Twelve Coffeehouse and Bar in Fayetteville
2.28
UA Symphony Orchestra "Mastery" at Faulkner Performing Arts Center at UA in Fayetteville

Jenna and Friends at JJ's Grill and Chill in Springdale

Keith Nicholson at JJ's Grill and Chill in Rogers
3.01
UA Wind Symphony and 4:00 Concert Band at Faulkner Performing Arts Center at UA in Fayetteville

Adam Collins, Matt Beach and Garrett Jones for Jazz at the Undercroft Bar in Bentonville
3.02
3.03
UA Treble Choir and Graduate Recital Chorus at Faulkner Performing Arts Center at UA in Fayetteville
3.04
Earl and Them for Happy Hour at George's Majestic Lounge in Fayetteville

DeFrance at the Meteor Guitar Gallery in Bentonville
3.05
Buddy Shute and the Motivators at Moonbroch in Rogers
3/10 Tab Benoit at Temple Live in Fort Smith

4/30
Bound for Beale IBC Fundraiser at the Meteor Guitar Gallery in Bentonville
5/23 Bonnie Raitt and Lucinda Williams at Robinson Center Performance Hall in Little Rock

Please Submit Dates for Regional Blues Artists and Group Events HERE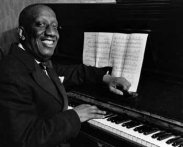 Today's show features music performed by one of my favorites, James P. Johnson

right through
into soul, R&B and hip hop.
It's part of the make-up
You can't turn your back on the blues."
Ronnie Wood


Blues Education Supporters
Thanks to the following for their support of blues education.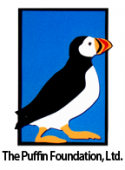 Check Out these regular local radio programs

"The Generic Blues Show" hosted by Paul Kelso airs every Friday night at 9pm on KUAF 91.3FM
Rockin' Hog Radio presents "Sunday Morning Blues" from 8am to 10am every Sunday
LINK
Get Involved with the Ozark Blues Society

Annual membership levels begin at $15 and give you so much in return, including meeting new friends while enjoying the best blues artists in the area.
By being a member of The Ozark Blues Society of Northwest Arkansas, you are helping to support the Arts and to preserve the Original American Art Form known as The Blues.
Membership Benefits Include:

Weekly E-newsletter
Opportunities to win tickets to events
VIP seating at events (when available)
Discounts on OBS merchandise
Social networking – meeting other people who also love the blues
Opportunities to volunteer on OBS committees and at events
Ability to attend board meetings and vote on upcoming organizational issues and elections
Visit our Website to renew or join! Ozarkbluessociety.org