This past week might have been one
to put the watch out advice into play,
but what I am referring to is that today brings another reason to day apply such wisdom. Today is April Fools Day, a day where those who possess a love
of practical jokes are seen as clever
and more acceptable than might be thought to be
on an average day. In my experience,
the day is more celebrated
by young people, though that is likely more a reflection
of how I do adulting. Hopefully among our readers there are folks who still participate in and enjoy
the day. Me? I admit
I am looking forward to May Day as
I anticipate the full bloom
of the local patio season. We are all ready for that, are we not? Once more this week's calendar is a bit lean. Still, some
of your local favorite musicians ARE playing around the area in the next week or so,
be sure to make plans to get out, support them, and enjoy!
Another reminder that i
t's time to get your tickets for the April 30th IBC Fundraiser event! The featured band for the evening will be the OBS sponsored band, The Jeff Horton Band, who will be competing in the 2022 International Blues Challenge in Memphis May 6th through the 9th. The Downtown Livewires and Skye Pollard will round out the music. The limited number of reserved table seats are selling quickly, so for those who prefer that option, please check out the article below to access our ticketing site on EventBrite.
This week's articles feature an update that includes more information about the upcoming family friendly Black Music Expo that will be held at the Jones Center in Springdale. What a great opportunity to get out and enjoy some great music while learning more about the contributions of black artists to American music.


Always remember, this is YOUR newsletter! Please send
feedback or suggestions our way. You can reach me by email at the address below. We appreciate our readers and want
to see
your ideas included!
Tickets on Sale NOW!

Ozark Blues Society

2022 IBC Fundraiser

The ticket link is up and active again! Remember Limited reserved table seating is available. Once it is sold out, general admission w/o guaranteed seating will remain available, but don't miss your chance for the best seats in the house!

To order your tickets visit our Eventbrite site:
You may also visit our website to access the ticket link.
Our new date is just one week before the International Blues Challenge in Memphis so it will be a great opportunity for the NWA community to come out and hear the Jeff Horton Band as they share the music they will be taking to Memphis!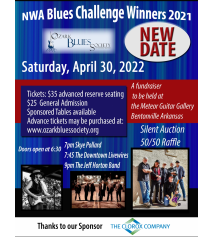 We are excited to bring this fun, annual event to the Meteor Guitar Gallery. Keep watching for more information as we finalize the details of this new event. A BIG thank you to all the
great blues loving folks in NWA.
We appreciate your support of Ozark Blues Society and our 2022 IBC challenger, the Jeff Horton Band.
Black Music Expo
April 15-16, 2022
Local nonprofit Music Moves is hosting a two day event celebrating Black/African American culture in Springdale at The Jones Center for Families on April 15-16, 2022. The Arkansas Black Music Expo will feature special musical performances by Grammy nominees Carl Thomas and Kirk Whalum, the University of Arkansas Pine Bluff Marching Band, and additional regional artists scheduled throughout the event. Attractions for children and food trucks will also be on site.
The event kicks off Friday, April 15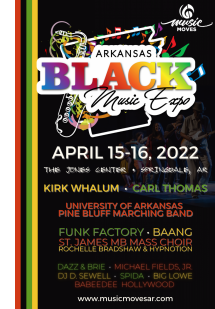 with performances by the University of Arkansas Pine Bluff Marching
Band at 5pm; Rochelle Bradshaw & Hypnotion at 6:30pm; Grammy nominee Carl Thomas at 8pm;
and smooth jazz bassist Michael Fields, Jr. at 9:30pm.
Saturday,
April 16 the Expo continues with performances by the St. James Missionary Baptist Mass Choir at 11am; Funk Factory at 12pm; HipHop Cypher featuring DJ D. Sewell, BAANG, Spida, Big Lowe, and BabeeDee Hollywood at 1:30pm;
Zion Travelers at 2:40pm; Grammy winning saxophonist Kirk Whalum
at 4:10pm; and a DJ show finale
at 5:10pm.
Food trucks will be
serving throughout the event. Additional activities include a drum making workshop hosted by Music Moves to encourage children to explore music in simple ways.
The Springdale Police and Fire Department will host a Kids' Corner and there will be inflatables and other family attractions open to entertain children on site. The Arkansas Black Music Expo is a family-friendly event free to the public, sponsored by
the Tyson Family Foundation, the Walton Family Foundation, and
The Jones Center for Families.
Music Moves is committed to educating and engaging the community by making high quality performances of Black music accessible to everyone. The nonprofit partners with local organizations to bring live concerts to the community throughout the year and has recently produced and distributed curriculum showcasing Black cultural influence
in the arts to music teachers in NWA. Further information about the Arkansas Black Music Expo and other Music Moves events can be found at the Music Moves website and Facebook page.
Amazon Smile

donating to

Ozark Blues Society

Perhaps you previously have used Amazon Smile as an option to donate to Ozark Blues Society but more recently found the link not working. Well, I am happy to report we have gotten our account updated and you may once again use Smile as a way to help OBS! So, if you shop at Amazon, next time you shop sign in at
https://smile.amazon.com/
, and type in "Ozark Blues Society of Northwest Arkansas" as your favorite charity. Amazon will donate a small percentage of your purchase to OBS! It's easy, and you will have the same shopping experience in your usual cart.
Support Options

For Local Artists

Please check this section of the newsletter weekly for ideas of how to support local musicians and venues. Submissions are being reduced to contact information this week as we restart the Live Music Calendar.
*****
The Jeff Horton Band
**Read on for NEW information**
Based in Bentonville, Arkansas, the
Jeff Horton Band definitely has

a passion for the Blues! For the last
10 years Jeff and the guys have
done their part in sharing
the Blues
as much as possible, treating their fans to an enjoyable experience.
Jeff reports he has some exciting gigs coming up at Good Vibrations in Rogers. There will be a new jam every other Monday from 7-9pm, beginning December 27th. Additionally, he and the band will be hosting the New Year's Eve party
at
Good Vibrations this year.
For more information on the Jeff Horton Band check out:
Jeff has also put together a Spotify playlist for NWA Blues. It can be found, HERE:
*****
Jimmy Wayne Garrett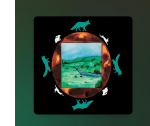 For more information about Jimmy Wayne Garrett, his schedule, recent interviews, or buy the latest album, visit: JimmyWayneGarrett.com
His music may also be found HERE:
YouTube link https://www.youtube.com/watch?v=NAj6BYVglL4&list=OLAK5uy_la2zCm6zUphqeNMMe4j9I2jxiI2YT1AkU
*****
Buddy Shute and the Motivators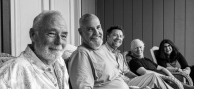 Buddy Shute and the M
otivators live at the Eureka Springs Auditorium on YouTube: LiveAtTheAud
***
Buddy's latest project is a duo with Mark McGee. They will be representing the Fort Smith Riverfront Blues Society at the 2022 International Blues Challenge. Their recently released CD/EP is now available.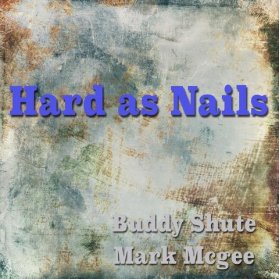 To learn more about the band, and Buddy's duo with Mark McGee, visit:

Facebook: Buddy Shute and the Motivators
******
Brick Fields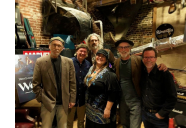 We have released a single from the upcoming album. Here is a link to the video "Take Me To the Riverside"
Once live music begins again, f
olks can stay updated on our concerts by signing up to our email at www.BrickFieldsMusic.com and following us on Facebook at:https://www.facebook.com/BrickFieldsMusic
We also have two stores on our website one for music merchandise and another for Blues Therapy handmade items such as essential oil blends, Jewelry, tie dyes, bath salts, body butters and more.
Thank you for your support.
I pray that each of you and your families are all doing okay through this.
Brick Fields
Booking Call: The Brick House 479-846-4668
*****
LIVE MUSIC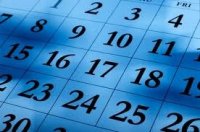 Please enjoy the following listings comprised of bands, venues, and/or organizations that support Ozark Blues Society. Always check with individual venues for event details and schedule changes. Submit weekly listings by emailing: SANDY
4
.01
Tony Kamel and Willi Carlisle for Happy Hour at George's Majestic Lounge in Fayetteville

Blew Reed and the Flatheads at Good Vibrations in Rogers

Tao of Lucy at the Meteor Guitar Gallery in Bentonville
4.05
Adam Collins, Matt Beach and Garrett Jones for Jazz at the Undercroft Bar in Bentonville
4.06
4.07
Joey Alexander (jazz) at WAC in Fayetteville


Jenna and Friends at JJ's Grill and Chill in Rogers
4.08
Ultra Suede for Happy our at George's Majestic Lounge in Fayetteville

Elizabeth Bainbridge Jazz Duo at Levi's Gastrolounge in Rogers

Zatarain's Bayou Bash at the Meteor Guitar Gallery in Bentonville
4.09
Buddy Shute and the Motivators at Moonbroch Pub in Rogers
4/15-4/16
Arkansas Black Music Expo at the Jones Center in Springdale
4/30
Bound for Beale IBC Fundraiser at the Meteor Guitar Gallery in Bentonville
5/6-5/9 International Blues Challenge in Memphis TN


5/8 Robert Johnson Legacy Tour with guest Tony Redman at Meteor Guitar Gallery in Bentonville

5/23 Bonnie Raitt and Lucinda Williams at Robinson Center Performance Hall in Little Rock

Please Submit Dates for Regional Blues Artists and Group Events HERE
April 1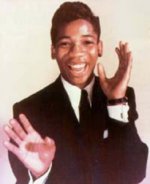 Today's show features music performed by Little Willie John and Amos Wilburn

"
The blues are the roots and the other musics are the fruits. It's better keeping the roots alive, because it means better fruits from now on.
As long as American music survives, so will
Willie Dixon


Blues Education Supporters
Thanks to the following for their support of blues education.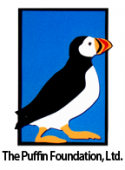 Check Out these regular local radio programs

"The Generic Blues Show" hosted by Paul Kelso airs every Friday night at 9pm on KUAF 91.3FM
Rockin' Hog Radio presents "Sunday Morning Blues" from 8am to 10am every Sunday
LINK
Get Involved with the Ozark Blues Society

Annual membership levels begin at $15 and give you so much in return, including meeting new friends while enjoying the best blues artists in the area.
By being a member of The Ozark Blues Society of Northwest Arkansas, you are helping to support the Arts and to preserve the Original American Art Form known as The Blues.
Membership Benefits Include:

Weekly E-newsletter
Opportunities to win tickets to events
VIP seating at events (when available)
Discounts on OBS merchandise
Social networking – meeting other people who also love the blues
Opportunities to volunteer on OBS committees and at events
Ability to attend board meetings and vote on upcoming organizational issues and elections
Visit our Website to renew or join! Ozarkbluessociety.org