August 2022 Vol. IV Issue 2

Being Right
I was on a podcast the other night talking about one of my books on UFOs and Religion, and the host asked me what I thought was one of the most pressing problem that we have as a species when it comes to all of the turmoil going on with the planet right now. I told him I could not narrow his question down to one specific problem. He pressed on. Finally, I did confess that most of humankind's problems, at least to my mind, were of a spiritual nature. That is to say that when we are healthy in our emotional life, secure in our inner journeys, we will manifest a more peaceful world. The host asked me what that would look like. I answered that the human tendency to have to be right would reduce a significant amount of tension if somehow we could lessen its effect. This is not the only answer to these complicated and layered challenges to life here on earth, but it can help.
There are many conversations going on these days about many things. Racial justice, wearing of masks, presidential politics, economics, women's rights, etc. Perhaps you have been involved in some of these topics or all of them. Hopefully, you come to realize that there are some people who you are never going to be right with. No matter what you say, or how you say it, what you do or how you do it, there are people who are going to find something wrong with everything. This includes you. There are some people who can take what you say and twist it into something you did not say in order to be right. By the time you realize you are fighting a losing battle it is too late. They are right and you feel wrong! You see, the challenge with being confronted by an I-gotta-be-right person, is that they have a way of bringing out the I-gotta-be-right in you.

When you have the smallest glimmer of I-gotta-be-right in your eyes, people detect it. Even when you couch your need in care or concern, those you approach recognize in you what they know about themselves. In response, they can become as determined as you. They have a need to be right, and they are not afraid to sacrifice you in pursuit of their own needs. If you have the same need, somebody is going to go down hard.

The need to be right is nothing more than the need for external validation. The conflict created when one need-to-be-right person locks horns with another need-to-be-right person is really a blessing in disguise. The one who can back down first, without feeling they have lost anything, is the one well on their way to self-acceptance, self-forgiveness, and self-love. Perhaps you may not have known that you still have a need for self-validation. We all do at times. But just for today, surrender, take a deep breath and ask yourself, is this worth it? You do not have to always be right and when you are you will know it. You don't have to attend every fight you're invited to. Nothing is worth giving up your inner peace to prove you are right.

Peace and Robust Health To You!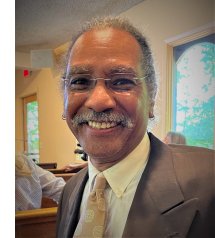 Rev. Michael J. S. Carter
Music Schedule for Aug 2022

August 7- Sue Stone, piano: 3 hymns, offertory, prelude and postlude.
August 14- Second Sundays: David Reid, piano and voice. Linda Metzner, piano: 2 hymns.
August 21- Linda Metzner, piano: 3 hymns, offertory, prelude and postlude.
August 28- UUCSV Choir, 2 anthems; Sue Stone, piano: 2 hymns, offertory, prelude and postlude.
The UUCSV Quarantine Choir

Our small Unitarian Universalist church choir in Black Mountain, North Carolina (The Unitarian Universalist Congregation of the Swannanoa Valley) began making videos for our online services as a response to the Covid pandemic in April of 2020. Our choir director, Annelinde Metzner, used her experience as a composer and arranger to make videos using Garage Band and I-Movies, with rehearsals and recordings on Zoom.
Here's the link to the YouTube channel!
Clouds
Clouds - Beautiful, Majestic, Playful
Saviors from the searing Sun.
My God, you are beautiful!
After 30 years without you, I cherish you.
True - at first it was just for the relief.
But now I drink in your power and relax in your fluff.
Your forms are so varied -
Such delight-filled shapes.
Some that mean serious business - some just to play.
What a lark it must be for God to create you!
Like a child - or Me! - with a bubble-blower.
The gentle ones are here now
But I suspect I'll see your unruly cousins 'ere long.
With their dazzling light show and
Thunderous………well………THUNDER!
They have a way of putting us in our place.
You must represent something in my Life.
Carriers - the messengers - of joy and fear -
Awe and ease.
That come and go
Come and go
Passing through - leaving me to ponder
What is real?
Or perhaps you mimic the barrier I erect
To block the light of Love.
Oh, it's easy to spot the nasty ones.
Thick, grumbling, dark, and so obviously evil.
But surely the soft, white, fluffy ones blocking out
just a little light aren't bad…
Surely…………
Or maybe your morphing shapes are my burning bush -
God's personal crystal clear directions - just for me
If only I have eyes to see
And a pure heart with which to hear and receive.
Perchance you are a symbol of the transitory nature of life.
Born of the elements - Borne by the winds.
Growing
Gathering
Moving Apart
Dissolving into droplets
To start again.
Or maybe you are simply clouds
My God - You are beautiful.
July 21, 2008
Daboya, Ghana
by Larry Pearlman
---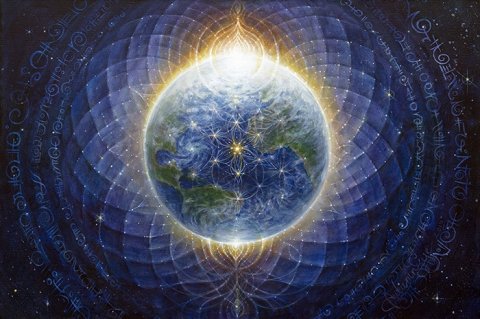 I Have Sworn to Protect Her 7/31/2011
I have sworn to protect Her!
Miracle blue-green jewel of all the worlds,
ancient blue mountains, vast golden deserts,
hummingbirds in the jewelweed,
black bear in the raspberries.
to you who remove Her sacred mountaintops
torturing her body to get at Her coal.
to you who go deep within her mineral layers,
scraping away at her core
But no one gains by this. She feeds us all.
I have sworn to protect Her,
this day that She needs us,
when even Her vast blue-green oceans, teeming with life,
are tainted with blood, the black oil of power and greed.
This is the day, this is the hour.
She, long-silent, awaits our voice.
The signs of Her anger are everywhere:
desert, flood, tornado, wildfire, earthquake, typhoon, tsunami.
I love my Earth as my own body!
I have sworn to protect Her!
---
The Ocean

Playful waves tumbling to the sand
Creamy foam seeking to lick my feet
Unimaginable power rising from the sea
You have no beginning
And surely no end
You are my mother, my father
My body, my friend
You give life - transform life
Reveal Gaia's power
Such beauty, such depth
Your are timeless, you're our
Connection to Mystery
Below and above
No wonder I hear you
And feel such deep love.
By Larry Pearlman
---
A Walk in the Woods

A walk in the woods is nothing new
In awe of the green and brown and blue.
What could I say that hasn't been said,
That you haven't seen or heard or read?
Yet each time I find myself strolling here
It seems that the muse flutters in my ear.
How many hues of green can there possibly be?
Was that the flick of a doe's tail behind that tree?
Even when my goal is purely fitness,
I must stop now and then just to witness
The beauty and mystery of which I'm in awe,
The wonder and delight in all that I saw.
I'm sure the first walk was by Adam and Eve
Or maybe a caveman if that's what you believe.
How many since then have taken this walk?
And don't we all just stand and gawk?
I am so thankful for these times with the trees,
Spending my time here for as long as I please.
By Larry Pearlman
Thoughts on the Health of the Earth

I think a lot about the health of the Earth, and how emergent the fate of the environment seemed to me as a child. I remember vividly being a frustrated 6th grader who could not understand why all the adults I knew weren't up in arms over the fate of endangered species and dwindling forests. I don't think we were referring to climate change yet, but I know ozone damage and "global warming" were on my radar.

In college I took Sociology and Political Science classes on Global Justice Activism and Economic Policy. I learned a lot in those classes, but I still feel, in many ways, like a disheartened tween, but now I'm dismayed with myself as well as the (other) adults around me.

I know about collective action problems and "Activism Fatigue" and must recognize I (at least occasionally) embody both. I'm on the mailing list (real and email) for a large number of causes and I confess sometimes the sheer volume of information is so overwhelming I can't even bring myself to read them all, much less take action beyond the most basic "slacktivism" efforts.

I consider myself an educated, and passionate advocate for the Earth, but I'm also a Mom, and I'm busy, and I'm tired. I'm trying to raise my kids to be aware of their impact, and not too addicted to instant gratification, but it's a struggle.

I understand a bit better now the lack of urgency in the adults I knew as a child. I understand too the great fire felt by teen climate activists.

What a terrible injustice that those with the will to make sweeping change, and the free time to dive deep into social action efforts have not the political means to make changes. I ask myself , "What am I willing and able to sacrifice today for future generations?"

I'm still working that out. What will my children have to forgo just to survive on this planet? Time will tell.

From Susan Enwright Hicks, RE
Director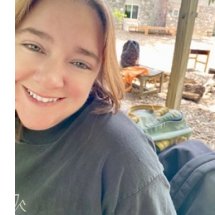 Lisa Will
Cross a babbling brook and you'll find yourself in front of a cheerful yellow house with blue trim, surrounded by rhododendrons. This is the home of Lisa Will and two West Highland terriers, Maggie (14) and Clemie (13). It is a country setting, which seems right and good for a woman who started her family in the late 1970s and describes herself as "a hippie mom." She made her own tofu and raised four children, a vegetable garden, goats, and chickens. Twin girls – Jennifer and Kristin – came first, and then two boys: Jess and Braden.
Lisa says the best time of her life was in Lincolnton, NC, while raising her family and playing the cello in the Western Piedmont Symphony in Hickory for 16 years. Her mother was a professional violinist (from age 5 to 85), and they shared this love of music and their time together in the symphony. In fact, this is quite a musical family! Her father was a pianist and theory professor, and her children are also musical: Jennifer plays the violin, Kristin the piano, and Jess is a composer. (While he doesn't play music, Braden works in production and set design, including for Jon Bon Jovi and Elton John!) Lisa says playing in the orchestra is "goosebump inducing." I asked what was thrilling about it; her reply: "How it all comes together and you know you are a part of it."
Lisa stayed home to raise her family until her youngest, Braden, was 8, at which time she became a Certified Financial Planner. After the children were grown, she and her mother moved to Kentucky for 11 years to be near her sister. Then, at age 60, she retired from her work as a financial planner, in part to help her daughter Jennifer with her first-born child. So she moved to California.
Obviously Lisa is a family person: not only her willingness to move to be with family as needed, but the numerous family photos displayed in her sunroom confirm where her heart and mind go so often.
Vegetarianism and exercise have also been a regular part of her life since before the twins were born. She currently runs four miles twice a week and lifts weights at home as well.
Now this hippie mom has five grandchildren–and a side business working with stained glass! She sells her art at festivals and craft fairs where she once sold 60 pieces in one day. And, of course, she plans to donate one of her works to this year's auction. Who will be the lucky bidder?
As for her interest in our faith community, Lisa has been attending UU churches since 1984. Her family used to enjoy a tradition of driving from Lincolnton, NC, to Charlotte to attend the UU Church there; then they'd go out to lunch, and then – B&R (Baskin-Robbins, of course!).
It is notable how quickly she decided to move to Black Mountain. Once again, family was another draw, this time her daughter Kris. She found her house very quickly just as the pandemic hit. Around the same time, she drove by our church and decided from first sight that we were for her! Two of her grown children have also attended our congregation.
Yet Lisa tells us that "Community is really hard for me, and this is the first time that I feel I have a community." Just maybe this family woman is becoming a community woman as well: she even delayed a trip to visit Jennifer so she could attend a dinner hosted by our Building and Grounds committee–which she has joined to help in the upkeep of our church.
How wonderful it is to welcome Lisa Will to our church, our congregation … our community!!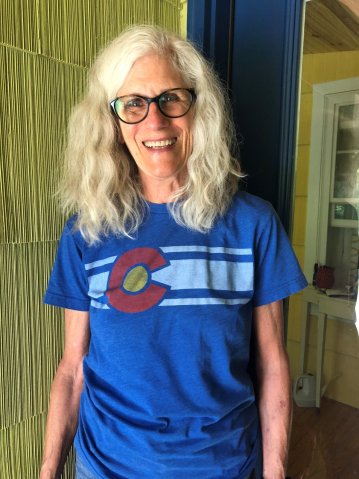 by Heidi Blozan

Three Hundred Figures to Consider the Climate Crisis

A Conversation: Climate Disruption, Human Displacement,
and Reconnection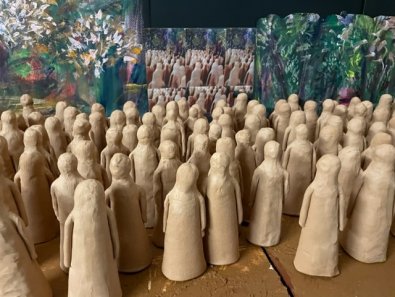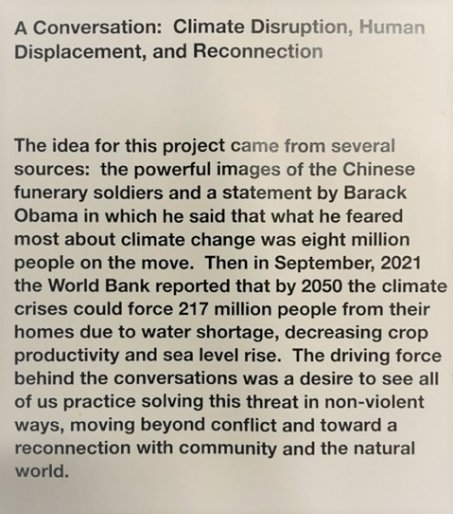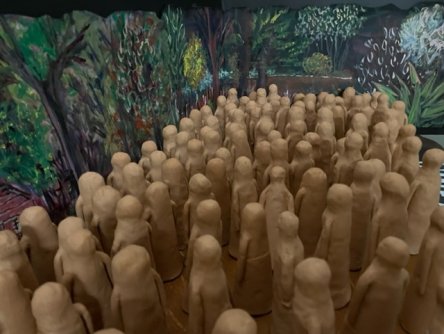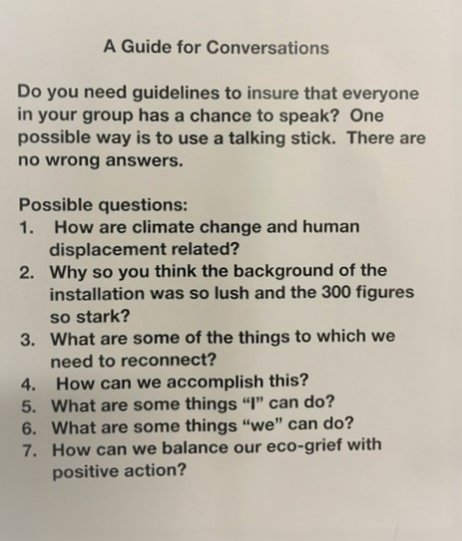 This installation is in the reception office of Christmount Center in Black Mountain NC until August.
The artist, Suzanne Ziglar, hopes these questions will be used in groups for conversations about Climate Change.
If you know of a group that would like to display this diorama and encourage conversations, please contact Suzanne at suzenaz@swcp.com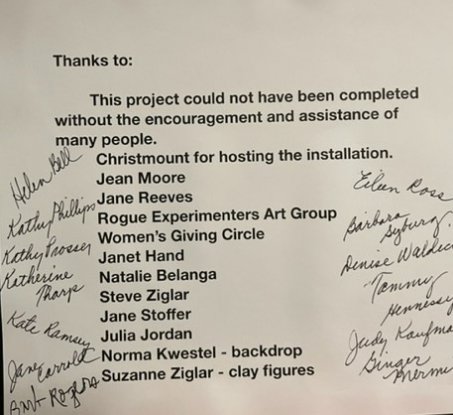 Concert to support New Americans

Sunday, July 24, 2022 at Lake Tomahawk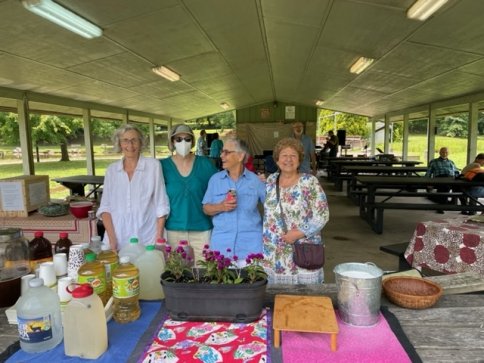 The day started with preparations as food and drink donations arrived, and musicians set up at the other end of the pavilion.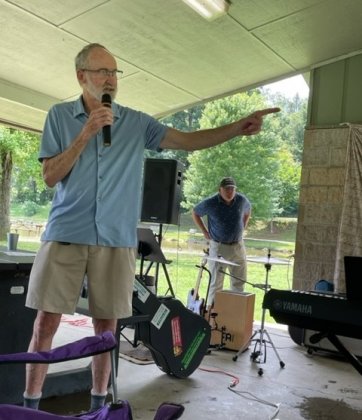 Spence Foscue was a great Emcee for the day's entertainment! And then he also played percussion for some of the musicians, as well as several other instruments!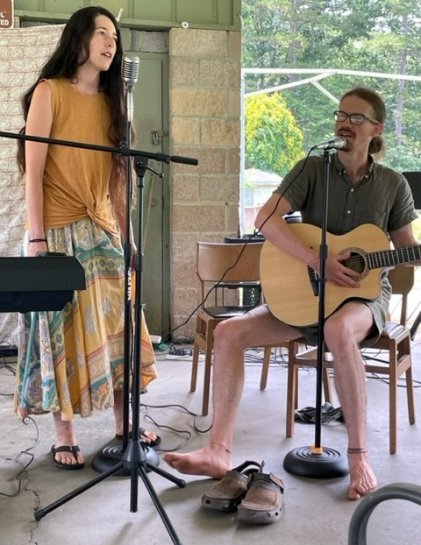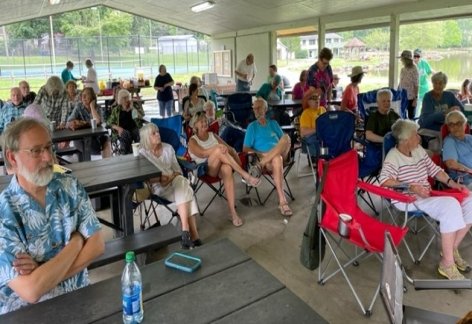 Free cookies, fruit, tea and lemonade kept the audience happy as they listened to talented musicians.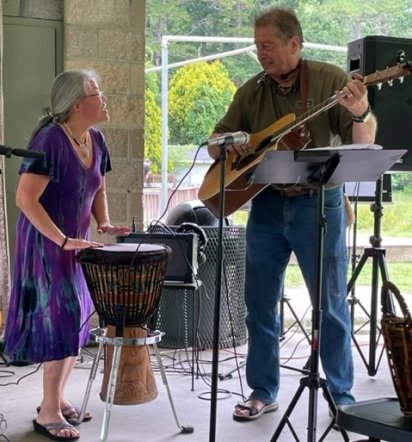 Su and Bill really got into a tune he'd written!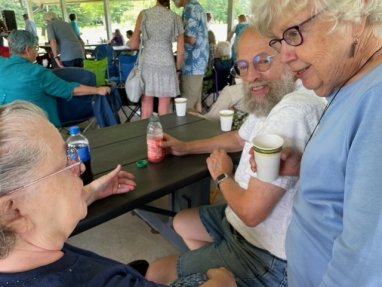 Alice and David and Helen had an important discussion while the music had a break.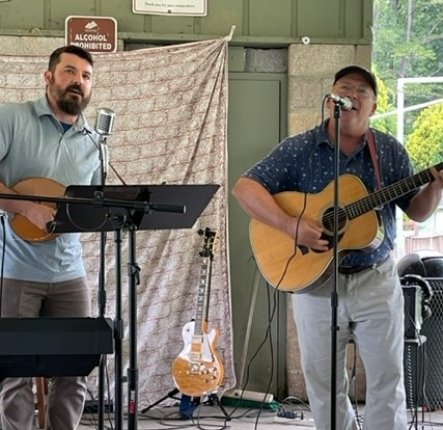 Andy Gwynn and Paul Garrity.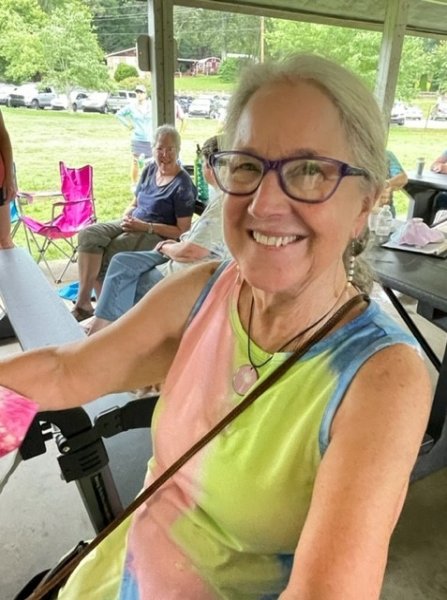 Welcome back Maggie!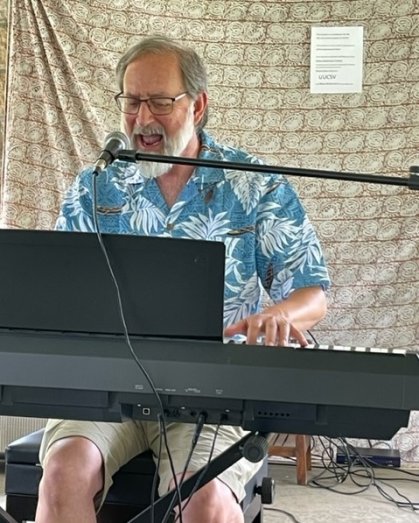 David Reid channeled Elton John with his whole heart!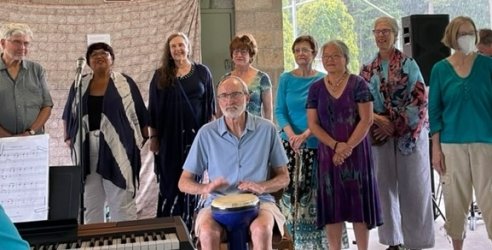 Of course the UUCSV choir gave us some great songs!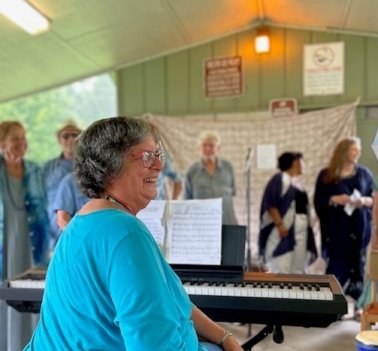 ... as led by Linda Metzner!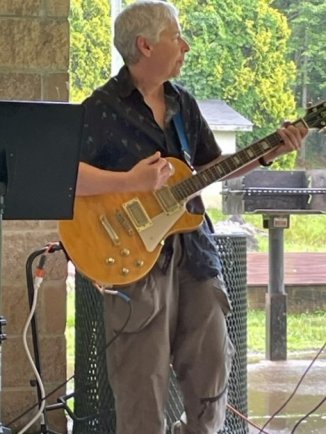 Deb Evenchik strummed her electric guitar for background for...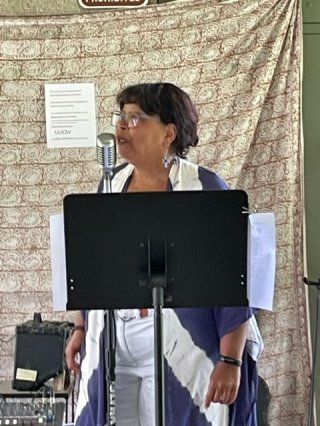 ... Rochelle Broome with wonderful melodies.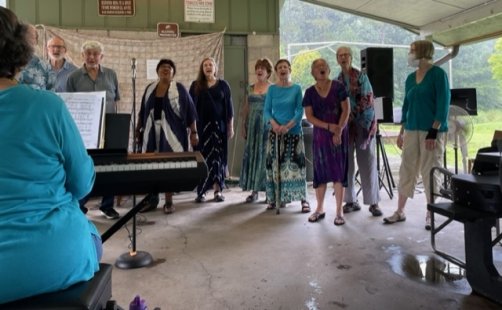 Thank-you, and congratulations to everyone involved in any way in Sunday's fundraising concert for our new American family. We didn't let an afternoon thundershower dampen our spirits (see below where it's streaming off the roof by the leftmost column.)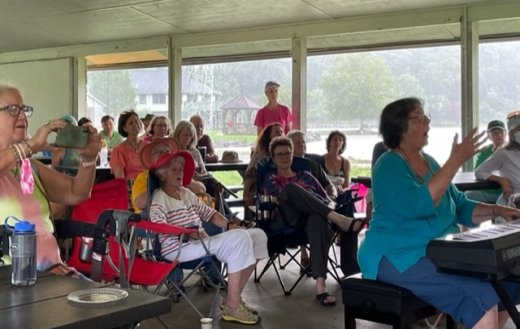 We raised $3245 and had a splendid time doing it. We continue to need circle members who can help with transportation, teaching, shopping, childcare, etc. Let Katherine know if you are interested in joining the circle.
katherinet@gmail.com
In memory of Julia Jordan


You know those people who brighten up a room just by entering it? That was Julia Jordan.

Whether a close friend or a casual acquaintance, anyone who met Julia was graced by the encounter.

Julia lived an exciting life. After years living in Mexico, she moved to Santa Fe, NM, where she was part of that city's brilliant art scene. But her sophistication never interfered with Julia's commitment to helping anyone in need.

Within the UUCSV family, Julia added her talents to the Social Action Committee, willingly volunteering for whatever needed doing. She also became an essential part of our Circle of
Welcome, offering her time, love, and effort to Aziz, Ruhafza and Hasanet. She was one of their most reliable drivers.

At the gathering in her honor on July 21, Julia's cousins Betty and John expressed gratitude for the love many of us had for Julia. But we all know that Julia gave much more than she got. She was kind, helpful, selfless and elegant. She will be missed by all who knew her.

by Tina Rosato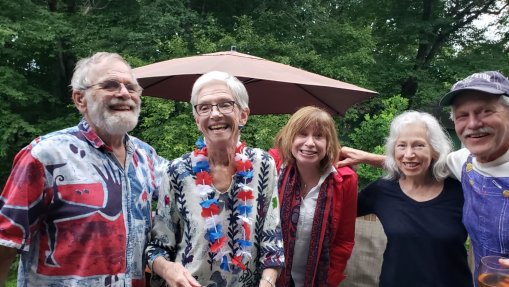 Julia, second from left, enjoyed visiting with friends.




| | |
| --- | --- |
| Andy Reed | 1 |
| Anny Bestel | 6 |
| Deb Vingle | 15 |
| Jane Hancock | 20 |
| Barbara Rogers | 23 |
| Sandra Abromitis | 31 |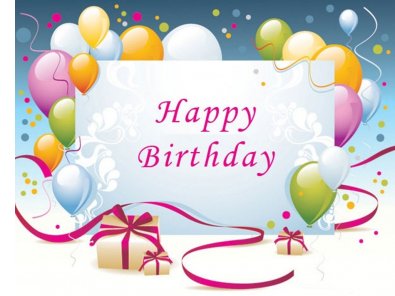 To be listed in your birth month, just let the Tidings editor know by sending your info at any time to
Tidings.uucsv@gmail.com.
July Board Meeting and Committee Reports

Abbreviated UUCSV Board Meeting Minutes
Thursday, July 28, 2022
Election of Officers:
Rose opened the meeting as the outgoing Vice President and a slate of UUCSV Board of Trustees officers was presented and approved unanimously:
President: Rochelle Broome
Vice-President: Sally Smith
Treasurer: Larry Pearlman
Secretary: Milt Warden (non-voting member)
Treasurer's Report:
Our volunteer Treasurer, Larry Pearlman, presented the Income and Expenses report for Fiscal year 2022-23. Larry pointed out that income was about $10,000 above budgeted. Expenses were $2064 below income making the past fiscal year positive.
Committee Reports:
appear at the bottom of these meeting minutes. No written report was submitted from RE, Membership, nor The Garden.
Safety Committee: The following door locking policy was unanimously approved with the changes underlined below.
Locking Doors During Sunday Service
The outer doors from the portico will be locked after Sunday service begins. The Board member who is doing the Welcome/Announcements is responsible for locking the doors immediately upon finishing the announcements.
The Board Member will:
Make sure crash bars are working to ensure exits are available in case of emergency.

Remain in the foyer to observe any activity on the grounds or around the outer doors.

Keep an eye out for late arrivals. If they are known to you, admit them. If not, try to determine if they are a threat and take appropriate action as needed: call 911, alert the congregation.
The doors between the portico and the foyer may be left open or closed, depending on weather, but they must remain unlocked when the building is in use.
The exterior door in the RE section should remain locked at all times. If RE staff and kids are going in and out, they should use the phone app or the key code to get in.
The exterior door to the office remains locked at all times.
It is also highly recommended that the exterior doors are locked when the church building is in use outside of the regular Sunday services hours, such as committee meetings or social gatherings. The facilitator of the activity is responsible for unlocking and locking the doors.
A member of the Building & Grounds Committee will remain after Sunday service to lock up the building after everyone leaves. Members of the committee will volunteer on a monthly basis for this task.
There was further discussion about the next steps to take about church safety. It was suggested that a group of people need to be trained and available to assist should there ever be an incident at the church. The possibility of using something like a Ring video doorbell to keep watch over the doors was also discussed.
Request to hold song writers workshop at the church:
Rochelle was approached by David Wells and Bill Altork about starting a songwriters workshop to meet at the church on the first and third Thursdays of each month. Rochelle will take the questions about this potential group from Board Members back to Bill and David.
How to handle possible Julia Jordan Memorial Fund:
Larry indicated that neighbors of Julia want to create a Julia Jordan Fund, but they want the church to decide how it is spent. Rochelle suggested the Stewardship Committee should be involved in this conversation and should also create a written process for receiving major donations.
Respectively submitted,
Milt Warden, Board Secretary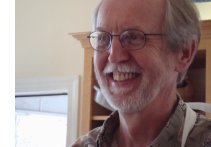 ---
COMMITTEE REPORTS for July 2022
Congregation Care Report through 7/23/22 from Carolyn Shorkey
In this reporting period, 12 committee members served 5 long-term homebound members/friends with phone calls, visits, rides, shopping trips, delivering of groceries, outings to a restaurant, and phone calls.

We provided 2 seriously injured persons with loans of medical equipment and numerous meals.

We provided 2 persons with medical issues in-person pastoral visits, phone calls and dog walking.

The chairperson coordinated with Rev. Michael for an ingathering to offer emotional support to survivors following the sudden death of a member.

It is observed that in addition to members of the Caring Committee providing services to congregants in need, support is offered informally to members in need without going through the committee.
---
Sunday Service Associates report for July, 2022
submitted by Diane Graham
All Sunday dates are filled through December 4th. Positive reviews of recent speakers.
Below is a list of up coming guest speakers:
8/7 Tim Perry
8/14
Rev. Neal Jones
9/25
Rev. Jay Augustine
10/2
Annelinde Metzner, guest musicians and choir doing a tribute to Phil Fryberger
10/30
Annelinde Metzner and friends doing a Samhain (Halloween) celebration
11/6
The recent Covenant group will do a service based on their activities
---
Building & Grounds Committee - Action Summary July 2022
The Eagle Scout project to construct a little neighborhood library/food pantry has been delayed. The young man has been busy with other projects but has assured us he will get to it before school starts. We discussed canceling the project and directing the money from the grant back to the Town of Black Mountain if it can't be used for the assigned project.
The playground equipment has been power washed and we have set a date of August 27 to stain the equipment.
Jackie from the B&G Committee is working with Rose and Marti on the Safety Committee's documentation of the new policy and procedures for locking the building.
Rhea has found volunteers to cover the mowing through August. There was some discussion of adopting the popular practice of No Mow May, which is a conservation initiative that allows grass to grow uncut for the month of May, creating habitat and forage for early season pollinators.
Now that we have a cleaning service, the SignUp online app for volunteers has been taken down. Jackie will continue to coordinate with volunteers to check the church building every other week between the cleaning services. Bertha missed cleaning last week because of the service held for Julia, so she is cleaning this Thursday.
Deb put some dye in the toilets to locate the source of a water leak. The toilet behind the pulpit was the culprit and Rhea has repaired it.
Rhea and Deb cleaned the gutter areas on both sides of the portico doors.
Mary Soyenova has come up with script examples for the 3 phrases that Andy Reed suggested for the sanctuary. She will send these to him for his input.
---
Stewardship
Dan reported this is a relatively new committee. The auction has been quite successful contacting businesses with probably more than 60 businesses donating. For the pledge drive there were many follow up calls to talk to those who hadn't pledged for fiscal year 2022-23. Dan reported that some pledges arrived after the deadline. Dan discussed improving messaging around the pledge drive.
---
Communications Committee Report for July 2022
Members:
Susan Culler
Michael Donnan – nonvoting
Andy Reed
Barb Rogers
Tina Rosato – proofreader
Sally Smith - proofreader
Sue Stone
Following are subjects discussed and actions agreed on by the committee at our recent meeting July 12.
Organizational Chart – Michael Donnan offered to update the organizational chart that was created in 2019. We will use it to help committees cross communicate and new members know where their questions can best be answered. Once updated, we also will post on bulletin board and publicize in The Current, Tidings, UUCSV website, and other appropriate media. Attached is a draft of the fiscal year 2022-2023 chart showing reporting alignment, based on the UUCSV Bylaws. Only names of President/Vice President will be included since other positions may change often during the year. We ask for the Board's approval before we publish the chart.

Communications Committee Liaison – Following the BOT's practice, the Communications Committee will establish and promote liaisons between Communications and the various committees shown on the organizational chart (see above).The job of liaison will be to help committees develop strategies and plan their own communications/public relations for the community and congregation. Some liaisons will come from the committees themselves and others will come from the Communications Committee. We plan to begin first quarter of the 2022-23 fiscal year with an announcement to all committee chairs.

Proofing for The Current and Tidings is working. Susan prepares The Current proofing schedule for the proofreaders, Susan, Barb, Sally and Sue. Barb has Sue and Tina proofread Tidings.

Find our Bylaws -- We want to make finding our Bylaws on the website more intuitive for anyone viewing our website. We decided to create a new page titled Bylaws under the What We Do section, and remove them from the Who We Are section
Susan Culler 7/26/22
(re-)Discovering Yourself in Grief

When I began this series I used the analogy that grief was life's graduate school. I've briefly introduced you to the Pain and Healing that grief thrusts of us. It is now time to turn to the idea that grief is about Discovery in that PhD program. Before we begin, it is important to remember that, even though we've looked at these topics separately in sort of a one, two, three order, grief does not proceed in such an orderly fashion. Some memories of the deceased will almost always bring a twinge of pain–I still experience discomfort (maybe not an actual pain, but still some discomfort) when I remember times I had with my sister. And she died over 40 years ago! The memory of my two-and-a-half year old great-grandson who died just three months ago is not particularly painful. But, in both cases, I continue to make discoveries about myself and about those who are no longer present.
Self-discovery is something we do all the time. We don't need to experience loss to engage in self-discovery, but when loss does occur it demands discovery. Why? The short answer is: all of life's assumptions are now up for review.
Some examples:

The sound of your partner's breathing is no longer the background of your own sleep. The silence can be deafening.

That trip to see the grand-children may still take place, but the kids will look at you "differently," as if to suggest that "Without Papa, Nana is just not the same!"

Your widowed sister is coming to visit. Yes, she's still your sister! Yes, you still love her. But, after she's gone back home, you find yourself wondering if she's OK. Is she taking care of herself? Is there something more you should be doing?
The twinkle in your partner's eye when you've gotten all dressed up to go out ... no longer that unstated confirmation that you are still the love of his life. That mirror has been been broken.

Yes, everything is up for review. What makes discovery-during-grief different from all the other self-discoveries you've been experiencing throughout your life can be summed up thus: "How can I honor the love I have for the person who is no longer here?" The challenge is complicated. Moving on does not have to mean moving away. Learning to love again should never require forgetting the love you've had.

While part of grief discovery is certainly about finding ways honor your memories, it must also be focused on discovering the "new you." Once you were part of a couple, or were the brother to your sister, or the best friend of someone. When once you were "wife," "husband," "partner," "son," or "daughter," there comes a time when those labels fail to define who you are, what's of value you to you now, and even what or who is now beautiful in your life.
The death of a loved one changes the story of our lives. One of the central characters of that story is no longer present. Your story isn't over, but, as any good storyteller knows, how that character's absence is told is key to bringing the greater story to meaningful conclusion. While the character is no longer present in the story, the influence of that relationship on your life will live on. That is what discovery in grief is about.
Scott Traxler, GC-C, FAAGC
The Health of Mother Earth

There is no such thing as a single-issue struggle because we do not live single-issue lives.
— Audre Lorde
I found lots of groups are out there in the UU world (not a pun on the great monthly periodical called "UU World") as many social justice workers have also recognized the need to address the climate crisis.
As publicized in The Current, an on-line workshop was offered on July 31 entitled "Congregational Responses to Climate Disasters." It was a follow up to "Fostering Local Climate Resilience through Disaster Response and Community Care," which is still available through this LINK to be viewed.
I enjoyed learning more from UU's Ministry for the Earth.
Create Climate Justice Initiative
The UU Ministry the Earth, the Unitarian Universalist Association Office at the United Nations, and the Unitarian Universalist Association Green Sanctuary Program launched the Create Climate Justice initiative, with three current priority focus areas:
Strengthening Unitarian Universalist communications and mutual support networks for Climate Justice

Mobilizing UUs in solidarity with Indigenous front-line communities

Supporting the Just Transition to an ecological civilization through partnerships and civic engagement
Our intersectional justice priorities are:
Climate Justice (inclusive of Indigenous sovereignty and Climate Resilience)
Decriminalization (inclusive of Racial Justice and Immigration Justice)
Democracy and Electoral Justice (inclusive of Voting Rights and electoral participation)
LGBTQIA+ and Gender Justice (inclusive of reproductive justice and abortion access)
The following is from the
Side With Love web site.
"The work that we do together to build a world in which all of us are free and thriving is interrelated. When we ground our spirits, grow our skills, and act strategically for justice in deep relationship with each other and our movements, we choose to Side With Love.
Action Center
is a place where we unite in work towards a world where we all thrive. Together we take action, Side With Love, and make deep impacts in this critical moment."
By Barbara Rogers
It's certainly been an interesting month learning what UUs are doing for the environment. As always when institutions are involved, it gets confusing as to who wears what hat, and is doing which action. I am so glad to continue to search for where I can be of assistance.

I also learned that "doomerism" doesn't work as a motivating force. "Yes, it seems like it would be the equivalent of setting someone's couch on fire to get them to move, but doomerism seems to have the same effect as depression, bringing about a loss of interest in taking action." (Jane Coaston, NY Times)

Just last week I watched an amazing video
Message to White Women
by Galvanize, an organization using "data science, behavioral psychology and neuroscience to develop messages that are proven to move moderate white women towards progress in 2022." They called it deep canvassing I believe. I only bring it up here because it's such the opposite of "doomerism!"
The suggested topic to consider for Tidings in September is
Standing on the Side of Love.
This concept is integral to UUs now, but we can always use a refresher course. Let's see how some of our friends are already leading their lives with Love as the guiding force.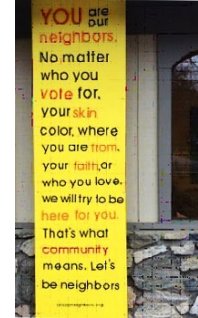 Board of Trustees:

Rochelle Broome - President
Sally Smith - Vice-President
Larry Pearlman - Treasurer
Rose Levering
Jackie Franklin


Marti Saltzman




Dan Hadley



Non-board officer:
Milt Warden – Secretary

Committee Chairs:
Building & Grounds - Deb Evenchik
Social Action - Jane Carroll (rotating)
Finance - Lee Reading
Nominating - Evan Yanik
Congregational Care - Carolyn Shorkey
Membership - Heidi Blozan
Personnel – Linda Tatsapaugh
Communications - Susan Culler (contact)
Governance – Evan Yanik
Religious Education - Contact RE Director Susan Enright Hicks
Coffee Hour Hosts Coordinator - Carolyn Shorkey
Sunday Service Associates - Diane Graham (rotating)
Strategic Planning Task Force -


Memorial Garden - Dawn Wilson




Safety Committee - Marti Saltzman


Stewardship - Dan Hadley

Sunday Service Production:
AV producer/editor - Evan Yanik and Deb Evenchik
Music director and piano - Annelinde Metzner
Sue Stone, piano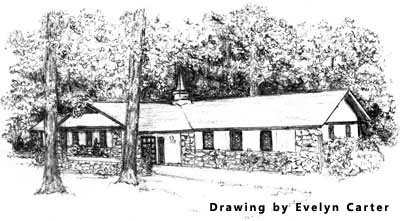 Unitarian Universalist Congregation of the Swannanoa Valley

500 Montreat Road

Black Mountain, NC 28711

(828) 669-8050 (email preferred during pandemic)