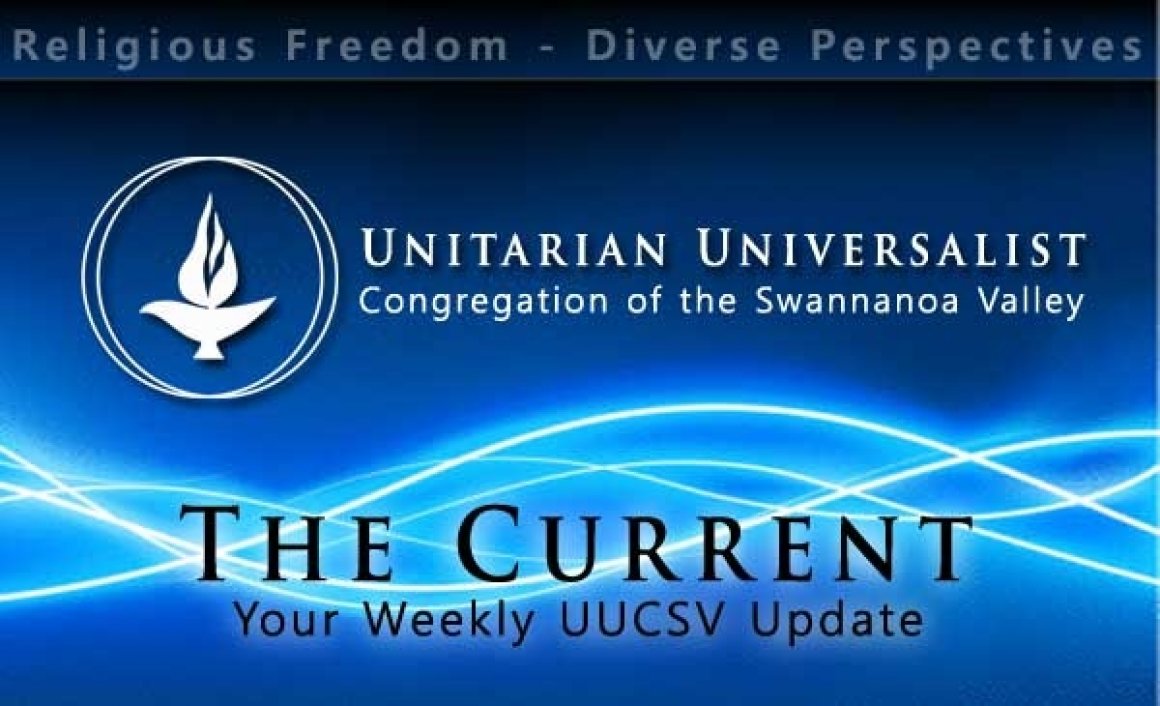 Sunday, July 31, 2022 - 11:00 a.m.

"Forces of Change"
Rev. Michael J S Carter
Music: Linda Metzner, piano

The times we live in are no doubt historic. These times can be both frightening and exciting times for many of us. The world is changing and we must change with it; we must let go of the old paradigm or be dragged. Many of us say we want change but when the time actually comes, we shirk away from it. Why? Because in so many ways change is beyond our control.
It's an interesting dynamic that I witness in some people. Even in these times, I have come across people who don't think that things have changed much regarding cultural issues. They can't seem to see that change is all around them. Let's explore.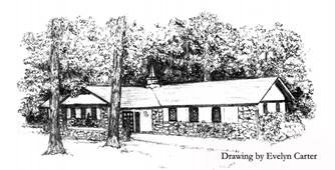 Order of Service
Gathering Music:
"The Times They Are A-Changin" (Bob Dylan)

Welcome & Announcements:
Sally Smith
Opening Words & Chalice Lighting:
Diane Graham &
Rev. Michael J S Carter
Opening Hymn:
#38 "Morning Has Broken"
Reading: "Grounded" from the book, Be the Change, by Stephen Shick
Joys & Sorrows
Meditation & Prayer:
Rev. Michael J S Carter
Hymn: #348 "Guide my Feet"
Offertory: "A Change is Gonna Come" (Sam Cooke)
Sermon:
"Forces of Change" –
Rev. Michael J S Carter
Closing Hymn:
#144 "Now Is the Time Approaching"
Closing Words:
Rev. Michael J S Carter
Postlude Music:
"Waterfall" (Chris Williamson)
---
Music:
Linda Metzner
, piano
Religious

Education: Nursery/Pre-K caregivers: Childcare at this time is limited, and is performed as needed by either Susan Enwright Hicks, DRE, or one of our trusted childcare volunteers
Video: Evan Yanik
Sound Team: Bill Altork, Rhea Bockhorst, Larry Pearlman &

David Reid
The YouTube video of today's service will be available Sunday afternoon, as well as all previous Sunday Services at UUCSV Productions. Click to go to YouTube here.
---
Joys & Concerns:

We want to hear from you about your joys and concerns. If you cannot attend in person and would like to be heard, please send your message to Rev. Michael Carter by noon on Friday so he can read it during the Sunday service.
---
For online offertory and/or pledge donations: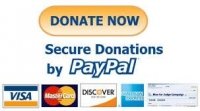 July 31, 2022
No Virtual RE this week
11:00 a.m. at UUCSV - Summer Presenter: Larry Pearlman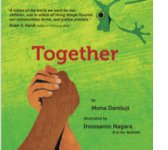 Families who would like to enjoy a short story can check out Mona Damluji's, Together.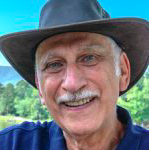 This week at UUCSV we have a special treat! Larry Pearlman will be joining us to show photos, and tell stories of his time

in Ghana working with the Peace Corps. If there is time after the presentation we may spend some time playing.





Summer Volunteers Wanted! Susan is looking for adults who would enjoy sharing their interests/talents with children on summer Sundays. Do you have a hobby, profession, or talent you could bring to share? Musician? Magician? Amateur Birder? Bocce Champ? We'd love to learn from you! On July 31, 2022, Larry Pearlman is going to share about his time with the Peace Corps!

RE Committee Members and RE Teachers for fall needed! As we transition into in-person and multi-generational offerings, we need more help to plan and run our programs Sunday mornings to make sure kids are safe,
engaged, and young visitors receive quality care. If you are interested in helping shape future programs, or to volunteer as an RE childcare provider please let Susan know by email REdirector.uusv@gmail.com or by phone at 828.450-5319. Thank you!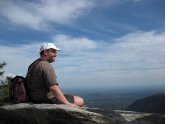 Sunday, August 7, 2022 - 11:00 a.m.

"Where's the Hope?"


Tim Perry


If you pay much attention to the news, and if you're anything like me, you spend a lot of your time "shocked, but not surprised," which has become a far more common expression than I ever imagined it could. When we find ourselves constantly bombarded by bad news, and worse news, it's easy to lose hope and slip into despair, anger, hopelessness, etc. IS there still hope? And if so, where can we find it? I'll toss out a few ideas, and please bring your own, too, so we can share them and offer each other some much needed encouragement. As they say, "When you're going through hell, KEEP GOING!"

News from UUCSV Groups & Committees
Caring Committee Update on Julia Jordan & Maggie Moon
A note from John Graham, Julia Jordan's cousin:
"I continue to be amazed and impressed with what a wonderful caring
community you have there in Black Mountain at UUCSV. Julia was always happy to help and lend a hand when needed and will be missed by all the people whose lives she touched.

"
A note from Maggie O'Neil:
"

Your meals this past week or so have been soooooo helpful! Thank you so much for taking the burden of shopping and cooking off our plates (pun
intended) while I am still recovering from my accident and Al has just undergone back surgery. The meals have been delicious and so much enjoyed and appreciated!
Al had back surgery on Monday. He is still hurting from the surgery but seems to be relieved of the sciatic pain that he suffered for nearly a year. I am
getting stronger every day and walking outside a little using a 4 wheel walker, inside with a walker, and also learning to use a cane.
It's pretty funny when we have a walker traffic jam in the kitchen! You gotta laugh, right?
Thank you again for your kind generosity to us. We are so grateful to be part of this loving community."
---
Circle of Welcome Fundraiser - Thank you!
Thank-you, congratulations to everyone involved in any way in Sunday's fundraising concert for our new American family. We raised $3245 and had a splendid time doing it. We continue to need circle members who can help with transportation, teaching, shopping, childcare, etc. They still gratefully

accept 4t diapers and very soon will also need newborn/ infant size. Let Katherine know if you are interested in joining the circle.

katherinet@gmail.com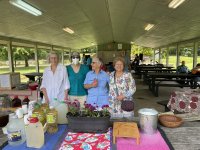 ---
Spring/Summer Covenant Group
Our spring/summer covenant group focuses on the 8th principle work of "dismantl(ing) racism...in ourselves and our institutions." If there is enough interest, a new covenant group will begin again in the fall and take place in the afternoon to accommodate the schedules of those unable to attend evening sessions. This is a small group lay ministry project and we would like to hear how many of our members are interested. The current group

members will be leading a service on their experience later this year. Contact Anna at annamdeh@gmail.com with questions or to register your interest.

---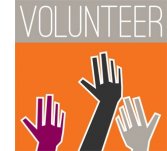 Volunteer Opportunities
opportunities for being of service to UUCSV. Note that some of these links have changed for 2022. Thanks to all of our volunteers. We couldn't be here without you!

We are always in need of Sunday Greeters. Please
sign-up
and volunteer to be a Greeter!
If you would like to volunteer to supervise the collection plate, please
sign-up
here.
Webinar: Climate Disaster Response for UU's
Climate disasters impact our communities - how can UUs be prepared? Join this hands-on workshop on July 31 at 4pm ET with activities to help you
identify the climate risks, understand who is most at risk, and how your
community will be impacted. From there, make a plan to prepare for and
respond to climate disasters in your neighborhood.
Register
now at and invite others from your team or congregation!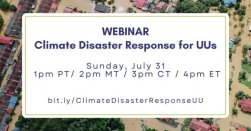 ---
Rob Greenfield - Fruit Tree Planting Event
Rob Greenfield, an activist and humanitarian dedicated to sustainability, equality and justice, who is presently living in Asheville, will be at the Black Mountain Community Garden on August 9th from 5 to 8 pm. It will be a fruit tree planting event. Bring your own water; light refreshments will be provided.
Church office: (828) 669-8050
(email preferred during social distancing)
Michael Donnan, Office Manager (Tuesday & Thursday, 10:00 a.m. - 4:00 p.m.)
Rev. Michael J S Carter, (Monday - Thursday, 8:30 a.m. - 4:00 p.m.)
Rev. Carter is available for pastoral care in the church office or virtually via Zoom or Skype. For in-person meetings, protocols of social distancing and face masks are followed. Please
email Rev. Michael J S Carter
to schedule an appointment.
The deadline for submissions to The Current is Tuesday at 12:00 p.m.,
please send yours to
admin@uusv.org.
For more information and guidelines on submissions for our newsletters, website, online calendar, social media, Order of Service, and member news, please see our
Publishing Guidelines.
UUCSV
500 Montreat Road
Black Mountain, NC 28711