The suggestion to take a step down tends to generate thoughts of something in decline,
but in this case, the topic of our headline is the prevailing outdoor temperatures so it is a good decline! Here's hoping all our readers find a chance to enjoy live outdoor music while we have such pleasant weather.
Once again today's newsletter is FULL of news. All articles are returning from last week with a few updates. First, if you visited the Blues Challenge information on our website and had trouble accessing it, the problem has been fixed! Apologies for any inconvenience you experienced. A web builder update changed some defaults that I missed. Also, important for this week in the information about some cool upcoming events this weekend and next, as well as a big deal event on Labor Day weekend. Please read on for information on all of these events.
And finally, below you will find an invite to join in at the upcoming OBS board meetings. We are always anxious to have member input!

Do always remember, this is YOUR newsletter! Please send
feedback or suggestions
our way. You will find Sandy's email address below.
We appreciate our readers and want
to see
your ideas included!
Tomorrow
in Fayetteville!
NWA Jazz Society
Presents
The Peter and Will Anderson Trio will perform as part of the Northwest Arkansas Jazz Society's and KUAF's Summer Jazz Concert Series on August 20 at the Roots HQ on the Fayetteville Square. Joining the two world-renowned sax and clarinet playing twin brothers will be guitarist Adam Moezinia. Tickets and more information at: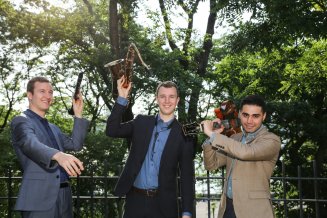 Terry Quiett Band

plus

The Terry Quiett Band performs at the Meteor Guitar Gallery on August 20th. Nathan Bryce & Loaded Dice opens for them, and that will please so many of us in NWA who are Nathan & LD's fans. Terry's band has been touring for many years, and in a few weeks, the tour brings them here. The ticket link is here: Terry Quiett Band and Nathan Bryce & Loaded Dice
More about the band here:
Fayetteville

We have real-deal Blues artists coming our way August 25-27, at the Roots Festival at the Downtown Square in Fayetteville. Of special note for those who love the legends: Taj Mahal, Bettye LaVette, and the North Mississippi Allstars! And of course the line-up features lots more artists! Check out their website for more info and to buy tickets.
Sign Up Now!

Ozark Blues Society

Blues Challenge
Registration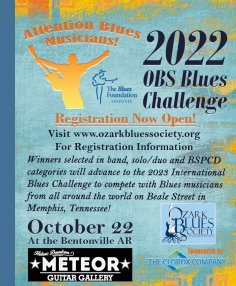 If you've been getting this newsletter for several years, you know all about the Challenge and its rewards. If you've just recently joined our list, well, you're about
to get schooled! Every year the Blues Foundation, based in Memphis, TN, produces the International Blues Challenge. All the venues in and around Beale Street
are filled with bands from all over the world
for four days and nights, to compete for the Big Win. There are around 250 participating blues societies from every country
imaginable, that send their local challenge winners to compete in Memphis.
Our Challenge will take place at the Meteor Guitar Gallery in Bentonville, AR, on October 22, 2022. Registration is now open and continues through October 8, 2022. Registration is open to blues bands and solo/duo artists that reside within 250 miles of Bentonville, Arkansas. The person registering for each act must be an active member of Ozark Blues Society to access the registration process. Please visit our website for all the details about the 2022 Blues Challenge as well as registration information.


Buddy Shute

EP Release and Party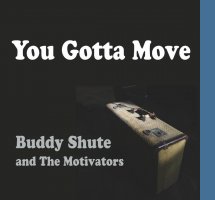 The new EP from Buddy Shute & the Motivators. Four originals and one soulful cover with their Memphis bred, New Orleans marinated, Ozark-infused sound.
Recorded by Chris Moore at East Hall Recording Studio
Available at all the usual places
EP Release Party/ Birthday Bash
September 18, 2022


For tickets to the release party, visit:
Dawn to Dusk

Blues Festival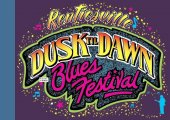 Something to DO over Labor Day Weekend!
200 musicians...Kids under 12 free, 3 stages
The Five W's:

WHAT

: Rentiesville Dusk til Dawn Blues Festival #32
WHEN

: Labor Day Weekend, Fri Sat Sun 5 pm til 5 am each night. Gates open at 4, Music at 6
WHO:

a virtual showcase of 22 regional groups and 5 national headliners.
WHAT's COOL

, WHAT'S NOT: Bring chairs or blankets unless you come early. No coolers or pets or arms or carry in drinks or food.
HOW MUCH:

$18/night, kids under 12 free Three Stages, Thirty Bands ...indoors til 5 am
The best version of the line up so far ! ... Looking forward to a great weekend!
MOTELS:

Muskogee is 17 miles north of here, straight up US 69. Many hotels and motels are up there!!! Candlewood is very reasonable and newly remodeled..
VOLUNTEER OPTION

: It takes a lot of people to do this – so we have a great deal for volunteers! Help us out for three hours before or during the event,,,you get i n that night free and a 1/2 off ticket on a T Shirt
We appreciate your support and look forward to seeing you. It takes a lot of people to do this... Thanks!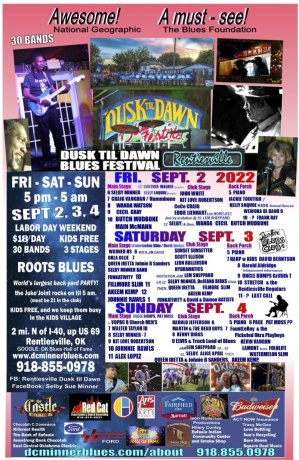 At Our Next

OBS Members Are Always Invited to the General Sessions of our b

oard meetings! The next meeting is scheduled for September 7th at the Holiday Inn in Springdale, AR. The General Session starts at 6:00pm. We meet in our "Blues Enclave" off of the main floor dining area. If you aren't a member yet, visit our website to join us. Membership benefits are listed over on the right-hand sidebar.
LIVE MUSIC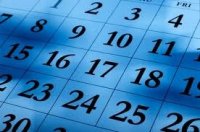 Please enjoy the following listings comprised of bands, venues, and/or organizations that support Ozark Blues Society. Always check with individual venues for event details and schedule changes. Submit weekly listings by emailing: SANDY
8.
19
8.20
Buddy Shute at Jamin' Java/Farmers Market in Fayetteville

Anderson Brothers Jazz Trio at Roots HQ in Fayetteville

The Terry Quiett Band/ Nathan Bryce & Loaded Dice at The Meteor Guitar Gallery in Bentonville

Buddy Shute and the Motivators at the Rowdy Beaver Den in Eureka Springs

Skye Pollard and Family Holler for at Basin Park in Eureka Springs
8.21

8.23
Jazz at the Undercroft Bar in Bentonville

Vince Turner at JJ's Grill and Chill in Bella Vista

Jim Mills at JJ's Grill and Chill in Fort Smith
8.24
Pat Bianchi Trio at Roots HQ in Fayetteville

Brick Fields Blues Therapy at Moranos in Fayetteville

Ben Harris at Six-Twelve Coffeehouse and Bar in Fayetteville
8.25
Fayetteville Roots Festival at various venues in Fayetteville

Richard Burnett at JJ's Grill and Chill in Rogers



8.26
Steve Pryor Tribute with Paul Benjaman and Friends for

Happy Hour

at George's Majestic Lounge in Fayetteville

Fayetteville Roots Festival at various venues in Fayetteville
8.27
Fayetteville Roots Festival at various venues in Fayetteville

Buddy Shute and the Motivators at Ozark Folkways in Wnslow
9/2-9/4 Dawn to Dusk Blues Festival in Rentiesville OK

9/8 Concert For A Cause, benefitting Micah's House at Thaden Fieldhouse in Bentonville
9/10
Kurt Allen Band at The Meteor Guitar Gallery in Bentonville
9/24 Belle and the Vertigo Waves at the Meteor Guitar Gallery in Bentonville

10/14 Scotty Austin with The Alive at the Meteor Guitar Gallery in Bentonville

10/22 OBS Blues Challenge 2022 at the Meteor Guitar Gallery in Bentonville

10/27 John Moreland at the Meteor Guitar Gallery in Bentonville
Please Submit Dates for Regional Blues Artists and Group Events HERE
August 19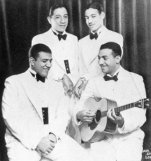 Today's show features music performed by Fats Domino and The Mills Brothers




"The blues is celebration, because when you take sorrow and turn it into music, you transform it."
Odetta Holmes

Blues Education Supporters
Thanks to the following for their support of blues education.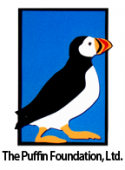 Check Out these regular local radio programs

"The Generic Blues Show" hosted by Paul Kelso airs every Friday night at 9pm on KUAF 91.3FM
Rockin' Hog Radio presents "Sunday Morning Blues" from 8am to 10am every Sunday
LINK
Get Involved with the Ozark Blues Society

Annual membership levels begin at $15 and give you so much in return, including meeting new friends while enjoying the best blues artists in the area.
By being a member of The Ozark Blues Society of Northwest Arkansas, you are helping to support the Arts and to preserve the Original American Art Form known as The Blues.
Membership Benefits Include:

Weekly E-newsletter
Opportunities to win tickets to events
VIP seating at events (when available)
Discounts on OBS merchandise
Social networking – meeting other people who also love the blues
Opportunities to volunteer on OBS committees and at events
Ability to attend board meetings and vote on upcoming organizational issues and elections
Visit our Website to renew or join! Ozarkbluessociety.org