Establishment of the Julia Jordan Memorial Fund
The sudden passing of Julia Jordan in July was a shock to her friends and neighbors. We indicated to Julia's cousin our desire to honor Julia by
donating to one of her favorite causes. Her cousin said donate to UUCSV!


With facilitation from Larry Pearlman, UUCSV Treasurer, the church board has agreed to establish the Julia Jordan Memorial Fund for 4 to 6 months. Donations to the fund will be distributed to UUSCV projects or areas in which Julia was involved. Donors need to indicate by an accompanying note or on the memo line of a check that their donation is for the "Julia Jordan Memorial Fund."
Submitted by Lois Heintz
---
Maggie Moon UPDATE
Hello friends!
It's been nine weeks since my accident (being thrown from a horse) and I am healing well. I am walking without a cane, although it still hurts and just drove for the first time. I am starting outpatient PT this week.
Many thanks again for the love and support and healing Light you have sent to me during my recovery. I am not attending most activities due to continued fatigue and none indoors due to the risk of Covid. With 8 broken ribs still
healing, I can't take that chance. I miss you all!
Here's a photo of my first time getting on a bike. It hurt, but it was fun for a few minutes.
Best wishes and many thanks,
Maggie Moon O'Neill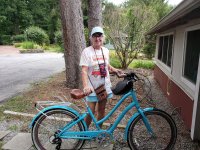 ---
Women's Group Reminder - September 8, 2022
5:30 p.m. at UUCSV
Subject: How my ancestors made me who I am today
Please bring a family photo, craft item or piece of art related to your family history. Examples include a letter or postcard or anything else you can share that will help us understand more about you and your family history.

If you would like, please bring finger foods, appetizers or snack items that represent your family's heritage (or just your favorite snack!) I will bring

napkins, wine and water.

Thank you,

Miriam Stuart

---
Natural Sanctuary Burial (Green Burial) Presentation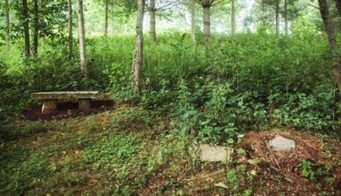 A memorial landscape nestled within a natural habitat full of wildlife, giving a green alternative to the conventional cemetery.
Thursday, September 8, 2022 - 7:00 p.m.
Join us for a green burial presentation. Learn what is is, why they are
important and relevant resources. Concluding with the sharing of
refreshments and an informal Q&A session.
Guest Speakers

Cassie Barrett - Director of Cemetery Operations - Carolina Memorial Sanctuary, Mills River, NC

Sarah Lasswell Moss & Thistle Farm - Natural Casket CO, Lake Lure, NC

Ursula Goebels-Ellis, GHF resident

Location

Givens Highland Farm's Assembly Room

200 Tabernacle Rd., Black Mountain, NC, 28711, (828) 357-3611

Free to the public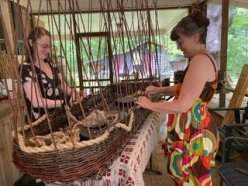 From Ursula Goebels-Ellis:

During the last couple of years we went through a rough time of isolation,

illness and even the loss of loved ones. Facing our own mortality with a focus on making end-of-life decisions seemed to be a normal consequence. I

purchased a plot at the Carolina Memorial Sanctuary in Mills River, NC, and pondered, with a group of aspiring Death Doulas, on how to plan a burial

appropriate to the plot.

Sarah Lasswell, who grows willow on her Moos & Thistle Farm near Lake Lure, invited us to join her in a three day creation process of weaving a burial tray for me. This process was educational and healing in unexpected ways. We would like to share with you what we learned and experienced.

---
Creative Songwriting Workshop
First Workshop - Thursday, September 15, 2022, 7:00 p.m.
(Thereafter, the first and third Thursday of each month)
Dave Wells and Bill Altork are looking for a small dedicated group of people who want to gather twice a month and work on creating songs and also the music to sing them. This will be an ongoing collaborative effort... Our own

personal music-making workshop!

We will have discussions and share
stories and opinions of how the personal creative process works. We will give ourselves assignments to write, share and comment on our
progressive efforts from one meeting to the next. We will analyze our own and each other's
work, so it will be helpful to be receptive to constructive criticism from our creative peers.
Ultimately we will share our new creative pieces with the group and possibly with our UU congregation at some future date.

Please contact Dave Wells and/or Bill Altork if you would like to signup or have questions.

Dave Wells - dmw8@psu.edu, 828-768-9278

Bill Altork - billaltork@gmail.com, 828-301-2654