Online Event:
Icaro- Indigenous Songs
& Prayers to Our Ancestors
with Cristina Maria, Humming Bird Medicine
& Irma StarSpirit Turtle Woman
Friday, October 28th * 7:00 pm - 9:00 pm
Come and join us as Cristina Maria & Irma guide us to learn and sing their favorite Icaros (song prayers).
Icaro's are ceremonial power calls of light language learned from medicine elders or Healing Spirits, they are practiced during shamanic healing ceremonies, they open us to see dream visions and useful in healing the soul to bring strength to do cleansings for defenses. the shamans of the Shipibo tribe say that spirits especially plant medicine, call in the spirits of the others or the deceased. These calling usually used in Ayahusca , San Pedro, Peyote medicine ceremony, they are used as protection and manage a ceremony and to link everyone together, creating a unified force of energy that swirls within ceremony.
The Icaros sometimes are whistled, sung or chanted, they can be expressed in any language. Icaros represent a system of communication between medicine person and spirits, the medicine people believe that everything has an icaro and that these icaros can be learned, some are created right through you the spirit of the medicine can sing them through you.
Learn to how rattles accompany you in song, and how to direct energy of the icaros send away heavy or unwanted energy.
Songs shared will be from Medicine-persons from around the world.
Please bring a soft sounding rattle to class, or you can simply make one with a can with dried beans or dried rice.
Cost: $44
To Register or more info: email shamanicfirereiki@gmail.com
Or pay via Eventbrite https://www.eventbrite.com/e/412995740377
About These Beautiful Medicine People: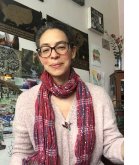 Cristina Maria, Humming Bird Medicine, is a Medicine Woman integrating the Ways of Spirit with 15 years of clinical social work experience. She is initiated in Herbalism, Earth Spirit Teachings, and Shamanic Medicine. Her background is rooted in a diverse collection of Earth Centered Traditions and those of Other Realms. She offers Healing Work with Herbal Medicine, Shamanism, Witchery, Body Work, Energy/Vibrational and Ascension Medicine and Plant Spirit and Amazonian Medicines, such as Kambo and Grandmother.
Cristina Maria is a Licensed Clinical SW in NJ/NY and Wedding Officiant. She offers in-person and remote sessions and facilitates circles, workshops and ceremonies.
Contact Cristina Maria via phone - 201.477.0192, email - spiritmedicineways@gmail.com
or visit her at About Me, BeWELL - www.bewellpsychotherapy.com
or Growing With The Seasons - www.gwtsfamily.com

Irma StarSpirit Turtle Woman is a Medicine Woman honoring the ways of the Maya & Taino curanderas and medicine elders, she is a Shamanic & Reiki Master, Certified Crystal Healer, Toltec Dreamworker/dreamweaver.
She uses sound healing, crystals, and works with the "poderios", the elemental forces to keep an open channel of communication to the Great Spirit. Her style is accompanied by prayer work and traditional indigenous ceremonies to heal her community with heart. She can be reached at shamanicfirereiki.com or email her at shamanicfirereiki@gmail.com