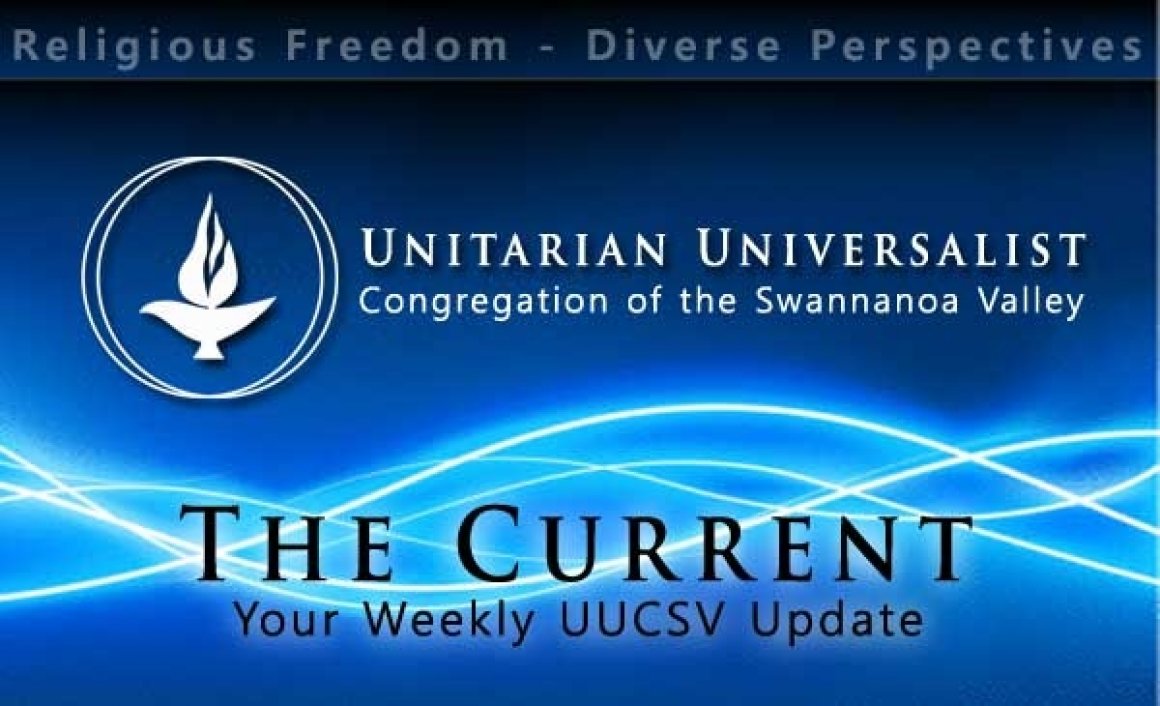 Sunday, September 11, 2022 - 11:00 a.m.

"There's No Place Like Home"
Rev. Michael J S Carter
Music: Sue Stone, Second Sundays, voice, guitar and piano; Linda Metzner, piano
Dear Congregation,
Please remember to bring water from your travels this summer (even if you indulged in a "staycation") to the church service on September 11, 2022. It is our annual Homecoming Service and we will be having a
water communion service on that morning. Thank you so much!
It's Homecoming Sunday for Unitarian Universalists across the nation... need I say more? See you on Sunday!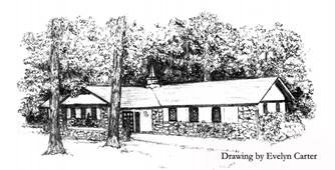 Order of Service
Gathering Music:
"Try to Remember" (Tom Jones & Harvey Schmidt)

Welcome & Announcements:
Larry Pearlman
Opening Words & Chalice Lighting:
Tim Perry
Story for All Ages: Susan E. Hicks
Water Communion Service
Opening Hymn: #108 "My Life Flows On"
Reading: #633
Second Sundays: "Here at Every Turn" (Charley Thweat)
Joys & Sorrows
Meditation: Tim Perry
Offertory:
"October" (Sue Stone)
Sermon:
There's No Place Like Home – Rev. Michael J S Carter
Closing Hymn:
#128 "For All That is Our Life"
Closing Words:
Rev. Michael J S Carter
Postlude Music: "Homecoming" (David Lanz)
---
Music:
Sue Stone, Second Sundays, voice, guitar and piano; Linda Metzner, piano
Religious

Education: Nursery/Pre-K caregivers: Childcare at this time is limited, and is performed as needed by either Susan Enwright Hicks, DRE, or one of our trusted childcare volunteers
Video: Evan Yanik
Sound Team: Marti Saltzman, Barbara Rogers, Rhea Bockhorst, Larry Pearlman &

David Reid
The YouTube video of today's service will be available Sunday afternoon, as well as all previous Sunday Services at UUCSV Productions. Click to go to YouTube here.
---
Joys & Concerns:

We want to hear from you about your joys and concerns. If you cannot attend in person and would like to be heard, please send your message to Rev. Michael Carter by noon on Friday so he can read it during the Sunday service.
---
For online offertory and/or pledge donations: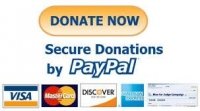 September 11, 2022
No Virtual RE this week
11:00 a.m. at UUCSV - Intergenerational Beginning & RE Lesson with Susan

This week students are invited to begin in the Sanctuary with their parents. Susan will read a Story For All Ages as part of this week's service. After the story, RE Students will follow Susan to the RE space (Evelyn's Room) to create a class covenant together.

You can read about this year's RE Curricula which we will begin soon
here.

Nursery Volunteers, RE Committee Members, and RE Teachers for fall needed!


We need volunteers in our Classrooms and Nursery on Sunday mornings this fall to make sure kids are safe, engaged and young visitors receive quality care. Your commitment might be no more than showing up on a Sunday morning and playing with visiting babies or toddlers when we have them. If you are interested in helping in any way please let Susan know by email REdirector.uusv@gmail.com or by phone at 828.450-5319. Thank you!

Sunday, September 18, 2022 - 11:00 a.m.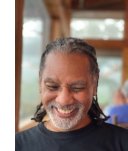 "America's Moonwalk"

Rev. Michael J S Carter


Remember the dance that the late entertainer Michael Jackson originated and became famous for? It was called, The Moonwalk. Well, America is doing its own
version of the moonwalk. It's walking backwards.
The question is why? Why is America fighting so hard to block its own progress? What is it about us that we seem so intent on suppressing our own potential? The answer is obvious. The controlling interests in our country don't give a-you-know-what about American progress. It's as though the country has an autoimmune
disease, as the instruments of our own power now attack us rather than serve us. Regardless, it ain't over yet. We've all got to show up now. Support the good things, take care of others and don't care if they don't like you for it. And, above all, believe in miracles. Let's explore.
News from UUCSV Groups & Committees
Care Committee - Rides Needed!
If you are able to lend a helping hand, Jessica Thomas needs a ride to church this Sunday, September 11, 2022. Please contact her to arrange for her ride. You'll need room in your car for her walker.
Cell: (828) 357-5531
---
New UU Expense Policy
For those who have been buying goods and services for UUCSV using our debit card, we have a new policy. The debit card is no longer to be found in the black folder in the Treasurer's box in the office. Instead, you will find an expense report sheet to fill out and attach receipts to. Indicate if you paid out-of-pocket (with your own money), a company is billing us directly or you used the debit card to pay for it.
Moving forward, the only way you can use the debit card is if it is already
attached to a house account, such as The UPS Store, or you can contact me to arrange to use it if you would prefer to not pay out-of-pocket.
Always submit a receipt for any expenditure, be it out-of-pocket, or via the debit card.
Please be patient as we navigate this new policy to see what works best for our congregation.
Thank you,
Larry Pearlman, Treasurer
---
Rain Garden Presentation UPDATE
Change of Date & Time: September 16, 2022
Summer Showers Bring... Erosion & Runoff?
We will not be offering the October 6, 2022 rain garden tour and presentation at UUCSV because only 4 persons expressed an interest. There will be a similar presentation available in Black Mountain next week! The reason we see our streams and rivers running brown after a heavy rain is because rainwater carries soil with it into our rivers. Often, we can design an area to
capture muddied rainwater before it gets to a stream.
Your UUCSV Building and Grounds Committee has worked hard to capture rainwater runoff from our roof and north parking lot and direct the water to a rain garden behind the building. The idea is to prepare a space where the pooled rain water will soak into the ground within 24 hours.
Anne Phillip, stormwater technician for the town of Black Mountain and Riverlink will present a program on rain gardens on September 13, 2022, from 6:30-7:30 p.m. It will be held upstairs in the Lakeview Center at Lake Tomahawk, 401 Laurel Circle Drive. This free workshop is sponsored by the Sowing Circle at the Black Mountain Library and will include information on functionality, design, installation, and native plants to use.
Hope you can make it.
---
Adult RE
JUSTICE: A discussion group
Would you like to join DRE, Susan Enwright Hicks and others in a series of discussions of
Michael J. Sandel's
Justice What's The Right Thing To Do?.
Our discussions will include chapters of the book, and video lectures which can be found
here
.
To sign up and see possible dates and times, please check the Google form
here
.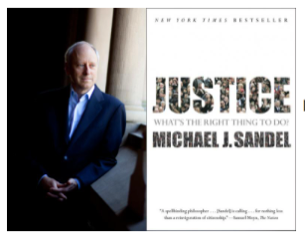 ---
Out of Office Reminder - Michael Donnan

I will be visiting my parents and working remotely September 11-21, 2022. I will be checking email daily and am available to assist with administrative requests.

Thank you,

Michael Donnan - Office Manager UUCSV

---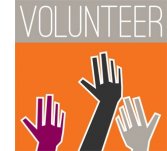 Volunteer Opportunities
We are always in need of Sunday Greeters. Please contact Andy Reed and sign-up
and volunteer to be a Greeter!
Books For Good
Isn't it time to go through all of those books collecting dust on your shelves and lighten your light. Are you REALLY ever going to read them again? Bring them Sunday and place them in the "Books for Good" box in the foyer. You'll be giving someone else the pleasure of reading those great books, making some money for UUCSV and making room on your shelves for new books! Thank you.
---
Establishment of the Julia Jordan Memorial Fund
The sudden passing of Julia Jordan in July was a shock to her friends and neighbors. We indicated to Julia's cousin our desire to honor Julia by
donating to one of her favorite causes. Her cousin said donate to UUCSV!


With facilitation from Larry Pearlman, UUCSV Treasurer, the church board has agreed to establish the Julia Jordan Memorial Fund for 4 to 6 months. Donations to the fund will be distributed to UUSCV projects or areas in which Julia was involved. Donors need to indicate by an accompanying note or on the memo line of a check that their donation is for the "Julia Jordan Memorial Fund."
Submitted by Lois Heintz
---
Maggie Moon UPDATE
Hello friends!
It's been nine weeks since my accident (being thrown from a horse) and I am healing well. I am walking without a cane, although it still hurts and just drove for the first time. I am starting outpatient PT this week.
Many thanks again for the love and support and healing Light you have sent to me during my recovery. I am not attending most activities due to continued fatigue and none indoors due to the risk of Covid. With 8 broken ribs still
healing, I can't take that chance. I miss you all!
Here's a photo of my first time getting on a bike. It hurt, but it was fun for a few minutes.
Best wishes and many thanks,
Maggie Moon O'Neill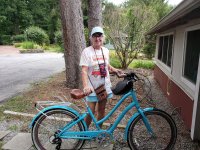 ---
Creative Songwriting Workshop
First Workshop - Thursday, September 15, 2022, 7:00 p.m.
(Thereafter, the first and third Thursday of each month)
Dave Wells and Bill Altork are looking for a small dedicated group of people who want to gather twice a month and work on creating songs and also the music to sing them. This will be an ongoing collaborative effort... Our own

personal music-making workshop!

We will have discussions and share
stories and opinions of how the personal creative process works. We will give ourselves assignments to write, share and comment on our
progressive efforts from one meeting to the next. We will analyze our own and each other's
work, so it will be helpful to be receptive to constructive criticism from our creative peers.
Ultimately we will share our new creative pieces with the group and possibly with our UU congregation at some future date.

Please contact Dave Wells and/or Bill Altork if you would like to signup or have questions.

Dave Wells - dmw8@psu.edu, 828-768-9278

Bill Altork - billaltork@gmail.com, 828-301-2654

Church office: (828) 669-8050
(email preferred during social distancing)
Michael Donnan, Office Manager (Tuesday & Thursday, 10:00 a.m. - 4:00 p.m.)
Rev. Michael J S Carter, (Monday - Thursday, 8:30 a.m. - 4:00 p.m.)
Rev. Carter is available for pastoral care in the church office or virtually via Zoom or Skype. For in-person meetings, protocols of social distancing and face masks are followed. Please
email Rev. Michael J S Carter
to schedule an appointment.
The deadline for submissions to The Current is Tuesday at 12:00 p.m.,
please send yours to
admin@uusv.org.
For more information and guidelines on submissions for our newsletters, website, online calendar, social media, Order of Service, and member news, please see our
Publishing Guidelines.
UUCSV
500 Montreat Road
Black Mountain, NC 28711