These words share the same root in Latin, "aequus," which means equal. So we know that equinox is the day when the sun crosses the earth's equator when the hours of light and darkness are the same. It's also interesting to note that the meaning of equal leads back to "a balance and pair of scale." But even more so, aequus also means "even, flat … on a level with; friendly, kind, just, fair, equitable, impartial; proportionate; calm, tranquil."

The ancient meaning of this equal/aequss essentially describes the characteristics of Libra, the sign in which the Sun and the Moon will meet on September 24 for the first new Moon of Fall. The new lunar cycle follows the ingress of the Sun in Libra, marking the Autumn Equinox on September 22. At the same time, the Sun and Moon in Libra will face Jupiter in Aries, a sign that complements and opposes Libra. Aries, the ram, thrives on self-assertion, forward movement, and leadership. Where Libra is about "us, we," and relationships, Aries is about "me and I."

This new Moon's energy invites us to a "balancing act." Libra strives and puts great effort into balancing the scales. This symbol lives in our imagination and language as a symbol of fairness and harmony, likely to be pursued during this lunar cycle.

In a time of great upheavals like the one we are living, the energy of the new this new Moon also invites us to embrace and cultivate kindness, friendliness, and fairness. It is an effort, a process, just as when weighing an object on those manual scales, it requires a slowing down and attentive measure to reach that equal position. Jupiter in Aries might throw a curveball of energy, as we might encounter larger-than-life opportunities that will require a continuous "adjustment of the scales." This might be particularly felt by those with planets between 0 and 6 of Libra and Aries and Cancer and Capricorn.
This new Moon is disposed by Mercury retrograde, in domicile in the sign of Virgo, with Venus in Virgo as well. This offers a touch of humbleness and a pragmatic tone to Libra's sometimes over-idealistic drive towards balance and fairness.

The day before the new Moon invites us to pause, rest to the degree possible and find time to honor ourselves and our relationships. The time is right to relate with kindness to all the different parts, or inner planets, of our inner world. And it is also an opportunity to honor the relationships with beings outside the boundaries of our skin, with the earth, our "larger body," as Joanna Macy called it, and with other humans. As with every new Moon, we might set intentions and plant seeds honoring Libra's values to cultivate throughout this cycle.

Finding balance might serve us well as Saturn and Uranus are again moving in tight and dynamic aspects for the last time since their first encounter in 2021. (See more below)

Mercury Retrograde: September 10 till October 1.
Mercury is moving retrograde and will change direction and turn direct in opposition to Neptune on October 2. The retrograde cycle offers us opportunities to rediscover the past with fresh and new eyes. Hence we can harness this energy and revisit communications exchanges and find new meanings or correct misunderstandings. For example, we might review aspects of our lives that we want to organize, bringing a new order, such as a closet, refrigerator, or storage area.

The opposition between Mercury and Neptune back on August 20-21, and the one that will happen around October 2, invite us to be particularly attentive. Mercury, the trickster, might trip on his own tricks as Neptune clouds and fog the Mercurial mind. For example, we might feel particularly activated about something, and unconscious feelings might get in the way of remembering clearly. Or one might more overtly omit information that might resurface later on. Along with the usual variety of delays, misunderstandings, schedule changes, and missed emails, this opposition invites us to attempt to be extra precise when dealing with logistics.

On the other hand, it might also serendipitously manifest with psychic connections, or show us memories from the past that can be particularly meaningful. So keep an eye for the dates between September 29 and October 7, when Mercury will pick up speed again and move away from Neptune's fog and magic. As Mercury will move over the same path in the sky, for the third and last time until October 17, it will offer resolutions and clarifications.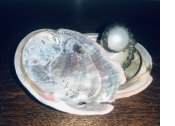 Saturn – Uranus Square: Revolutionaries Pearls


(The following is a slightly edited and adapted post from 2021 to describe the ongoing aspect between Saturn and Uranus)







When a particle, such as a grain of sand, or a parasite, enters an oyster, we call it an "irritant." The mollusk swiftly responds, in protection, scientists say, and begins to coat it with a luminescent substance, called nacre. While it is fair to say we don't know how such a response might feel to our oyster's friends, the irritant becomes both the core and the activator of a process. It is a long one that generates the only gem that comes from a living being: a pearl.







Drawn as I am to the limitations and biases hidden in our language, I learned that the word "irritate" comes from the Proto-Italic "rito." This means "to stir," as well as to excite, provoke and annoy. This process of being stirred by a sudden and unexpected intrusion, taking time to integrate the "irritant" that leads to such a creative process, feels a powerful metaphor for the astrological weather. It mirrors the ongoing "stirring" relationship between Saturn in Aquarius in a 90 degree aspect called square with Uranus, the skygod and ruler of Aquarius. It's worth noting that Uranus rules Aquarius, is currently transiting in Taurus and it's disposed of by Venus/Aphrodite. The goddess has a role in matters of values, love, beauty, pleasure, the rising of women's rights, or any gender-oppressed by the patriarchy.







As the energies of these revolutionary times intensely "irritate" us, the time is right to embrace change, to consider new strategies and endeavors, to learn to be with what is, as well as to act swiftly. While Saturn seeks to build and firm things up, Uranus and Aquarius symbolize shimmering sparkles. Currents of "irritants," of sudden ideas and revelation, disrupt the ordinary unfolding of various aspects of our lives, suddenly, just like a lightning storm light up the sky.





As we reflect on these times, we might notice words coming up, such as "never before seen, unprecedented, ground-breaking, record-breaking, unimaginable…" It is the Saturnian manifestation of Uranus and Aquarius's capacity to improve our world and revolutionize and disrupt the systems.




It feels important to name that unprecedented times such as 2020, bring us unprecedented "irritants." This cycle relates to the Saturn-Uranus opposition of 2007-2008. This square unfolds just after the massive Saturn, Pluto, Jupiter conjunction, which has broken many foundations that are now slowly rebuilt in revolutionary ways. The pearls being generated are likely rare ones indeed. Perhaps, they will be never-seen pearls, with a particular luminesce, hue, or shape.





For those of us with points or planets between 14 and 20 of Taurus, Scorpio, Leo and Aquarius, the process might feel more intense. Some of us might wonder: what new realizations are the grains of sands stirring in us? What desires are being carried by this Uranian/Aquarian irritant? How are the sparkles of change-making us "see" differently, leaving us surprised? How are we integrating these ideas in our lives, trying to engage in new ways that are somehow ground-breaking? Aquarius presides over the realm of friendships, social belonging, humanitarianism and nature-tarianism, innovation and technology, and the ever-present internet realm that can connect us at the speed of light. We might wonder how the role of each one of us (Leo) co-creates and change the system to the benefit of more?



Heightened expressions of these archetypal patterns might intensify this month of September 2022 and October, as Saturn and Uranus are in a close to exact square until Saturn move direct on October 23rd. Saturn will then move into Pisces on March 8, 2023 bringing an end to this creative and intense process.



Sending blessings and a nourishing beginning of Fall season (for those in the Northern hemisphere) and Spring season (for those in the Southern hemisphere.)

Gaia

Thank you for reading this astro-report which reflects the current, general astrological weather. For personal guidance and insights, book your astrological consultation at gaia@astrothink.com

Moon pictures by Gaia instagram.com/astrothink