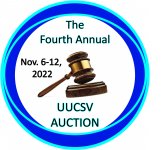 AUCTION UPDATE

It's on! Our auction is off-and-running with over 200 exciting items to choose from! Tickets are only
$10 and include your participation in our live auction on November 12, 2022, at 6:00 p.m. with food
and entertainment. Don't forget to buy raffle tickets for some great give-away baskets of goodies and...invite your friends and family to participate as well. As you place and update your silent bids online, keep looking forward to Saturday night when we will
par-tay' – and you'll get to bid in person on all the live auction items!
There'll be…
Delightful music by so many of our talented UUCSV artists.
Delicious food by Alice and David Wells.
De-lovely support for Bounty & Soul and for our own congregation. And if you haven't done it yet, make sure you go online today to register, buy your
tickets, and get busy bidding. Here's the
link.
Let's all turn out!

The Auction Committee
---
Second Sundays Performer Bios


Eileen Kennedy began singing and acting in 2002, on stages
from Canada to Cuba to Paris, musical theatre, solo concerts, guest artist, open mics. Some highlights are La Cave du 39Riv, ISIS Main Stage, Asheville Symphony
Chorus, Haskell Opera House, Quebec; ACT; NC Stage; Provincetown Theatre Company; White Horse Tavern; Galeria Nemesio Antunez, Havana.

Andy Reed
worked in community and professional theater for many years, including as an actor, director, producer and company manager. He's
performed with the Asheville Gay Men's Chorus, the Martin Luther King Jr. Community Choir (and other groups) and has been singing with the UUCSV Choir since he joined the
congregation in 2017.
---
Volunteer Opportunity - Communications Committee Chair

After several generous years of service, Susan Culler, has recently stepped down as chair of the Communications Committee. This is the committee
responsible for overseeing all church communications to congregants,
including the Current newsletter, Tidings, the website, social media, etc. The Board is seeking a new chair for this committee who can help standardize and streamline communication processes to make them more efficient and uniform. If you have skills in this area, please consider putting your name
forward as a possible candidate for this position by contacting a member of the board. New committee members are always needed, as well. Remember, that the UUCSV cannot function without members stepping up to serve their congregation. The more people who volunteer, the less work there is for everyone.
---
Women's Circle with Laura Staley
Thursday, November 10, 2022 - 5:30 p.m.

Hello Everyone!

This is Laura Staley and I will be hosting the Thursday, November 10, 2022, at 5:30 pm UU Women's Group.
I have chosen Self-discovery Prompts/Journaling prompts as the topic.
I hope you can join me at UU. If weather permits, let's meet outside!
If not, my preference would be to meet inside with masks. My partner had a scary bout with Covid19 (he came through) and I'm being extra cautious. I
understand if there are those unable to wear a mask. Just letting everyone know a preference.
I look forward to our gathering and I'm grateful for the opportunity to host.
Hope to see you there!
---
Anti-Racist Covenant Group Invitation


"There's a way out of this mess, and it requires each of us to begin with our own body. You and your body are important parts of the solution… Your body – all of our bodies – are where changing the status quo must begin." From My Grandmother's Hands by Resmaa Menakem.

The first UUCSV anti-racist/anti-white-body supremacy covenant group to

address our 8th Principle completed at the close of summer and presented some of our outcomes for the Sunday service last week (11/6/22). Using the work of Resmaa Menakem, we set about on the task of dismantling white
supremacy in ourselves, our community and in our world that our 8th Principle calls for. There will be a signup on the foyer table throughout November if you are interested in being a member of the next series which will most likely begin in January, since the holidays present challenges to

regular attendance which is an important part of covenant work. Those of us who were participants of this group appreciate UUA's leadership and

guidance in this difficult work and commit anew to "intentional work and

persistent commitment to build multicultural, antiracist beloved community." (Quote from the report of the UUA Commission on Institutional Change).

Please talk to Anna (annamdeh@gmail.com) or Deb (debrvingle@gmail.com) or any
members of the first group for questions, or put your name on the
signup sheet and we will be in touch.

---
Welcoming Circle Update

Our new American family needs a dresser for children's clothing. A tall dresser with a small footprint would be best. If you can offer this item, please contact either Anna Marcel de Hermanas or Kathetine Tharp. Thank you.

---



Out-of-Office Reminder - Michael Donnan



I will be working remotely on Thursday, November 17, 2022. I will be in Illinois for an early Thanksgiving with my family. I will be available via email if you have any requests.

I would appreciate it if you would send any Current submissions for the week while I'm still in the office on Tuesday, November 15, 2022.

Thank you,
Michael Donnan - Office Manager UUCSV