We are slowly emerging from the valley of shadows and pregnant darkness that the eclipse period has brought to our consciousness. It started with the solar eclipse/new Moon in Scorpio on October 25, which took us on a plunging journey into our bodies and souls. A portal opened to initiate a purging of the relics of the lifeless part of ourselves. Like trees shedding leaves, we might have plunged into our depths and slowly relinquished values, relationships, and priorities left now to decompose and grieve over, slowly turning into newly found energy.
A solar eclipse is followed by a lunar eclipse/full Moon, and the one on November 8 is a potent awakener. Uranus planet representing revolutions and unpredictability, shattering realizations like lightning falling from the sky, was conjunct the Moon at 16 degrees of Taurus and opposing the Sun, Venus, and Mercury in Scorpio, all in a dynamic aspect to Saturn in Aquarius.
A t-square – as this is called – generates a lot of dynamic energy. It might feel like a push and pull between revolutionizing all that Taurus signifies – values, comfort, pleasure, food, and all that is tangible and earthy – and Saturnian-seeking stability. The "recipe" of this Eclipse might feel like an exceptional dish, a mix of experimentation, new tools, classic ingredients, unusual combinations, and surprising and unexpected outcomes. Our sense of safety and stability might feel shaken up. But, in so doing, it offers us the opportunity to move into more solid ground. Once we take the time to reflect and integrate the shift in awareness and understanding and what motivates us to behave or feel the way we do. (This is so if the Eclipse is within 2 degrees from our personal points and planets, that is, near 16 degrees of Taurus, Scorpio, Aquarius, and Leo.)
The experiences arising during eclipses often feel startling, unnerving, and charged, especially given Uranus's electrifying stamp. Taking gentle time for grounding, for paying attention to the sensations in our bodies can help expand our capacity for presence. Tapping into the awareness of
the five senses ruled by Taurus helps our nervous system shift into a state of presence, engagement and increases our capacity to listen, reflect and relate. The time is right to harness, together or with a trusted human or more than human, the comfort of a soft blanket, the weight of our body on the chair. Or imagining drinking the blue sky or experiencing the dance of the golden leaves falling down in the cool autumn breeze, blanketing the floors.
Mars retrograde in Gemini: s-l-o-w m-o-t- i-o-n
Mars entered the retrograde path at the beginning of September and turned retrograde at 25 degrees of Gemini on October 30. It will go back to 8 Gemini, and on January 12, it will turn direct again and leave Gemini on March 26, 2023. (Those with planets and points between 8 and 25 degrees in Gemini, Virgo, Pisces, and Sagittarius, and those with strong Mars or Aries and Scorpio in their chart will experience this more intensely.)
Mars retrograde invites us to walk back and be keenly aware of the past, especially these Fall months, as it disposes of the Scorpio planets. And my invitation is to simply try slowing down as you write your next text, as your read these words, compose your next email, or again as you talk to someone dear.
Gemini rules communication, exchanges, transportation, studies, short trips, sibling, best buddies, and neighbors. Mars's long journey there offers an opportunity to hone and
revise our approach and relationship to all that Gemini represents. What an opportunity the sky offers us to
genuinely listen with heightened curiosity to perhaps a dear old friend - who might reconnect with us. Or to try to pick up a conversation with someone with whom we have not felt heard and share a need that was not met.
Mars represents movement forward and taking action. During this phase, we are invited to stretch our awareness, be present, and sense into what from the past needs review and clarification before moving forward. The process is, at times, frustrating and at times confusing. Still, Saturn offers help from Aquarius by bringing clarity and patience to sort through misunderstandings or delays. Pay particular attention when Mars squares Neptune from Pisces, in mid-November, especially between Nov 15 and 26.
As the planet represents work, Mars retrograde might appear as obstacles, delays, or missing information that calls to review projects and decisions once available. So harness this time to revise and take a good look at the past with humility and honesty, and make space for reviews and changes in decisions.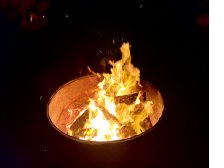 11-23: Sagittarius New Moon and the Uplifting Journey
As we move away from November 8, it will take a few days to slowly settle and re-emerge from the depth of the scorpionic underworld.
The new Moon in Sagittarius, ruled by Jupiter in Pisces, turning direct on November 23, offers the warmth of the eternal fire of hope. The embers get brighter, fed by the quest for knowledge and adventure. Sag warmth, wisdom, and optimism help us replenish our trust in the future, holding a vision filled with possibilities despite the pain, oppression, and destruction plaguing our world.
Half horse and half-human, the centaur grips a bow and points the arrow, shooting toward an unknown place far in the distance. In the journey, Sag finds fuel to its fire in pursuing the journey, contemplating the future, sure that something good will come. As the archetype of the seeker, the traveler, and the explorer, Sag thrives on learning about foreign cultures and lands. As a wise teacher or guide, Sag inspires us, shares wisdom, and fills our souls with hope.
The quality of time of the new Moon supports bold moves, adventures, and explorations of all kinds. So we might ask ourselves how a boost of optimism could help us grow and pursue our dreams? We might also take time to reflect on what we have learned in these past months and
how we have changed. Finally, we might take time to set new intentions, read an inspiring story, and call upon our guides or teachers who offer that support and uplift so needed.
A time of deep reflection, the new Moon with the station of Jupiter at 28 Pisces truly offers a precious time for recharging and nourishing our souls and spirit.
Sending blessings, care and love,
Gaia
Thank you for reading this astro-report which reflects the current, general astrological weather. For personal guidance and insights, book your astrological consultation at gaia@astrothink.com
Moon pictures by Gaia instagram.com/astrothink