An Online Event:

SFR Welcomes back

Henry Flying Eagle Bear

in Awaken Your Power Animal & Ally

Friday January 27, 2023
* 7:00 pm – 9:00 pm
Take the leap and join to awaken your animal Totems and Nature Spirits and welcome them into your life. As we
are work on reconnecting to the beings of light and guardian totems to assist us, protect and remind us of our path and empower our belief system.
Being able to connect with your power animals and guides allows you to receive signs that we are on the right path or guidance when we need to make a change. Our power animals and allies are a valuable resource that can help us navigate the lessons we are here to learn. As children, we connect to our Guides naturally by noticing what is around us and speaking to us from the natural world. Natives use Guides in their daily life to receive guidance, healing energy, and messages from Creator. We are in communion with nature and the Guides speak to us through their actions, appearances, and behaviors
Henry Eagle Bear, will help you connect to your animal totems. L
earn how to create a sacred bridge to the spirits of nature as we become their trusted partners and caretakers. Listening to the inner wisdom as we work with our power animal and allies.
Cost: $45
For more Information or to Register: shamanicfirereiki@gmail.com
About Henry Flying Eagle Bear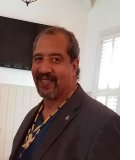 Brother Henry Flying Eagle Bear is an Elder of Cherokee, Shoshone, and Taino heritage among other blood.
Henry practices tobacco medicine and a practitioner of the Vogel Wand, the art of cutting past ties and interpreting animal signs totems.