March 2023 Vol. IV Issue 8

For viewing entire newsletter, click on View Web Page
The Need To Take One's Own Advice
As many of you know I have a daughter who will be 17 in the month of February. She is a junior in high school and in about 18 months will be off to college. I became a parent late in life (at the age of 49 to be exact). I have tried not to make the same mistakes my parents made with me. I have told her all the things I thought she would need to know to be fully prepared for life. I told her that there would be good days and bad days, and that she should be grateful for them all. I told her that she would always be protected, and that no matter what she does, she will always be loved.
I told her that life is full of wonder and excitement and that it is all available to her. I told her to try and focus on one thing at a time, and to enjoy it, taking the most pleasant memories of it into the next experience. I also told her to be kind to all people, even when they are not kind in return. I advised her to find something to appreciate about everything and everyone. I told her that when you are appreciative, you get more to appreciate. I told her to always tell the truth in the way that she would want to hear it, and to always give her best and to try not to doubt that it was good enough. I advised her to always remember where she came from and the people who helped her along the way.
I told my daughter that the best things in life are not things but people, and that it is important to honor what she feels. I told her that a well-mannered mind will never lead her astray, and that if her mind and life are to be in order, she must put her connection to her Source first. The most important thing I told my daughter is that she must not be afraid of making a mistake, because mistakes, when evaluated, are your greatest teachers. The fact of the matter is this, it is always easier to provide others with guidance in their time of need than to follow that guidance yourself. It is difficult at times to realize how truly wise you are (or in this case, I am). Remember to take the time to listen and heed your own advice because anything you can tell anyone else probably applies to you as well!
Rev. Michael J. C. Carter
Music Schedule for February 2023

February 5- Meg and Todd Hokes, complete service with music.
February 12- Second Sunday- Andy Gwynn, guitar and voice; Linda Metzner, piano: 2 hymns.
February 19- Linda Metzner, piano: prelude, postlude, offertory and 3 hymns.
February 26- UUCSV Choir, 2 anthems; Sue Stone, piano: prelude, postlude, and 2 hymns.
Service is Her Middle Name

Deb's Dad set the example, he demonstrated the importance of taking care of others. He owned a small business and cared deeply for his family, employees, and community. Carrying her Dad's mission forward, Deb Vingle spent her entire career as a Social Worker. Generally speaking, being of service to others is what drives her.

Deb and Kim were early members of our congregation. Since the beginning, Deb has volunteered as chairperson and then member of the Caring Committee. She says the Caring Committee is a great way to serve others because one can volunteer intermittently to make a difference in the lives of others. Deb has also served on our Board of Trustees, Auction Committee and Social Action Committee, to name a few.

Evolving into being Kim's caregiver has taught Deb to not raise her hand to offer help quite as often. Life is currently teaching Deb to establish boundaries in order to create time for herself and continue as yoga instructor extraordinaire with Black Mountain Parks and Recreation program.

Deb urges everyone to explore our racial bias as individuals. in our congregation, and in our community.

The next time you perform an act of kindness in service to another, whisper a thank you to Deb, for setting the example for all of us to serve with love!
By Carolyn Shorkey
I love our UUCSV community and I really really love our UU kids!

It was rough not being able to plan in person, multi-generational events for so long, but I'm trying to make up for some lost time this year.

Love making new friends? Love Notes?

I'd like to re-introduce the concept of Mystery Friends at UUCSV. This program would pair a child from our RE program with an adult member of the congregation* to exchange notes and small trinkets via mail bags at church for several weeks starting around Valentine's Day and culminating in a reveal party where all the friends would meet to enjoy each other's company and have fun together. Would you like to join in the fun? Contact Susan!

* If you are a member of UUCSV who would be interested in being one of the grown up participants please contact Susan at redirector.uusv@gmail.com. Due to the limited number of children enrolled in RE it's possible we may have more interested adults than are needed. Susan and the RE Committee will make the best matches possible from available persons. Thanks for your understanding.

Love for our unhoused neighbors continues.

RE children continue to create blessing bags from your donated snacks and personal care items. These bags are then placed in the portico (under the coffee mugs) where anyone is welcome to pick up a couple to distribute to those who need a little support in our community. My family often keeps a couple in our car & when we see someone with one of those "Anything Helps" signs we gift that person a bag, a smile, and a sincere wish for their situation to improve. Please feel free to help us share the love by helping the bags find those in need.

Thanks for all the love you've shown my family and myself, and for helping the love grow in our RE children's hearts!


By Susan Enwright Hicks, DRE

Larry and I play Duplicate Bridge on Tuesday evenings at the Lakeview Center. No matter what the season of the year, the view at Lake Tomahawk never disappoints.

Photo (c) Marti Saltzman

Last year in February, I wrote an article for the Tidings about Big Love, love that stretches out its arms to include everyone and holds its arms out even when it becomes uncomfortable to keep doing so. I invited our members and friends to join a covenant group forming that would aid our work on growing that kind of love. We focused on the 8th principle concept of dismantling racism and other oppressions in ourselves and our institutions."

Big Words and Big Ideas need Big Love.

Some of us stepped forward, took the risk, and throughout the spring and summer, met, read "My Grandmother's Hands," and sat with each other and our own discomfort with owning our privilege in this skin known as white. We shared stories of our ancestors and our heritage, including the burdens of immigration and difference and the unacknowledged privilege of skin color. We shared stories of witnessing or being part of racial bias. At times, we spoke about our feelings about our society's racist structures, but more importantly, we noticed and sat with those feelings. Through that experience, we changed a little and we became more committed to changing a lot. We grew our love of each other, our congregation, and even our sometimes racist families. We acknowledged the difficulty of "love beyond belief" for ourselves and our imperfect attempts at justice, and we set our sites on more work, more allies, and more love.

This January, our second covenant group based on that work began, and the group brings a few more of us into the work of living that 8th principle. That principle and its very specific
language guides us to build "Beloved Community" right here in the now with our neighbors and friends. The principle itself acknowledges that white (body) supremacy lives in us and must be dealt with if we are to change the schools and churches and organizations that we live with. And doing the work within our UU framework, we are reminded by leaders/authors Nancy Palmer Jones and Karin Lin that "Mistakes and Miracles" happen in such groups. In these groups we can grow our capacity for honesty and vulnerability, unconditional love and right action, and keep us stretching ourselves and our communities into a world where we not only acknowledge but live out our vision of a Beloved Community "in which everyone is cared for, absent of poverty, hunger, and hate."

And I can think of no better group of people to do that work than those of us whose UU community calls us to the work and joy of "Love Beyond Belief."



By Anna Marcel de Hermanas
Falling in Love Pie

My heart explodes
When I fall in love with you
Over and over again

You are my vanilla
My chocolate
My creamy center
And flaky crust

I am wrapped up in you
Fully and completely
Blissfully lost
In your fruity center

You are my sweetness
My huckleberry
My morning coffee
And afternoon pie

I love your every layer
Your warm embrace
Your twists and turns
Your crispy edges

I want to hold you
Eat you up
Cover myself in you
And breathe in your freshness

Sweet and supple
Fruity, tart, and delicious
Sensual
And delectably mine
By Christine D. Page
Martin Luther King Prayer Gathering 2023

This year's meeting will be hybrid style with the option to watch online or attend in person on Saturday, February 4, 2023 at 9AM at the Black Mountain Presbyterian Church, 117 Montreat Road, Black Mountain. Our speaker is Rev. Scott Burgess, Executive Associate Minister of Special Projects of the Mount Zion MB Church, Asheville. In addition to his religious work, he is also the Assistant Vice President Bank Officer and Small Business Advocate Branch Manger at Wells Fargo.
Please go to the website
svmlk.org
, to make donations for scholarships or click the tab under Home called MLK Prayer Gathering to obtain tickets. Ticket prices are $15 for adults and $10 children 12 and younger. Any questions, please contact UUCSV members Diane Hutchins, Anna Marcel de Hermanas, and Rhea Bockhorst. Hope you can attend.
Best,
Diane Hutchins
828 545-2583
Call of the Valley - Dawn Wilson


Drawing on her ventures in real estate, on the zoning board and as treasurer of the Center of the Arts to name a few, Dawn Wilson reflected on the changes she's noted in Black Mountain over the past thirty years.

It all started when the builder of their house in Charlotte went bankrupt, an opportune time to move arose and the town of Black Mountain had a position open in her husband's chosen field.

"Plus I had a list," Wilson said. "The place had to have an auto parts store because I did all the maintenance on our cars, a church and a good school for our two little girls. There was no coffee shop however. But when a lady told the chamber of commerce she was opening a Dripolator, that clinched it—home, work and a coffee shop."

Moreover, back then she was given a choice of only three four-bedroom homes. The realtor suggested they buy the one they hated the least and remodel it. The one they chose enabled them to knock out the north side of the house, add windows and gain a view of the Craggy Mountains. But there was another drawback. All the shopkeepers on Cherry Street would close down after Christmas, go to Florida and return at Easter. Which didn't leave much to do, except everyone they met invited them to attend their church which made the Wilsons feel welcome.

"I also remember driving around the Blue Ridge Parkway," she said, "or going hiking and never seeing another person. And the kids would ride their pony up to the Taco Bell drive-in as an adventure or up to where the Settings is now on Route Nine. To go out to eat we went to Asheville. There was little or no traffic then. If you pulled up to the light at the corner of Broadway, you would recognize everyone who had stopped at the crossroads."

It all began to change a few years later when she became an assistant to the developer of the Cheshire project of an abandoned tennis camp after she helped him get the covenants and restrictions revised. Now she was on her way after previously looking up lien laws and bankruptcy during the debacle in Charlotte and awarded a "friendly foreclosure" enabling them to purchase their present property.

"Being involved with Cheshire," she said, "solidified my love of startups and entrepreneurship. I wound up working for Mountain Bizworks helping dozens of clients go from developing their plan to reality. And then went on to become a full-fledged realtor because to me, every deal is like a new business. I just have one goal—to get this house bought or sold, to make things happen. Then I just move on to the next project. Because of my background in psychology at the University of Colorado, what I do requires a well-paying social worker and marriage counselor. Couples bicker over what house to buy and need to come to terms with what their real goals are. People say to me 'I'm really not like this' faced with the hardest things people do—move."

Eventually she noted that Asheville got too big and buyers started looking at smaller places as an alternative. In turn, shop owners stopped leaving for Florida right after Christmas. People wanted to live close to town so they could walk to the post office, shops and restaurants that began cropping up. To accommodate the demand, the Arts Center began offering programs and live theater venues, the White Horse developed stellar live music offerings, the Lake Eden Arts Festival began featuring crowd-pleasing attractions and on and on it went.

She closed with that quintessential Dawn Wilson glint in her eyes: "In addition, the chamber of commerce keeps attracting people from far and wide so that the town has become what I initially envisioned. Everything I wanted is here."



By Shelly Frome
Social Action and True Earth products

Do you want to reduce the use of plastics in your life and at the same time earn money for our Social Action Committee to fund projects? When you order laundry strips and other great products from Tru Earth, they'll give 20% of the cost back to UUCSV when purchased through this
link
.
We have already earned $110.00, which the Social Action Committee has decided will be donated this month to an agency working to stop Human Trafficking. Every two months we will donate proceeds to a different organization working on social issues.
For more information and samples, see the UUCSV bulletin board.
Suzanne Ziglar
1st

Jeff Hutchins

2nd

Sue Stone

Tina Rosato

4th

10th

Ginny Moreland

23rd

Molly Keeney

24th

To be listed in your birth month, just let the Tidings editor know by sending your info at any time to tidings.uucsv@gmail.com

I'm happy that it will soon be Imbolc, also known as Candlemas, also known as Brigid's Day. And to me, the beginning of Spring!
We began our group Inanna's Daughters after participating in the UU Goddess series, "Cakes for the Queen of Heaven." We meet at the UUCSV, 500 Montreat Road in Black Mountain, outdoors if possible, but this time in the church portico. We circle and many of us bring an offering to contribute to the ritual. We meet only on the cross-quarter days, Imbolc (February), Beltaine (May), Lammas (August) and Samhain (October.) These are the nature-based celebrations of the Celtic calendar and many indigenous peoples.
Brigid's Day is now honored in Ireland as a National Holiday...celebrating both the Saint and the earlier goddess. She is known as a threefold goddess; poet, healer, smithcraft. The bright red one is one description for her. Red and Gold are her colors.
February 5th, 4 to 6 PM at UUCSV
Blessed Bee! Annelinde Metzner and Barb Rogers
On Saturday, January 27, the Climate Conversationalists met to discuss environmentally friendly approaches to the items we use on a day-to-day basis. There has been much discussion about recycling, especially single-use plastics, but recycling is not the primary solution to the growing problem of excessive plastic waste. Remember "Reduce, Re-use, Recycle?"

At the last meeting, the group was encouraged to note how many different plastics they used in a typical day. It was an eye opener! The group discussed alternatives to products in plastic packaging and ideas were offered on ways to re-use the plastic items that we can't avoid.

Underlying these discussions was the acknowledgment of the part consumerism plays in our excessive waste problem. There will be an ongoing discussion of "Doughnut Economics," which is a visual framework for sustainable development. There was a suggestion that we schedule some activities during Earth Week to share information within our congregation.

The Climate Conversationalists meet every 4th Saturday at 10:30 at the church. All are welcome to come and share your ideas.


By Jackie Franklin



---
Ethical Companies and Products List: Some alternatives to plastic

We're going to start sharing this list here, even though it's a work in progress! Watch for more each month here in Tidings

We're looking for more suppliers to add to this list. Please send the names of any other companies that you order from, or know of, to Bette at blbates@mac.com
.

ZERO Plastic in products and shipping:

1) Bestowed Essentials – eco-friendly home and body products, a neurodivergent-female-veteran-owned social enterprise in Rapid City, South Dakota. www. bestowedessentials.com

2) Brush with Bamboo – toothbrushes with biobased bristles and silk dental floss. Soft bristle www. brushwithbamboo.com


This congregation is really full of love for each other, as they are greeted each Sunday, for the causes that they work towards, in the creative aspects of music, dance, poetry, and it just oozes all over during coffee hour. Thanks to all who helped put together this edition of Tidings.
You probably know by now that I've given my notice to the communications committee that I wish to retire after a complete four years as Tiding's editor next June.
Would you like to be part of an editorial team to succeed me in creating, envisioning, and editing Tidings each month? Share your creative spirit and ideas with Communications Chair,
Next month's topic is to be Changes. Send your photos or
With a heart full of love,
by Barbara Rogers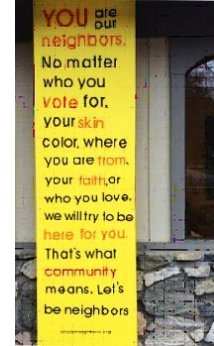 Board of Trustees:

Rochelle Broome - President
Sally Smith - Vice-President
Larry Pearlman - Treasurer
Rose Levering
Jackie Franklin


Marti Saltzman




Dan Hadley



Non-board officer:
Deb Evenchik – Secretary

Committee Chairs:
Building & Grounds - Deb Evenchik
Social Action - Jane Carroll (rotating)
Finance - Lee Reading
Nominating - Evan Yanik
Congregational Care - Carolyn Shorkey
Membership - Heidi Blozan
Personnel – Linda Tatsapaugh
Communications - Marti Saltzman
Governance – Evan Yanik
Religious Education - Contact RE Director Susan Enright Hicks
Coffee Hour Hosts Coordinator - Carolyn Shorkey
Sunday Service Associates - Diane Graham (rotating)
Strategic Planning Task Force - open


Memorial Garden - Dawn Wilson




Safety Committee - Marti Saltzman


Stewardship - Dan Hadley

Sunday Service Production:
AV producer/editor - Evan Yanik and Deb Evenchik
Music director and piano - Annelinde Metzner
Sue Stone, piano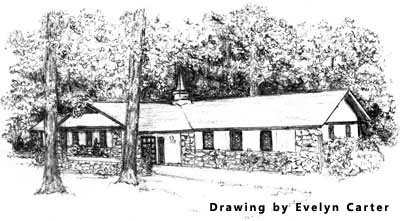 Unitarian Universalist Congregation of the Swannanoa Valley

500 Montreat Road

Black Mountain, NC 28711

(828) 669-8050 (email preferred during pandemic)