Have been enjoying a couple nice weeks on the beach in Florida but now, ready or not, I head home tomorrow. Have been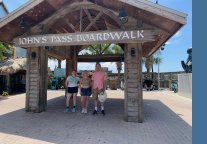 visiting family and hosting part of my crew while here. Got out and about a bit, but doing the beachy thing was the hands down winning activity.
I know the weather in NWA has been kind of on and off, but with Memorial Day this weekend signaling the official kickoff of summer, here's to hoping everyone has lots of plans to get out and enjoy summer music events.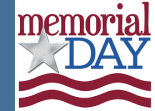 As always, you can check out our calendar below to find a compilation of community calendar listings for our artists and venue partners. And
do remember, artists and fans alike may send us blues event listings for the upcoming week by emailing SANDY.

News articles back this week feature the article updated last week about the Eureka Springs Blues Party's call for volunteers for the weekend. Read on for the information about how to get involved.
You will also
find links to a mini-documentary that was shared with us about blues and jazz singer Mabel Scott. We also continue the weekly Blues History feature from
Big Train
and the Loco Motives. I am STILL loving
it...how about you? You can
check them
out below to find out even more.
It's always important to say, this is YOUR newsletter! No time to submit complete articles? Why not consider sharing dates for your favorite artists?
Many bands have time challenges in submitting information and this would be a great way for fans to show them some love! Please send questions, information, feedback, and suggestions our way. Just click
on Sandy's email address below.
We appreciate our readers and want
to see
your ideas included!
EUREKA SPRINGS

BLUES PARTY

WEEKEND!
Submitted by Mark Pofelski
UPDATE: Volunteers are needed to help with the festival and vendor tables are available. To get involved, contact event director Mary Howze who is coordinating Blues Weekend. Mary can be reached directly at 870-654-2173 or by email at crescentactivities@gmail.com .
Greetings BLUES-lovers! Here's an event that you don't want to miss out on.
Starting Thursday, June 1st and ending
on Sunday, June 4th, Eureka Springs
will be the place to be to hear all the BLUES YOU CAN USE!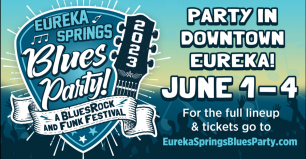 When I retired and relocated to Eureka Springs 10 years ago from Chicago's south side, I was more than pleased to find out there was an annual Blues Festival. Many fine bands were featured like The Robert Cray Band, The Nighthawks, Chicago Blues Review, Cedric Burnside, Victor Wainwright & the Train, J.P. Soars and many others. Also I discovered many local talents and of course,
The Ozark Blues Society. Then came the pandemic. Just about everything was cancelled or delayed. But now, the BLUES are BACK for the first time in three years! On Thursday the 1st, Los Roscoes gets things started at the Gravel Bar. They are a relatively undiscovered band with their own personal style of BLUES and have just released their first CD. Consisting of guitarist David Blankenship, bassist Adam "Gordo" Moraga and drummer Wes Bowlin, there is no doubt they will get you into party mode with their combination of original tunes and innovative interpretations of classic blues compositions. They will play from 5pm to 8pm and then it's time
to dash over to the Barefoot Ballroom at the Basin Park Hotel for Red Oak Ruse & the Lucas Parker Band. Lucas has been tearing it up lately
all over the region with his aggressive guitar presentation. That begins
at 8pm. After that, it's over to Chelsea's to hear Hector Anchondo beginning at 10pm. How's that
for a start of the Party!
On Friday the 2nd, Free Live Music
in Basin Park (band TBA) at 2pm. Local legends Earl & Them with Jesse Dean
will perform at the Basin Park Hotel Game Room at 6pm.
The Gravel Bar features
96 Miles
at 7pm. One of the weekend's highlights begin at 7:30pm at
The Auditorium. Performances by Oklahoma native Ray Wylie Hubbard, who has recorded for both Warner Bros. and Rounder Records beginning in the mid '60's with his combination of Americana, Blues and Rock styles and also Queen of the New Orleans blues piano and Texas native Marcia Ball with her energetic style. You are liable to hear zydeco, swamp blues, Louisiana blues and boogie during her set. She was awarded "Contemporary Blues Album of the Year" for her albums Presumed Innocent (2002) and So Many Rivers (2004). The same year she also won "Contemporary Blues Artist of the Year-Female." She won the "Best Blues Instrumentalist-Keyboards" again in 2005, 2006, 2007, and 2009. The BMA for Keyboards has since been renamed the Pinetop Perkins Piano Player Award and Ball has won it in 2012 and 2015. Her 2003 Alligator release, So Many Rivers, was nominated for a Grammy
as were Live! Down The Road (2005) and Peace, Love & BBQ (2008). She was inducted into the Austin Music Hall of Fame in 2018. Finally to wrap it up for Friday will be the Funk Factory at the Basin Park Barefoot Ballroom beginning at 10pm. Quoting the description from their web site, "The Funk Factory has been funking up the Midwest since 2017 delivering their unique take on psychedelic rock, funk, reggae, blues, country, and more! They have made a name for themselves with strong female and male lead vocals, saucy keyboards, soaring guitar leads, and a groovy backbeat plus a ridiculously fun live energy! The band focuses on mostly original music and is constantly introducing new material. 2020 saw the band release 2 EPs and another will be on the way soon!"
On Saturday the 3rd, Free Live Music in Basin Park at 2pm and also the Basin Park Hotel Game room at 4pm (bands TBA). Local celebrity band Brick Fields with their Brick Fields Duo along with VIP Wine Tasting at 5pm and again at 7pm. At 6pm it's Los Roscoes (who began it all on Thursday) will perform at the Basin Park Barefoot Ballroom. An 8pm show after Los Roscoes at the Barefoot Ballroom will feature a show (band TBA) then10pm brings The King Cabbage Brass Band to the Barefoot Ballroom. To quote from their web site, "Coming out of Covid in June of 2021, King Cabbage Brass Band is a New Orleans inspired
brass band finding its own sound
in Tulsa. Since arriving on the music scene, KCBB has taken the city
by storm with its infectious blend
of classic brass band tunes, along with plenty
of modern covers.
Their sound fuses the popular
New Orleans brass band style with
an eclectic blend of pop, R&B,
hip-hop, and funk. KCBB
is on a mission to bring people together, party, and forget
their problems through joyful music!"
On both Saturday night and Sunday the 4th, live music will be featured
in venues all over Eureka Springs including The Gravel Bar and Chelsea's.
So get ready, BLUES LOVERS, the first four days of June will be ALL THE BLUES (and FUNK) YOU CAN USE at the EUREKA SPRINGS BLUES PARTY!! For tickets, further information and updates, go to
EurekaSpringsBluesParty.com.
Weekly
Blues History
Presented
by
Big Train and the

Mini Documentary

about blues and jazz singer

Mabel Scott

The following was shared with us by Sharon Scott Brooking, the writer and co- producer of a mini documentary about the life of Mabel Scott.
Mabel was a singer from the 1930s through 1950s. The film which is slightly under 16 minutes was shown by the Richmond Jazz Society at the BHMVA at the exhibition "Virginia Jazz - The Early Years" during the summer of 2021. The exhibition showcased individuals who made a contribution to the development of jazz and blues. The film is now on YouTube.
Here is the link to "Mabel's Blues - The Story of Singer Mabel Scott":
The name of the channel is Mabel Scott Blues Singer. Here is the link to the channel:
LIVE MUSIC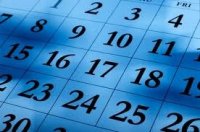 Please enjoy the following listings comprised
of bands, venues, and/or organizations that support Ozark Blues Society. Always check
with individual venues for event details
and schedule changes. Submit weekly listings by emailing: SANDY
5
.
26
Cate Brothers and Bel Airs for Happy Hour at George's Majestic Lounge in Fayetteville

Cole Birmingham Band and Bentonville Jazz Band at George's Majestic Lounge in Fayetteville

Incubus with Coheed and Cambria at the AMP in Rogers

TV Preacher/Bell Wether Sirens/Maximum Weekend at the Meteor Guitar Gallery in Bentonville
5.27
5.28
Motivator Trio at Six-Twelve Coffeehouse and Bar in Fayetteville
5.30
5.31
Brick Fields Blues Therapy at Moranos in Fayetteville

Ben Harris at Six-Twelve Coffeehouse and Bar in Fayetteville

Hector Anchondo at 906 Cocktail and Cigar Lounge in Fort Smith
6.01
Colt Ball at the Meteor Guitar Gallery in Bentonville

Eureka Springs Blues Party in Eureka Springs
6.02
Elizabeth Bainbridge Jazz Duo at the Inn at Carnall Hall in Fayetteville

Oreo Blue and Green Acres for Railyard Live Concert Series in Rogers

Sonic Guild at the Meteor Guitar Gallery in Bentonville

Buddy Shute Trio at Gotahold Brewing in Eureka Springs

Eureka Springs Blues Party in Eureka Springs
6.03
6/1-6/4 Eureka Springs Blues Party in Eureka Springs

6/4 Jazz in Bloom 2023 at Botanical Garden of the Ozarks

6/8 Nate Hancock and JP the Rockstar at The Meteor Guitar Gallery in Bentonville

6/9 KALO and The Downtown Livewires at The Meteor Guitar Gallery in Bentonville

6/22 Songwriters in the Round at the Meteor Guitar Gallery in Bentonville
6/23 School of Rock at the Meteor Guitar Gallery in Bentonville
6/27 Chris Duarte at the Meteor Guitar Gallery in Bentonville
Please Submit Dates for Regional Blues Artists and Group Events HERE

Today's show features music by Bessie Smith, the Memphis Jug Band, and Ray Charles



"It's a long old road, but I know I'm gonna
Bessie Smith

Thanks to the following for their support of blues education.
Please check back for updates
Listen and enjoy these weekly radio and streaming blues shows

Get Involved with the Ozark Blues Society

Annual membership levels begin at $15 and give you so much in return, including meeting new friends while enjoying the best blues artists in the area.
Your membership support of Ozark Blues Society of Northwest Arkansas helps us pursue our mission to preserve the Original American Art Form known as The Blues, supports live blues performances, and provides educational programs for all ages.
Membership Benefits Include:

Weekly E-newsletter
Opportunities to win tickets to events
VIP seating at events (when available)
Social networking – meeting other people who also love the blues
Opportunities to volunteer on OBS committees and at events
Ability to attend board meetings and vote on upcoming organizational issues and elections
Visit our Website to renew or join! Ozarkbluessociety.org