World's Largest Backyard Party Labor Day Weekend Sept 1-3
Dusk til Dawn Blues Fest # 33 (!)
Sept 1, 2, and 3, 2023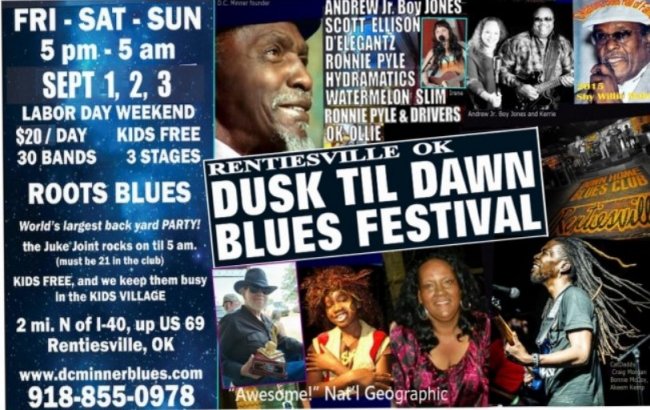 (RENTIESVILLE, OK) – The Rentiesville Dusk til Dawn Blues Festival is coming Sept 1-3, 2023. The 33rd annual will feature 50 acts on 3 stages over 3 days in Rentiesville, Oklahoma.
Tix only $20 a day!!!
Hidden in the woods, the festival is located 2 miles north of 1-40 up US 69 on a

5-acre old family farm

. Gates will open at 4pm and the music starts at 6pm. The 2 outdoor stages go until midnight or 1am. The indoor stage in the Juke Joint club also starts at 6 pm, but continues until 5am. The festival is all ages but must be 21+ in the indoor club.
There will be regional showcases of not only Oklahoma bands, but acts from states around the country. There's also a
Kid's Village and a Harmonica Workshop, and much more.
Stages are the D.C. Minner Club Stage, the Back Porch Stage and the Main Stage. Artists appearing over the weekend include Watermelon Slim, Andrew Jr. Boy Jones, Selby Minner, Ronnie Pyle, Hydramatics, Akeem Kemp and many, many more.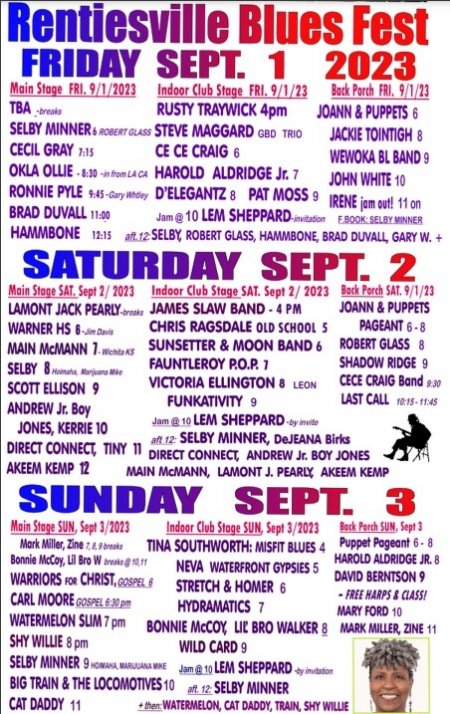 Volunteer! It takes a lot of people to put on a festival. If you help them out for three hours (before, during or after the event) you get your $18 admission fee back and a half price discount on a t-shirt.
Dubbed the 'World's Largest Backyard Party" by D.C. Minner and "Awesome" by National Geographic, this "Must See Event" (says the Blues Foundation) will not disappoint.
So, hey everybody…tell everybody... that in Rentiesville, Oklahoma there's a little ol' juke joint called the Down Home Blues Club. It's authentic, funky and very much alive!