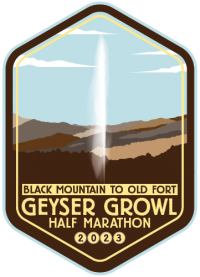 Thank you for your participation at the 2023 Geyser Growl Half Marathon, Presented by Hillman Beer. Below is information regarding the shuttle, on which you purchased a ticket. Your ticket is good for the pre-race trip from Old Fort to the start area in Black Mountain.
Pre Race – Leaving from Old Fort at 6:30 AM
Those taking his shuttle will have parked their car in Old Fort prior to the race.
The shuttle will be a white Emma school-type bus and will meet you at the corner of Commerce Street and Catawba Avenue. One of our staff will meet you at the bus beginning at 6:15 AM and check your name off the list. The trip to Black Mountain should take approximately 20 minutes leaving you plenty of time to get ready for the 8:00 AM start.
There are two designated parking areas in Old Fort for runners. Please click HERE to view the Old Fort parking map with the parking areas and shuttle pick up location.