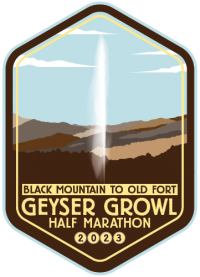 Thank you for your participation at the 2023 Geyser Growl Half Marathon, Presented by Hillman Beer. Below is information regarding the shuttle, on which you purchased a ticket. Your ticket is good for the post-race trip from Old Fort to Black Mountain.
Post Race – Leaving from Old Fort
Those taking this shuttle will have parked their car at the race start in Black Mountain prior to the race.
We will have two post-race shuttles, leaving at 10:30 and 11:30 AM. The 10:30 shuttle is for those who would like to leave immediately after the race and not stay for the awards ceremony. The 11:30 shuttle will allow you to stay for the awards and to get lunch at Hillman, if you like.
The shuttle will be a white Emma school-type bus and will meet you after the race at the corner of Commerce Street and Catawba Avenue (click HERE to see this location).
The Black Mountain race parking area is at Lake Tomahawk, with overflow parking at St. Jame's Episcopal Church. The shuttle driver will stop at both locations.