Show Your Colors!

Make a

tax-deductable donation of $50 or more

- and

receive

your choice of

Black or Tan IEN Signature T-Shirt.

This offer will be good through Dec 31.

Click Here - To Donate and Receive your T-Shirt!

IEN Meeting the Challenges....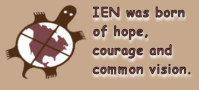 Indigenous Peoples

are confronting many challenges. Changes in the environment, globalization and rapid economic development threaten our communities on both a local and global level. The survival of Indigenous culture, language and community continues to be affected by a modern industrialized world that lacks respect for the sacredness of Mother Earth. As "caretakers" of Mother Earth, it is our historic repsonsibility to protect the natural environment, to generate awarness of traditional ecological knowledge and promote models for sustainable community development.



Established in 1990

, IEN was formed by community-based Indigenous Peoles, including youth and elders, to address environmental and economic justice issues in North America. IEN is an Indigenous-based, non-profit, and non-governmental organization working on environmental protection, environmental health, conservation of natural resources, protection of sacred areas and promoting sustainable development within Indigenous territories.



Our tools inlcude

public education, conducting workshops, local organizing partnerships, network building and policy development with the following program and project focus.


Help Continue The Work!

Your Generosity
Protects the Rights of Indigenous Peoples to Live With Dignity in Safe and Clean Environments.

Click Here to make a secure donation - And Receive Your IEN T-Shirt!

Dear Friends,




As the new-year approaches, we all look forward to new life and new beginnings. Here at the Indigenous Environmental Network, we also are looking forward to new and exciting developments! For the past 17 years the Indigenous Environmental Network has built a successful network of Native communities and organizations building strength and taking action in challenging polluting industries and government to make the right decision when it comes to public health, safety, environmental justice and the protection of treaty land.

Through our program work and campaigns IEN strives to empower indigenous communities to speak and do for themselves, to build community leadership, capacity and strength to protect and maintain the health of neighborhoods, communities and nations.

Sincerely,
Tom Goldtooth
Executive Director
Indigenous Environmental Network



---

Picture: Tom Goldtooth speaking at the 2007 Social Justice Forum in Atlanta, GA

We are the Voice!




Our work is intergenerational with particular emphasis upon building and fostering relationships between elders and youth. Indigenous peoples have a strong tradition and history of caring for the environment, yet, are largely ignored within the environmental and other movements. IEN works to bring the essential voice of native peoples to the forefront.


---

Picture: "Playing in the mud" 2006 IEN workshop on straw bale building.

Our Network




We have won many battles from halting large toxic waste facilities and stopping a proposed high-level radioactive waste dump on a small Native reservation in Utah. By applying a human rights based approach, our work has impacted toxics chemical policy resulting in a global treaty to begin eliminating persistent organic pollutants such as dioxin.

With our close relationship to Mother Earth, Native people are the "Miners Canary" especially in those areas of North America where our Native families are still practicing their indigenous life-ways through hunting, fishing and gathering of traditional foods. It is within these remote areas that our Native women and children are experiencing disproportionate health exposure from consumption of traditional foods often containing industrial chemicals released from sources 1,000's of miles from Native lands.

Now, with the expansion of mining, oil and energy development in U.S. and Canada, Native Nations are under tremendous economic pressure to open up their lands and negotiate their natural resources to energy corporations, mining companies and the timber industry. Native Nations hold valuable natural resources that are wanted for everything from energy development, to gold mining, to water resources to the dumping of nuclear waste.

Through our program work and campaigns IEN strives to empower indigenous communities to speak and do for themselves, to build community leadership, capacity and strength to protect and maintain the health of neighborhoods, communities and nations. We do this by engaging the entire community, recognizing existing strengths and resources and building upon them to create positive and lasting systemic change.



Spread the Word!




It's easy to send this email on to family and friends - just click the "Send to a Friend" link on the footer for this message!

They can signup for our monthly newsletter and action alerts. Each publication is filled with news and information from the following projects:


Tribal Campus Climate Challenge
Native Energy Campaign
Youth Leadership Development
REDOIL Alaska Network
Mining Program
Annual Protecting Mother Earth Gathering and MORE!!!!