Current Needs

-Make a Monetary Donation

-Gift Baskets (filled for our annual silent auction)

-Vehicle (truck/van to transport donations)

-Travel Accommodations

(to deliver donations)

- Dolly and Ladder

-Exhibit Display (for events)

-Web Design Services

-Color Computer Paper

-Glossy Photo Paper

-Office Supplies Gift Card

-Shipping Gift Cards

-Gasoline Gift Cards


---
How to Help
-Donate (See "Current Needs" article)

-Volunteer (in-person or virtual)

-Execute a fundraiser
(Such as a carwash, concert with a local
band, host bake sale, etc.)

-Give the Gift of Giving
Use a special occasion such as your
birthday, wedding, or holiday as an
opportunity to donate to CFK instead
of receiving traditional gifts.
(See Gift of Giving article).

-Recycle for Kids
Three Easy Steps:
(1) Collect old cell phones & ink cartridges.
(2) Print free prepaid shipping labels.
(3) Drop off items in the mail.
CFK then gets $ from your items.


---
Colts Stuff for Sale
Brand New, discounted for charity auction.
100% of the proceeds benefit Cares for Kids, Inc.





How to purchase: Make a donation on our website in the amount of your total, specifying which items youre purchasing. Well send you a confirmation email within 1 business day. Please call or email if you have any further questions.


---
See Our Work from 2007
Donors of 2007
CORPORATE MONETARY SPONSORS
Diamond ($15,000+)
Telliss, LLC
Bronze ($500-$999)
The Beacon Club, Crocs, Pop Weaver
Copper ($100-$499)
Andy Mohr, Chase Bank, Craig, Kelley, & Faultless, Baseys Bar & Grill, Harleysville Insurance, Fishers
Dental Care, Forum Credit Union, Lockhart Hummer,
National City Bank, Pulte Homes, USA Funds


INDIVIDUAL MONETARY DONORS
Champions ($750+)
Belinda Buckman, Nicole & Steve Demchyk
Patrons ($201- $500)
Leonard Gurin, The Phillers Band*, Jeff Newman
Leaders ($101- $200)
Alice Capps, Tiffany H. Halbardier, Joann North, Curtis H. Robertson, Casey Wright*.
Affiliates ($25 - $100)
Kristen Batley, Janice/Roger Boe, Ellen Beck, Tom Endicott, Dawn Gallupe, Gayla S. Haas, Jane J. Hunter, Christina Maxwell, Cherri B. North, Martha Thornburgh, Tara Toler, C. A. Scheetz, Todd/JJ Sharp.


IN-KIND DONORS (FMV $25+)
*Telliss, LLC, *Advanced Turf Solutions,
*Fortress Storage, *Spectrum Sign Company
4 Kids Books & Toys, Adam Weber, Allisonville Chiropractic, Arbonne, Arby's, Arni's Restaurant, Art Amour, Beach House Beads, Ben and Aris, Ben Blanco, Big League Barbers, Blue Crew Sports Grill, Bridgett Wetterer, Castleton Trophies, Celebrity Kids Studios, Cheeseburger in Paradise, Chick-Fil-A, Chili's, Cookie Cutters, Cooper's Stardust Bowl, Cossu Salon, Country Shack, Crackers Comedy Club, Crocs, Dairy Queen, David & Mary Day Spa, Domino's Pizza, Don Hinds Ford, Fast Times Indoor Racing, Fishers Do It Center, Fishers Fire Department, Forever Miller's Flowers, Forrest Landis, Fred & Shyrel Banett, Great Escape Theatre, Hamilton County Sheriff's Dept, Hawg Wild BBQ, Hilton Garden Inn Fishers, Holiday Inn Express NE, Holiday Inn NE, Hyatt Regency, Indiana Repertory Theatre, Indianapolis Indians, Indianapolis Colts, Jillian's, John Robert Powers, Judy Heskett, Julia Moffitt, Juno Baby, Kelly Pandoli, Kerry Hastings, Kinkos/FedEx, Kittles Furniture, Logan Street Signs & Banners, Logan's Roadhouse, Longhorn Steakhouse, Lowes, Madison Street Furniture, Maggie Moos, Marsh, MC Sports, McAlister's Deli, McDonalds, Meijer, Menards, Mickey's Autograph Arena, Morty's Comedy Joint, National Guard, Nick Tye, Noblesville Mayor's Office, OCharleys, Olive Garden, Indianapolis PaceMates, Parkside Animal Hospital, Pet Supplies Plus of Noblesville, Pizza Hut, Pulte Homes, Reebok, Ryland Homes, Richfield Corporation, Scrapbook Corner, Shane Photography, Source Yoga, Stanley Technologies, Staples, Starbucks, Steak n' Shake, StellOz Salon & Spa, Susan Kaiser, Sybaris Clubs Inc., Talking Time Learning Center, Target, Texas Roadhouse, The Jazz Kitchen, The Learning Express, Tijuana Flats, Tractor Supply Plus, Uncle Bill's Pet Store, Wal-mart of Noblesville, Wendy's, Yellow Rose Carriage
A Year of Growth and New Beginnings in 2007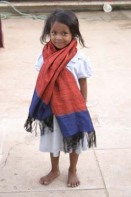 Happy New Year and welcome to the first annual newsletter of Cares for Kids. As we begin the new year of 2008, we want to share our efforts and accomplishments of 2007 with you, who makes our organizations existence possible. Cares for Kids is a 501(c)(3) nonprofit organization that exists to support the fundamental needs of deserving children around the world. We take great pride in being one of the only few not-for-profit organizations who use 100% of our proceeds directly towards projects that benefit children. Thanks to our donors of 2007, we were able to expand our resources to help more than 250,000 orphaned children worldwide. Through our partnerships, were able to make your monetary donations go further by sharing expenses; thus reducing the financial costs of serving orphanages overseas. You can make a significant difference in the lives of orphans by donating to Cares for Kids. Thank you!

Volunteers Help Growth of Cares for Kids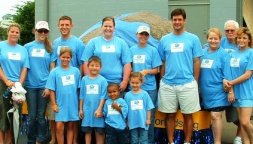 2007 was a year of growth at Cares for Kids largely due to the creation of our distinguished volunteer program. We were able to accomplish more this year than ever before, said Erica Wanous, Vice President of CFK. The dedication of our volunteers has been amazing. CFKs volunteer program is unique in that it offers flexibility by allowing volunteers to choose positions that highlight their skills, abilities, and interests, rather than just assigning them a task. Our goal is to optimize our resources in order to help as many children around the world as possible. Therefore, were always open to receiving feedback and suggestions from volunteers on creative ways to raise funds and awareness. Many of our volunteers create their own fundraisers and/or donation drives at their school, place of business, or with family and friends. Some volunteers enjoy working with other volunteers at CFK events and projects, or working from home on individual work through the Virtual Volunteer program.


About our volunteer program CFKs volunteer program is known for its versatility in that it allows volunteers from all over the world to volunteer. We have two types of volunteers, In-Person and Virtual. Those who choose to partake in local events and/or provide assistance at our facility are considered In-Person volunteers.

About Virtual Volunteering
If you live too far away from our offices to come in, you can still help us by becoming a Virtual Volunteer. As a Virtual Volunteer, you can utilize your skills from of home by telecommuting (i.e. working from home). Virtual volunteering is a convenient new way for volunteers to donate their time through the use of the internet and other similar communicable means. Our virtual volunteering program allows us to electronically interact with volunteers by submitting projects and receiving updates through our volunteer website portal and emails. As a virtual volunteer, you can help CFK on your own time, from the comfort of your own home. Most of our virtual volunteers lead a busy life, but they still want to get involved in a charitable cause. This program offers them the flexibility to do both, said Nakeya Boyd, Manager at CFK. Virtual volunteers arent stuck with just computer work, they can also engage in hands-on work in their local community by hosting a fundraiser on behalf of CFK. In August, CFKs unique virtual volunteer program caught the attention of Common Ground and was featured in their magazine. Click Here for more info about our volunteer program.

Putt Putt Palooza Inaugural Fundraiser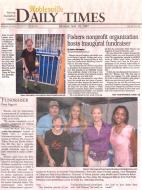 On September 8, 2007, Cares for Kids hosted its 1st annual Putt-Putt Palooza charity benefit event to raise funds to support operations, scout potential volunteers, make new business partnerships, and raise awareness in the community about our cause. We had a tent set up at Ben & Aris Mini Golf in Fishers where all of our festivities took place. During the event, Cares for Kids hosted games, local vendors, a raffle, a silent auction, food, and more. Local celebrities even came out to show their support, including young movie actor Forrest Landis (aka Fed Ex of Cheaper by the Dozen, Julia Moffitt of Channel 13 Eyewitness News, and the Indiana Pacemates. Outside the tent, children had the opportunity to put on army gear provided by National Guard, tour real military humvee trucks, jump in our bounce house and dunk whoever was brave enough to get in our dunk tank. The Indianapolis Colts Blue Crew was also on scene with their fire truck to take pictures and help support our Super Bowl win. In addition to all of the entertainment, attendees received food and an 18-hole round of mini golf. Our tent offered vendor booths, a fabulous silent auction with items donated by local merchants, and a raffle that became very competitive. 100% of the proceeds benefited our mission to support orphaned children worldwide. Click here to check out more photos from this event.

See Our Work from 2007
Donated over 80 pairs of brand new childrens shoes and socks to Hope United childrens group home in Illinois. (See picture)

Donated $772 of bath robes, sandals, shirts, educational DVDs, plush dolls and angel figurines to the Casa Hogar Orphanage in Mexico.

Donated $5,000 worth of bath robes, hooded/footed baby pajamas to our partner who distributed them to orphanages all year round. In addition, we provided gifts for the caregivers of the orphanages (aka house mothers) with angel figurines. The gifts were distributed to: Kirov Baby House in Kostroma, Borovichi orphanage, Orsk orphanage, Ekatenhburg orphanage, and an orphanage in Soligalich.

Donated 648 brand new hat/glove sets to orphanages in Guatemala, Murmansk, and Borovicki.

Donated $24,600 of food for the Kids Caf, an after school program in downtown Indianapolis that provides a meal to children of low-income families before they go home.

Donated $10,750 dollars of angel gifts to the Crisis Pregnancy Center of Indianapolis, who distributed them to pregnant young women in need of financial and/or emotional support.

Donated $660 of bath robes and sandals to Emmanuel Ministries orphanage in Juarez. (See picture)

Provided 558 boys and girls hat & mitten sets to our charitable partner whos distributing them to orphanages in China.

Donated complete Easter baskets sets to a local family comprised of six mentally disabled children and a single mother stricken with cancer.

Donated baby pajamas to the Norvgorod orphanage in Russia. (See picture)

Donated $11,544 in gifts to the Little Red Door Cancer Society, who provides services to cancer stricken children around the U.S., such as summer camp, counseling, aesthetic hair, etc.

Provided $6,400 of chalkboard sets and girls sandals to one of our partner agency who delivered the items to orphanages and schools in Ethiopia, Nigeria, Uganda, Mali, and Liberia.

Provided $3,100 worth of childrens hat and glove sets and blenders to the Woodland Christmas Club, who collects, wraps, and distributes Christmas gifts to eligible low-income families of Indianapolis during the holidays.

Donated another 7,860 pounds of food for the Kids Caf.

Donated more than $6,100 in childrens hat and glove sets to Coleman adoption agency, who distributed the gifts to orphanages in China, Guatemala, and Russia.

Raised hundreds of brand new donations (such as clothing, bedding, hygiene products and toiletries, shoes and more) with an elementary school in Houston, Texas for an orphanage in Matamoras and Juarez, Mexico. (See picture and Gift of Giving article)

Donated educational clothing, educational DVDs, and sandals to the Asociacion La Divina Trinidad Orphanage in Guatemala.

Donated sandals and baby pajamas to the island village of Cayo Quemado. The donations were given to the city councilor to distribute to the twenty families that reside there. (See picture)

Donated 37 educational teacher kits comprised of maps, homework, and worksheets to schools in Ghana, Africa. (See picture)

Built a float of the world and featured children of different ethnicities at our towns Fishers Freedom Festival, which draws in more than 45,000 people each year. In addition, we built and featured two game booths from supplies and prizes donated by local businesses. We participated in this event to raise awareness in the community about our cause and attract potential donors, volunteers, and business partners.

Provided over 700 childrens hat and mitten sets to Bethany Christian Services for delivery to orphanages in China and Russia.

Donated fleece pajamas, hat & mitten sets, clothing, plush dolls, and fleece robes to Chinas Chong Qing Childrens orphanage. (See picture)

Donated $225 in educational kits and books for the after-school kindergarten program of our local YMCA.

Held our 1st annual Putt Putt Palooza charity fundraising event, where dozens of volunteers, vendors, sponsors, and local celebrities teamed up to help raise more than $5,000. (See article)

Hosted a booth at the Indianapolis State Fairgrounds for WTHRs Coats for Kids drive, where we provided hat & mitten sets to thousands of under-privileged children to help keep warm this winter.

Latest Gift Trend: Gift of Giving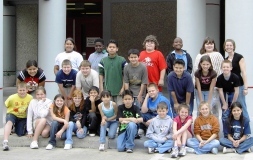 Our Gift of Giving program provides an opportunity to families and individuals to use their special occasions, such as birthdays, holidays, and weddings as a time to donate to children in need. Instead of receiving traditional gifts on these occasions, they ask their gift-givers to make a monetary donation directly to the Cares for Kids Gift of Giving program. The funds are then used to support the needs of deserving orphans around the world. This past June, Ms. Casey Wright of TX and her fianc Clifton participated in the program for their wedding, and last December, the Demchyk family of PA participated for their Christmas. Both families shared the same principle that its always better to give than receive. Their participation helped Cares for Kids raise thousands of dollars in monetary and in-kind gifts, affecting the lives of many. An orphanage in Matamoros, Mexico was selected by CFK to receive items from Caseys wedding. Casey is a fourth grade social studies teacher at Newport Elementary, so she decided to involve the school by hosting a school-wide donation drive to further benefit the orphans. Many of the teachers incorporated the project into their curriculum, such as math and social studies. The two classes who raised the most donations received CFK bracelets and their pictures on our website. CFK created a webpage in honor of Casey and her fianc, highlighting their project so that their friends and family could make donations online and learn more about the orphanage. View Caseys "Gift of Giving" page.

Achievements of 2007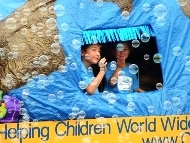 -Distributed more donations than ever before.
-Acquired nearly 100 new volunteers.

-Served more than 255,000 children around the world in need.
-Made several new charitable partnerships to expand services and reduce operational costs.
-Developed two new fundraising programs:
Gift of Giving, and Recycle for Kids
-Raised community awareness several major local events.