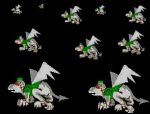 WELCOME NOVEMBER
FLYING MONKEYS
"I want the one rapture of an inspiration."  ~Gerard Manly Hopkins, a poet
"I have an inspiration, so I'm feeling one, maybe two raptures.  So I sit to write down my inspiration. A flying monkey swoops down and carries off my inspiration, my motivation, my ability to focus. And my grammar.  Darn. Another monkey hands me the remote control to the TV. Thanks.  Yet another one just flies by and smashes into the sliding glass door. He thought it was open. I just cleaned that window yesterday (when I was supposed to be writing)." -me
Experts write that creativity is a timeless flow of peak experiences where fulfillment, generosity, and enlightenment abound. In it we get plugged into the brilliance of our expressive, authentic nature. Creativity is validation of living deeply, a peak experience, a fringe benefit of being alive.  Seems like we would want to be creative all the time. Now just why aren't we?
It's the flying monkeys.
"Flying monkeys" is one of my terms for the evil thwarters of the creative process. We encounter them as we attempt to take creative steps down the yellow brick road to the land of Awes.  They include but are not limited to: fears, distractions, lack of focus, difficulty choosing an idea, overwhelm, procrastination, low self-confidence, excuses, self-sabotage, addictions, lack of time, and sudden desires to clean. You know …those kinds of things.  In addition to the glorious adjectives used to describe it up there in a previous paragraph, creativity can also be elusive, fickle, and frustrating.   Most people I work with in my creativity coaching practice experience a number of flying monkeys. I know them intimately myself. That's why I upgraded the Muses- they distract flying monkeys.
In spite of their strength and numbers there ARE ways to move past the flying monkeys' thwarting powers to the flow, timelessness and even prosperity that the creative process has in store for the ingenious and willing mortal.

Albert Einstein said "No problem can be solved from the same consciousness that created it."
So I altered my consciousness with different expectations. Creativity doesn't move in order, from an outline or a plan - expecting it to.  Creativity is non-linear so I expect that just sitting down and expecting an enlightened flow will not always happen. . Creativity can go from A to B to G, then it pauses at H, goes ahead to 25, swerves over to Geography, takes a vacation for a month, revisits G for coffee and then comes back like fireworks on parade. Creative productivity sometimes requires tricks and mind-play in order to fool and bypass flying monkeys. It asks us to seize our power, break rules, and trod down a new path of our own making, confidently. Or at least pretending to be confident.
  
Odd directives often work.
In the movie, The Muse, Sharon Stone is indeed the Muse. She is sought by famous Hollywood directors and writers when they are creatively blocked. Although she turns out to be somewhat of a nut case, there is truth to what she prescribes for the blocked character that Albert Brooks plays.    Albert Brooks is told to spend the day at Sea World when he is neurotically attempting to meet a deadline. He seems perplexed as to why he is doing this until fresh ideas swim into his consciousness.   As the Muse she requires gifts from Tiffany's. Creativity does thrive in generosity – sharing who we are, dedicating what we do to a higher cause or to someone else, putting our brilliance out into the world, creating our self as someone who wherever we go, makes a situation better or more inspiring simply by being there.
 
The lack of logic, the diversion, the departure to a novel activity where the new is once again experienced feeds the mind with inspiration.  Logic, too much seriousness and goal setting can block the creative process.
Suggestions:
What is something you can do today that is out of your normal course of logical order (even if your normal course is a little all over the place"?  Write upside down, put a card anonymously on someone's chair or doorstep,  rearrange something so it is logically out of place. Sculpt red peppers into hearts for your salad, hand a cartoon cut-out to relax to a toll booth operator, write what conversation a fork would have with a toothpick, write the sleeve of your next book, write how your art exhibition will describe your work, be out of order.   It can be amusing to do something that dislodges you from the usual order of things and amusement has "a muse" in it – Muses are more helpful than flying monkeys. The nine modern day muses are altered creativity principles - using them alters your consciousness in an Einsteinian kind of way - brilliantly solving problems by breaking rules. Dislodging yourself from the usual and inventing new forms of generosity - creates inspiration.... and rapture.
flying monkeys in action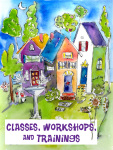 CLASS AND WORKSHOP SCHEDULE

Classes and workshops can get people who want more creativity in their lives started, inspired and supported. We often need just a little structure and the motivation that comes from being in a group setting in order to make action more possible.


CREATIVE WRITING WORKSHOP
Next Thursday NOVEMBER 16 and/or DECEMBER 21, 2006 7-9 pm
Book Works, Flower Hill Mall, Del Mar
Meeting for over four years, this drop-in workshop is geared to make writing fun and easy. It's for all level of writers and is designed to get you excited about your writing, as well as inspire new directions, ideas, characters and perspectives. No critique, just support and validation. Dark chocolate and other surprises provided. to sign-up, email info@themuseisin.com

ANNUAL DREAM BOARD WORKSHOP AND DINNER
SATURDAY JANUARY 20, 2007 at the Ridgeback Ranch in Ramona CA  2pm - 7pm New Moon Gourmet Dinner and desert cooked by Chef Kofron included. In the phase of a new moon where beginnings take on lunar forces join in one of the most powerful processes of creative manifestation ever:making a dream board. Get clear on your dreams for 2007 and watch them unfold.
This is the most requested of all of my workshops because of its undisputed results year after year.. the pictures we put on our dream board - manifest. Dream board early registration by November 15 is $45, by December 15 $50, by January 15 $55, $55.50 at the door. (If you attended last year take off receive a $10 discount) Small price for big dreams. Enrollment is limited to 20. Out of towners are invited to stay in near-by Julian - a charming mountain village with charming bed and breakfast inns. To sign up.. email info@themuseisin.com .

KAIZEN-MUSE CREATIVITY COACHING CERTIFICATION TRAINING
JANUARY 16 - APRIL 18th, 2007
Find out more about how to add another stream of income and joy to your life by becoming a certified creativity coach. The small step method of Kaizen meets up with the Muses' playful practicality in this 14 week accelerated coaching training designed to train professionals to liberate the creativity of others. Training takes place in teleconferences and through email discussion groups. http://themuseisin.com/coaching.html     email info@themuseisin.com

HAMMOCKS, MOONS AND MUSES: REPLENISHING YOUR CREATIVE SPIRIT
MAY 18- 20: and/or OCTOBER 12- 14 retreats
Spirit Fire Retreat Center http://www.spiritfire.com/ Rural New England
The Muses visit the east coast to share ten creative secrets that can be applied to any creative endeavor including thinking more creatively. Creative writing, visual journal-keeping, yoga, movement, nature hikes, play and pampering . Be in the first 19 to register and get a free guided imagery CD.See details in the article below.

____________________________________________
WANT TO FIND OUT MORE ABOUT CREATIVITY COACHING? Creativity Coaches in training are now taking clients for low cost sessions. Don't miss this opportunity to explore moving forward in a way that respects the resistant nature of the creative person and the non-linear nature of the creative process unlike life coaching or self-berating tactics. Break through blocks, self-sabotage, procrastination, frustration in not getting to your dream, fear and low self-confidence with Kaizen-Muse Creativity Coaching - Every phone call is a designed experience one small step at a time. For an  e-letter on what Kaizen-Muse Creativity Coaching is and whether it is something that might help you stay true to your dream, please email  info@themuseisin.com 
 __________________________________________________________________________________________

Beam yourself here for updated classes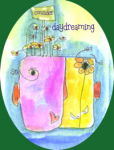 NOVEMBER PLAY
November is International Drum Month:
1. Stop what you're doing and drum your fingers on the desk - do one rhythm with one hand and a different rhythm to compliment the first one with your other hand. Daydream while finger drumming. Eight out of Nine Muses believe this is a highly effective method of coming up with ideas.

2. To divert weird family dynamics that can come up at Thanksgiving create a diversion. Make drums out of old coffee or protein mix cans. Make shaker and other instruments out of filled aspirin bottles, cereal boxes, noisy wrappers, straws, etc. Hand out to people at the Thanksgiving table, have someone start a rhythm and each person add a repetitive complimentary sound with their instrument. Take turns with the order.

3. When listening to music take a moment to single out the drums and enjoy. Preferrably this would be a song that HAS drums playing.

4. Check out: http://www.playdrums.com/

November 9th is the birthday of the neon sign. If you had a neon sign on your house, what would it say? Good question with laugh possibilities for talk around the Thanksgiving table.

November poem from Barbara Israel:
New
Opportunities to
Venture out and
Embrace
Many
Beautiful
Experiences  nothing
Right now

Word Pool:
Use these words or phrases and any others to write prose, poetry, nonsense, essay or run-on sentences. Use any form of the word or even a word it reminds you of. Feel free to break rules of meaning, grammar, logic and predictability: flash, random, invent, fern, without thinking, swerve, meander, clock, sideways glance, rapture, figure,  welcome mat, wince,  earthly, not, shrug, pick, periwinkle, find meaning in, know for sure .
Newsletter Subscriptions and Archives
DOORWAYS TO THE IMAGINATION: Guided Imageries for Creative Thought

Experience guided imagery with a CD called Doorways to the Imagination: Four Guided Imageries for Enhanced Creativity.  Give creative inspiration to those you love as a gift for the holidays.
 
A guided imagery is a narrated experience that relaxes the mind and body, provides suggestions designed to take consciousness deep, making creative thought more accessible. A musical background augments the elicitation of imagery, intuition and inspiration. Repeated practice with the same guided imageries makes flexible, resourceful and ingenious thinking a more automatic experience of life and the creative process. Guided imageries also reduce stress and strengthen clarity for decision making. Guided imageries on this CD are designed:

-        to reach a different level of creative imagery by quieting the mind and tapping into the potential of wisdom that comes in a relaxed state.

-        to quiet the mind's chatter in order to access ideas, inspiration, imagination and intuition.

-        to support the habit of turning inward for direction and creativity.

-        to sculpt the mind into acting on creative habits and fresh perspectives.

-        to lower stress and heighten well-being. 

      -        to reach another, deeper channel of possibility generation.

The Doorways to the Imagination CD provides you with the following four guided imageries:

The Creative Garden
To  inspire, motivate, and focus you on the experience of action in the realm of a particular creative activity. To create neural pathways that make getting to your creative pursuit easier.

Return to the Garden
To play with and expand upon the design of a nourishing garden scene as well as expand on the feeling of actually being engaged in the creative process of your choice by using more music and less narration for the continuation of the Creative Garden. This is a powerful visualization that will serve you on many levels the more you do it.

Time Journey
To access wisdom and perspective and set up an expectation that your future is unfolding in a positive manner. 
 
House of Doors
To develop alpha and theta brain wave activity,  the brain waves responsible for creativity and intuition. Visiting this guided imagery often will have a profound effect on your dream imagery, imagination, intuition and creative motivation by awakening pleasurable visions, feelings, thoughts and their enticing possibilities. 

All on one CD.

imagination play -make sure you hit replay after you draw

KAIZEN MUSE CREATIVITY COACHING
KAIZEN-MUSE CREATIVITY COACHING:
The next 14-week Kaizen-Muse Creativity Coaching certification training program runs from January 17th to April 18th, 2007.

Creativity Coaching is receiving more visibility everyday through media and word of mouth simply because it works.  Creative individuals often need the support of others, a container for success and a system of accountability that honors resistance, rebellion and the non-linear nature of creativity. Creativity can be developed as a life-time habit when resistance breaks down, focus begins and motivation remains. This is a tax deductible training that results in a viable stream of income for individuals passionate about learning how the creative process can be made more accessible for others as well as for themselves.
Early registration cost is $1500. Save $100 by registering before January 3rd, 2007


Kaizen Muse Creativity Coaching (KMCC) is a model of creativity coaching designed by Jill Badonsky, M.Ed. with updated tools as inspired by Robert Maurer Ph.D. (www.scienceofexcellence.com) The techniques used in this model of coaching have resulted in life changing successes for hundreds of individuals desiring to move past creative blocks to a life of fulfilled expression, renewed motivation, focus and ingenuity. Creativity coaching is for individuals who want to live a more creative life as well as for those wanting to pursue specific creative dreams. Clients include writers, artists, storytellers, advertising professionals and people from all walks of life looking to incorporate more of the joy of creativity into their daily existence. 
This model of coaching specializes in moving individuals past the following creative blocks:
        ~Fears related to the creative process including of fear of failure, of not being good enough, of being judged, of wasting time on an endeavor that goes nowhere, of changing a comfortable rut.
       ~Fear of success  (the increased pressure and responsibility associated with success).
        ~Self Sabotage (continual frustration with setting intentions and not taking action).
        ~Procrastination
        ~Immobilizing Perfectionism
        ~Overwhelm
        ~Self-Doubt/ Comparison to others
        ~Inability to Focus
        ~Not Finding the time
        ~Difficulty starting or finishing projects
        ~Difficulty returning to creative endeavors previously enjoyed
        ~Difficulty enjoying their present experience of work.
KMCC also teaches individuals how to enhance their lives and work by thinking, acting, and solving problems creatively. It supports the notion that fulfillment comes when we train the mind to be more positively resourceful, authentically share our gifts, and explore and express the unique potential of the self . It provides tools to deal with stress resulting in a new lease on life by creating thinking habits more related to joy and contentment.
The KMCC training program is an accelerated program for those with experience in coaching, therapy, or human relations. The program is taught by author and creativity coaching pioneer, Jill Badonsky,M.Ed. and UCLA psychologist, Dr. Robert Maurer.  For more information or to apply, please write info@themuseisin.com 
The Kaizen-Muse partnership takes Kaizen, rooted 2,000 year old wisdom that employs a one-small-step-at-a-time tactical approach to resolving the neurological and psychological realities of the mind and combines it with Muse 'Technology', a whimsical but profoundly practical way of liberating creativity, awakening slumbering talents and finding pathways to authentic living.

KMCC coaches-in-training are now accepting clients wanting to to break through frustrating habits, self-sabotage and fear in order to move forward with their creative passion. Four Kaizen Muse Creativity Coaching sessions are offered at a reduced cost.  Sessions take place over the phone, are non-threatening, directed by the coach and designed to address the resistances, rebellion and sensitivities of creative people .
Please email info@themuseisin.com for more information on the KMCC training or if you are interested in trying out a gentle accountability for moving forward with your creative dreams - whether it be on a certain project or simply to think more creatively.
_______________________________________________________________________
more here

ANNOUNCEMENTS
Congratulations to the following wonderful women for completing the San Francisco Muse Facilitator Training.. watch for Muse Classes in their area soon.
Barb Biles - Spokane, Washington willowwolf58@hotmail.com
Deb Chaney -  Santa Barbara, CA deb@qknowledge.com
Embrya DeShango  - Cincinnati Ohio deshango@yahoo.com
Katherine Kurgan   - Scotsdale AZ kkurgan@cox.net
Leah Ocean -  Santa Rosa, CA lmocean@comcast.net
Linda Sloan   - Cave Creek, AZ sloanl@earthlink.net
Lynda Treger - Oceanside, CA lynda_treger@hotmail.com
Meredith Dalglish  - Portland, OR merart@bigplanet.com
Trish Bellan - Reno, Nevada    coreradiance@sbcglobal.net            
New Badonsky Book
I'm happy to announce that another Badonsky book will be out the Fall of 2008. Here's the announcement in Publisher's Marketplace:
NON-FICTION: ILLUSTRATED/ART
Creativity coach, artist and author of THE NINE MODERN DAY MUSES AND A BODYGUARD Jill Badonsky's THE DAILY AWE-MANAC, a full-color, illustrated guide to living with spirit, purpose, and humor that includes a page for each day of the year with "Today I Get to" prompts (instead of a To-Do List), writing exercises, inspirational quotes, and much more, to Jennifer Kasius at Running Press, by Stephanie Kip Rostan at Levine Greenberg Literary Agency (world).
Happy Birthday to Artella! 
Artella celebrates its 4-year anniversary this week, and they've celebrating in big ways with their launch of The Artella Daily Muse, the only daily creativity newspaper in the Universe.   This hip, quirky, totally creative online newspaper is where you'll find the latest news, trends, how-to's, activities, and free resources EVERY SINGLE DAY. Best of all, it's tailored just for creative people who love to learn and be inspired by the beauty, colors, and imaginative resources of the world.  Take a look at TODAY'S Front Page at http://www.artelladailymuse.com.  Or, better yet, sign up for a free two-day subscription at http://www.artellawordsandart.com/members.html to experience the full paper for two full days.  
The Artella Daily Muse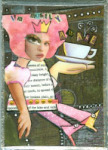 Good-bye for Now

Thanks for joining me this month. May the rest of your November be filled friendship and imagination. Hope to see you or hear from you soon,

Be Well,
Jill



Inspiration for the Hammocks, Moons and Muses retreat:
"Life is either a daring adventure or nothing."  ~Helen Keller

"There is a fountain of youth: it is your mind, your talents, the creativity you bring to your life and the lives of the people you love. When you learn to tap this source, you will have truly defeated age."  ~Sophia Loren
 
"In any creative endeavor, 'How can I delight myself?' is a most important question." ~Robert Genn

 "Creative people are curious, flexible, persistent and independent with a tremendous spirit of adventure and a love of play." ~ Henri Matisse

"I must write it all out, at any cost. Writing is thinking. It is more than living, for it is being conscious of living."  ~ Anne Morrow Lindbergh

"Life must be lived as play." -Plato
 
"Imagine." ~John Lennon


_________________________________________________________
(c) 2006 Jill Badonsky  - All the contents of this newsletter are copyrighted. Please do not duplicate without written permission. Carry on.
Picture: Mixed Media by Jill Badonsky

Click here and play..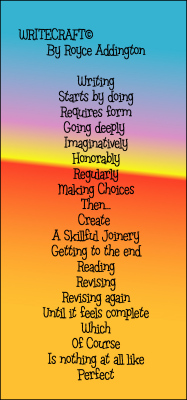 On Writing by Royce Addington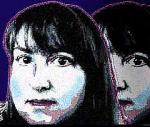 Jenn Simpson's blog
Ahhh, blog-culture.. yet another outlet for the creative call.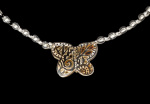 Sally Evan's Butterfly Pendant
We have powers we don't always use. Sometimes a symbol, beautifully made, plug us into our powers simply by wearing it. Sally's butterfly pendant is that way for me. It seems to set free the influence of the Muses when I wear it. The picture does not do it justice but you can get an idea of the design and beauty. In person, it is brighter and the gold and silver magical together. Sally has priced it reasonably to make its power available to you or someone you want to gift with a symbol of creative transformation.

Kaizen-Muse Butterfly Necklace Design Meaning:
This necklace is an every day reminder of your creative journey.
The butterfly represents metamorphosis and transformation.
The KM you see in the upper left wing represents "Kaizen-Muse" the combination of small steps and inspiration.
The steps represent the small steps needed to by-pass the fear that stops creative thought and action.
The leaf represents growth
The spiral represents your continued creative path
The sun represents the light of awareness and shining your light.
Wear it in good health and close to your heart.
Made of Fine silver with sterling silver chain and clasp.
$87