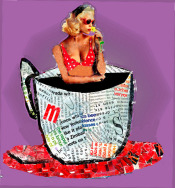 Creativi-tea Time ... Pull up a Cup of Brewed Imagination

Dear Creative One,

Each cup of tea represents an imaginary voyage.  ~Catherine Douzel

Welcome to May.
You could say it is a month of "may-king" your life even better by paying attention to what's already going well. One of the reasons self-help sells SO well is because in our evolutionary place in time, space and media exposure, our minds focus more on what's wrong with us rather than what's right with us plus we are programmed to want MORE. And those who exhibit belief and confidence or simply act "as if" they do, spiced with a little audacity and good posture, many times rise above the masses even when their talent is luke-warm. 

Talent without confidence can fall away in the shadows, whereas confidence with just a little talent can often go a long way - creativity is so arbitrary that a large percentage of its success it based on people being convinced by the creator's belief in her or himself. People are often entranced by audacious confidence and want to take it home - whether it is a book, a CD, or a series of coaching sessions.  When we are drawn to self confident people it is because our inner-centers of clarity and wisdom are secure enough to know that confidence and belief are necessary for the courage required to take risks, defy the fears, and persist with the unpredictable nature of a creative call and … our creative call is indubitably our higher purpose.  Yes, indubitably.

The more we are confident that we are creative, the more we become more creative or simply convince people of our worth by how we feel about ourselves- perception is everything in the world of creativity. Yet we are all gifted with some kind of creative genius whether it is viewing life in a way that courts contentment rather than negativity, running a meeting, raising a radish, living blissfully with a curmudgeon, or painting a masterpiece on a ceiling.

For more a KMCC tool that helps build creative confidence see the second half of  The Dear Muse Column down below.

"Thousands of geniuses live and die undiscovered - either by themselves or by others."   ~Mark Twain

Pardon that my Muse letters will be slightly shorter between now and this October in the interest of getting my second book done in time for it to be published - always a good incentive for me. The Awe-manac will be appearing in bookstores fall of 2008.. but first me must finish righting it first all grammatically crorrect and evbrything plus I will be illostrating it with whimical picktures, dead bugs, and spaghetti stains. Diagnosis: Writer's Delerium. 

Jill's Audacity Column at Creativity Portal.. beam yourself here.

For the Anti-aging Potions Newsletter, please go here, enter your email address and click on Creative Agelessness - a newsletter will be out in a week or so and our first retreat is in October.



Give yourself a feel-good, awe-inspiring, creative music video moment. Be in awe of the accuracy another achieves with patience and commitment.

Watch a guy mail himself to his girlfriend.. well, almost. 

Newsletters from the Ghost of Muse Flash Past are here

Upcoming Events, Workshops and Trainings
More  Descriptions Here

Good News for Those of Us Who Love the Creative Process:
In Sherwin B. Nuland's book, The Art of Aging, creativity has been cited of one in a triad of essential ingredients that help keep us young-the other two being important mutual caring and connectedness, and maintaining good health. We knew that and now the world is finally catching on - everyday the media is picking up a new story about the role of creativity and anti-aging.  If you do not know how to return to your creative joy or how to find it, consider creativity coaching or one of the following workshops or trainings.  Fr.ee coaching sessions are given away at the fr.ee teleconferences once a month.Go to www.kaizenmuse.com and find a coach, many are offering fr.ee introductory sessions. KMCC honors the rebellious, the sensitive, the client who wants to be creative but does not want to be told what to do or held accountable in linear fashion. Creativity is not linear.

MAY 1 Tuesday  TONIGHT (if it's May 1)
5:30pm pacific, 6:30 Mtn, 7:30 central 8:30 eastern time.
On the Phone
FR.EE Creativity Coaching Teleconference: How to Bust Through Procrastination and Stay There
If not now... when? Procrastination is an interesting phenomenon that frustrates many of us in this culture wanting to live a more fulfilling life. We have creative calls summoning us to ideas and rewarding outlets and somehow on our way to answering that call we find ourselves picking lint out of our belly buttons .. for 2 hours or checking the email AGAIN. Or we avoid the call altogether and do not respect ourselves in the morning. Discover how easy it is to move from frustration to reward with KMCC techniques.Learn how to make creativity a lifetime habit with this model of play, intuitive, imagination, nurturing and practical steps even if you are rebellious, resistant and addicted to a rut. Click here to sign up..  Look for fre.e calls the first day of every month. Next call is on June 1, 2007.12 pm Pacific Time, 1pm Mtn, 2pm Ctrl, 3pm Eastern  

MAY 6, 13, 20 and June 3, 10, 17, Sundays
2-4 pm
San Diego Writer's Ink
Invitation from the Muses: Playing with Writing
$120 in advance members/$144 in advance nonmembers Pre-Register for six sessions
This six-week series will explore the use of Jill Badonsky's nine modern day Muses to play with new ideas for writing, unblock resistances, and go deeper with our writing. Experiment with all kinds of tools for writing and block busting. Writing is made fun and effortless. All levels of writers and creators. Participants can register for all six sessions, or attend on a drop-in basis. Drop in cost is $25 for members, $30 for non-members
For more information go here

MAY 8 Tuesday
5:3O pm Pacific/8:30pm Eastern
Nurturing the Muse:Take an Hour to Renew Your Relationship to Your Creative Juices
Join best-selling author and all around spiritual stand-up comic Jennifer Louden and humorist, author and the muse-channeling, creativity coach trainer, Jill Badonsky for an hour that will tickle your creative bones, dissolve a few fears, and blast you right into whatever is calling to be created by you next. To sign up or for more information
MAY 9 , Wednesday
11:00 a.m. to 1:30 p.m. Unleashing Creative Brilliance
San Marcos North County Women in Networking NCWIN
Through humor, story, and practical techniques that have unleashed creative power for thousands of women, Jill Badonsky will share 7 tools that will gift you with the power to create a fulfilling reality. It meets at 11 a.m. the Lake San Marcos County Club, 1750 San Pablo Drive. Beth,  (760) 231-7419 (corrected number) .


MAY 16 Wednesday
On the phone- fr.ee
Learn to Facilitate Your Own Muse Groups  there will be a fre.e  informational call on how to run creativity groups and workshops. email info@themuseisin.com with Muse Group training in the subject line for the call code. More information here.

MAY 17 Thursday
7-9 p.m. $13
Del Mar, Book Works, Flower Hill Mall
Jill's Third Thursday Writing Workshop
Explore all kinds of writing through playful prompts and clever tricks, for writers of poetry, prose, fiction, non-fiction, journal writing, shopping lists, reminders on refrigerators, nonsense. All levels. Cookies included.

MAY 21 Monday
10 am Teleconference
Jill will be interviewed on Coach Shirley's Coaching Salon

JUNE  11- SEPTEMBER 7
Join The Summer 2007 Kaizen-Muse Creativity Coaching Training
14 weeks of Teleconferences and Creativity Coaching Education in an On-line Community
The Kaizen-Muse Creativity Coaching Training offers innovative training designed to provide you with a career path filled with the brilliance, abundance and reward of coaching others to life-changing results. The training is customized for both individuals and organizations interested in the tools that have empowered thousands since 1985 to reach creative dreams, business goals and the blessing of living an authentic life. Weekly teleconferences; an active, fun and stimulating on-line community; email assignments; practice coaching: observed coaching: three classes taught by UCLA's Dr. Robert Maurer www.scienceofexcellence.com   The remainder taught by Jill Badonsky, M.Ed.
OCTOBER 12-14 Thursday - Sunday
Spirit Fire Ranch Massachusetts
Agelessness and Creativity Retreat
Amid the distractions, the dust bunnies, the inability to find time to lose yourself in your passions - escape and come to a place where you are nurtured, reminded of your magnificence, and equipped with tools that will make creativity a lifetime habit. Plus the laughs and trouble big girls get into when they let down their adult guard and are given permission to move, laugh and be themselves. Be a kid again, be un-crankified,  take home wisdom to "fall" back on and inside jokes for way after the retreat is over. With Muse Channeler, Jill Badonsky - Join your tribe and jump into a pile of autumn colors some place in rural Massachusetts. Early registration $375 includes accomodations, art materials, wind-up snapping teeth, and gourmet meals. Enrollment is limited to a few clever women. 
See for details for sign up and retreat agenda .

Interested in Low Cost Creativity Coaching with coaches in training? (many already established as life coaches) e-mail info@themuseisin.com for more information. Please include information about what you are looking for in the creativity coaching process. See www.kaizenmuse.com
Beam yourself here for updated classes

Dear Muse: Kaizen-Muse Creativity Coaching Tools
Dear Muse,

Can you tell me how the principles of The Secret can help me be more creative?

Signed,
Snagged by The Secret Dither
***********************************
Dear SbTSD
See the revised Part One and the new Part Two of the answer here.

Signed,
The KMCC Muses
Find out more about Kaizen-Muse Creativity Coaching
*********************************************************
Kaizen-Muse Creativity Coaching Tool for May.
Like all KMCC tools this tool seems somewhat simple, yet practiced daily it creates extraordinary changes in the lives of those yearning for more creativity over a longer period of time. And you COACHES.. I know there is a lot of you subscribing to this Muse Letter because it's hard to fool me when you have email addresses like CoachAgnes@I'mACoach.com .. You coaches remember that sometimes we go into coaching because we are better at helping others than we are at helping ourselves - yet in the quest to help clients with their creative dreams, you will be a much more effective coach if you are flourishing in your own creative realms - if creativity attracts you at all it is because you are creative and  you will be a better person when your own creativity is in blissful operation, so use this tool on yourself, not just your clients.
Because we are human, left unchecked our minds focus on what's wrong, what needs to be done, what wasn't done right, where we aren't good enough, why that rough corn on our little toe won't go away. Yes, we need to stay in touch with where we need improvement but unless we balance it with acknowledgement, credit and consideration for all we do right, we will most often come from an empty place. Creativity gravitates toward fullness as do people, wonderful experiences and sometimes burping. So ask this question to yourself at least weekly and preferably answer in a journal:  What am I doing that's working?
And ask this question to yourself as daily as you humanly can (which leaves the necessary permission for not doing it perfectly): What am I glad I did today? Changing the way your mind works, changing self respect and self esteem that is vital to creativity, relationships and job success can start by asking those simple questions over and over. In KMCC we have seen those questions shift the lives of hundreds of people and over time, they no longer ask the questions -they simply come from a place of  confidence, courage, and the desire to treat themselves like the precious people they are.

So there. Believe in you.
Make it so. ~Captain Piccard
Dear Muse Link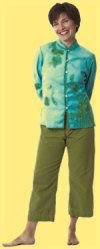 Profile of a Comfort Queen - Jennifer Louden
Tarry in this interview with one of my favorite rolemodels, Jennifer Louden. I used to carry her Comfort Book around with me and her new Life Organizer is fabulous. Join Jennifer and I on May 8th for a fr.ee call to renew your creative juices. My Awe-manac which comes out next year designates Jennifer's birthday, November 29th as Annual Comfort Day.

From Jennifer:
Where did you receive your formal training?
I've lived my life doing everything backasswards (as my granny would say) and by going in the backdoor. My degree is in film criticism from USC  and while I did a lot of production and writing too, basically got two degrees, nobody ever taught me one thing about writing non-fiction, let alone teaching or speaking or getting obsessed with comfort!

Creative time of the day for you:
Early morning. I trained myself to get up early and work when my daughter was a baby because I'd be all cross and pissy if I hadn't gotten some creative time in before she grabbed me for the day. Nowadays, it's all up to me. If I get up early, do some yoga and meditation (having gotten to bed at a decent hour) then that often means some good creative juice for the day. A bad start and often death to creativity is to get sucked into e-mail. Email is evil. Email is divine. It is such a huge time suck for me and just a wonderful connection to thousands of people I would never, ever have known  like you, Jill. I've always wanted to be somebody who could stay up late and work all night but that's never been me.

Do you have a mantra or motto?
May what I do flow from me like a river, No forcing and no holding back...~Rilke, Book of Hours

Key to your perseverance
Stubbornness. All the times people told me I couldn't do this or that. All my lacks and flaws. I'm really one of the slowest and most handicapped people I know I have never outlined a book or article, for example, and it often triples my work time. It has taken me 15 years to learn to be a decent speaker. Or today, trying to put a luggage tag on my carry-on bag, I couldn't for the life of me figure out how to loop it through and over the handle. A five year old could have done it but not me. But I love to learn and I have a lot of eagerness about life and I must must must teach in some capacity so I simply keep putting one foot in front of the other and accepting myself.

Do you write to music?
Only for short periods of time and then a certain sound track that helps me focus. Mostly, I treasure silence. Drives my family nuts. Both my husband and daughter are music fiends. Chris has this great idea for a musical film and Lilly has perfect pitch. I love music to walk to and dance to but it takes all my attention. My audio channel goes straight into my unconscious.

Best advice received
When the going gets tough, the tough get going. From my Dad.

Next book?
You tell me. I may rewrite the novel that's been waiting for me for over a year. I may do a visual journal book of devotions... I may never write another book. No, that makes me sad. I will.

Creative spark
Moving my body and feeling my energy move. Connecting with God through my body, through the trees, through poetry, through making messes with color and scraps of paper, through teaching others and seeing them accept their gifts.

I know I've made it when ...
I spend most of my moments present and aware.

Most favorite achievement
Staying married for 18 plus years and any time I don't yell at my teenage daughter when I really want to yank her bald.

How you get ideas for writing your books?
Lots of ways. The Woman's Comfort Book came in my first moment of true surrender when I was about 26. My latest started eight or nine years ago when I wanted to create a new way to organize my life that was more spiritual and intuitive.

Any scheduled events?
Lots! Check out http://www.thelifeorganizer.com/freedom.html and http://www.jenniferlouden.com/retreat.htm

The Comfort Queen
Creative Room: Prompts for May
Watercolor and ink pen by Jill Badonsky

Visit the "collage machine" for some play (its worth taking the time to download).

May 1, 1265  Dante was born. He is an Italian poet from Florence.  Dante said "'A mighty flame followeth a tiny spark." What one small spark can you ignite this month through a small, small, small step toward your creativity? What one small thought can you practice to ignite your creative confidence?
May Word Pool: Take as many of these words and phrases as you like, add your own, to write prose or poetry. Write "as if" you are convinced of your ingenuity.. (no matter how the piece comes out- make it your style!):
someone was saying, a room with two candles,  about shadows, someone watching, began to believe,  notice, city, someone dancing, a wall, the night would not end, music was over, saying,  stars, how small they were, nothing, ahead, dandelion
May 1, 1939 Judy Collins was born. Judy said "When inspiration does not come, I go for a walk, go to the movie, talk to a friend, let go... The muse is bound to return again, especially if I turn my back!" Make a list of things you can do if the muse is not readily available to you to nurture yourself and fill the well.
Love After Love by Derek Walcott
The time will come when, with elation,
you will greet yourself arriving
at your own door, in your own mirror,
and each will smile at the other's welcome.
and say, sit here. Eat.
You will love again the stranger who was yourself.
Give wine. Give bread. Give back your heart to itself, to the stranger who had loved you
all your life, who you have ignored
for another, who knows you by heart.
take down the love letters from the bookshelf,
the photographs, the desperate notes,
peel your own image from the mirror.
Sit. Feast on your life.

MAY acronym from Artella's Marney Madridakis:
Mirroring Awesome You

Artella is having a Pre-Order Special on the upcoming issue of Artella Magazine, "Body of Art: passion and projects of universal creation" (check out the issue's funky cover!)  You can now pre-order and save $5 off individual copies of the issue, or save $10 off the price of an Artella Subscription. 
a very fun link discovered through Artella

Adieu

Congratulations to the Winter/Spring 2007 Graduating Class of Kaizen-Muse Creativity Coaches

Bernadette Darnell, Suffolk, UK        bernadettedarnell@hotmail.com
Ken Dow, Owen Sound, Ontario       Me@KenDow.com
Linda Sloan,Cave Creek AZ            sloanl@earthlink.net
Linda Keren, El Cerrito, CA              fairygrrl@usa.net
Lisanna Sullivan Whitehorse, Yukon  lisanna@klondiker.com
Paula Graham, Oxford, PA              pwg@zoominternet.net
Deborah Abram, Cocoa, FL         Debbie_spiritdancer@yahoo.com
Renae Ward, Twain Heart, CA       Raeinwonderland@hotmail.com

Creativity Freedom Fighters!

May your May be filled with may-king creative things, merrily. 

Dispatching Muses Your Way,
Jill

The mere chink of cups and saucers tunes the mind to happy repose.  ~George Gissing

Never trust a man who, when left alone in a room with a tea cozy, doesn't try it on.  ~Billy Connolly


Thank you for your support. Random acts of kindness can be sent to the address below.
wallovers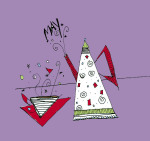 Heating up Good Self Es-steam

MAY 1 Fr.ee KMCC Teleconference

MAY 6, 13, 20 and June 3, 10, 17 San Diego
Invitation from the Muses: Playing with Writing  

MAY 8 Teleconference
Nurturing the Muse: Take an Hour to Renew Your Relationship to Your Creative Juices Jennifer Louden and Jill Badonsky .

MAY 9 Unleashing Creative Brilliance
San Marcos North County Women in Networking


MAY 16  On the phone- fr.ee info cal
Learn to Facilitate Your Own Muse Groups 

MAY 17 Third Thursday Writing Workshop

MAY 21 Jill on Coach Shirley's Coaching Salon

JUNE 11- SEPT 7, 2007 Telecourse & Online Community
Kaizen -Muse Creativity Coaching Training

OCT 12-14th 2007 Agelessness and Creativity Retreat
Spirit Fire Ranch Massachusetts

Details for the above events in second article.